Michelin przedstawia nową gamę sportowo-turystycznych opon motocyklowych. Michelin Road 6 zapewnia lepszą przyczepność na mokrej nawierzchni oraz dłuższą żywotność dzięki zastosowaniu nowych materiałów oraz wprowadzeniu nowego kształtu bieżnika i zoptymalizowanej konstrukcji opony.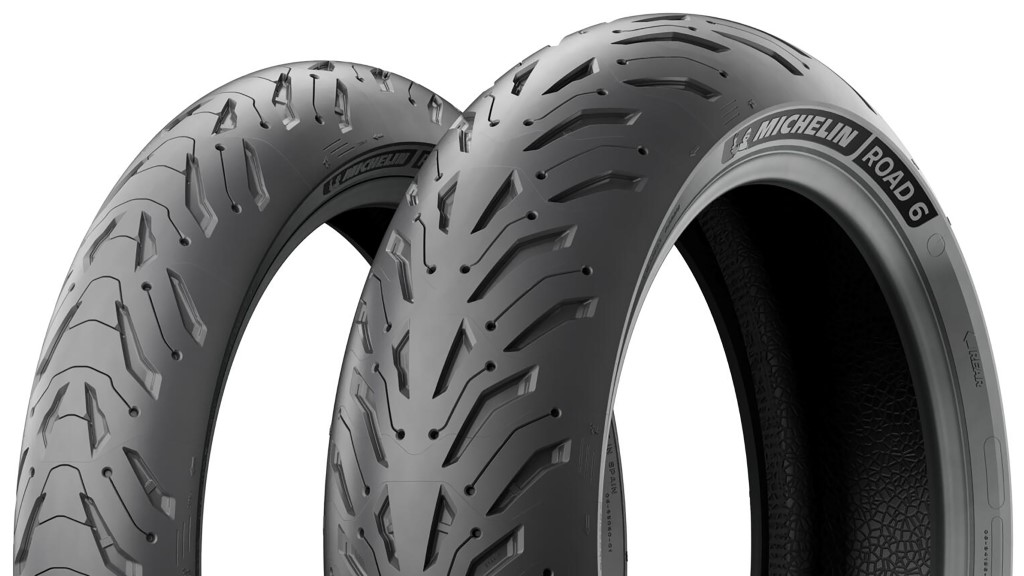 Michelin Road 6 to najnowsza odsłona cieszącej się popularnością gamy opon motocyklowych klasy sport touring. Opona powstała z myślą o użytkownikach roadsterów, motocykli trailowych, sportowych oraz GT i zapewnia optymalne osiągi pod względem przyczepności na mokrej nawierzchni, trwałości, komfortu jazdy oraz prowadzenia.
Obok standardowej wersji gamy Michelin Road 6, która od teraz obejmuje również rozmiary dla dużych motocykli trailowych, dostępna jest również opona Michelin Road 6 GT przeznaczona dla pojazdów typu grand touring.
Dzięki zastosowaniu technologii opracowanych przez inżynierów Michelin z ośrodków badawczo-rozwojowych, przyczepność na mokrej nawierzchni nowej opony Michelin Road 6 została zwiększona o 15 proc., a żywotność o 10 proc. w porównaniu do poprzedniej gamy Michelin Road 5. Poprawa osiągów była możliwa dzięki wykorzystaniu nowych materiałów oraz wprowadzeniu nowego kształtu bieżnika i zoptymalizowanej konstrukcji opony.
Kształt bieżnika
Zoptymalizowany współczynnik wolnej przestrzeni wynoszący 14 proc. (stosunek powierzchni rowków do gumy) zapewnia wysoki poziom przyczepności na mokrej i suchej nawierzchni. Współczynnik ten nie ulega zmianie podczas pokonywania zakrętów, gwarantując prowadzenie na niezmiennym poziomie.
Technologia Michelin Water EverGrip – opatentowana technologia konstrukcji lameli opracowana przez Michelin, aby zapewnić kierowcy wysoki poziom przyczepności na mokrej nawierzchni. Lamele zostały tak zaprojektowane, aby otwierać się w miarę zużywania się bieżnika.
Nowe rowki i kąty ułożenia lamel z dłuższymi krawędziami przecinają na mokrej drodze powierzchnię wody, zapewniając tym samym przyczepność.
Surowce
Mieszanka gumy wykonana w 100 proc. z krzemionki w technologii Michelin Silica – bez obniżenia trwałości opony poprawia przyczepność przy niższych temperaturach, jak również na wilgotnych i mokrych drogach.
Technologia Michelin 2CT+ (technologia dwukomponentowa) oznacza, że różne części bieżnika, zarówno w przedniej, jak i tylnej oponie, zostały zoptymalizowane pod kątem różnorodnej charakterystyki osiągów. Twardsza i głębsza warstwa gumy utrzymuje sztywność podczas pokonywania zakrętów, zaś wierzchnia – bardziej miękka – warstwa stykająca się z nawierzchnią zapewnia bardzo dobrą przyczepność i wysokie przebiegi na suchej i mokrej nawierzchni.
Konstrukcja
Technologia Michelin Radial X Evo – ułożenie warstw na czole opony pod kątem 90 ozapewnia szeroką powierzchnię styku z podłożem, co przekłada się na wysoki poziom przyczepności zarówno na prostej drodze, jak i na zakręcie. W ścianach bocznych opon nowej generacji z technologią Michelin Radial X Evo zastosowano specjalnie ułożenie warstw, zapewniając tym samym jeszcze większą elastyczność i komfort jazdy przez pochłanianie nierówności nawierzchni. Przy większych prędkościach opona wciąż jest stabilna, dzięki czemu doskonale nadaje się do motocykli o dużej mocy. Ogólne korzyści z zastosowania tej technologii to zoptymalizowane prowadzenie i responsywność opony, które przekładają się na przyjemność i radość z jazdy bez kompromisów w obszarze bezpieczeństwa.
Technologia Michelin Aramid Shield to bardzo gęsty i sztywniejszy karkas opony, który zapewnia doskonałą reakcję i prowadzenie. Aramidowe warstwy bieżnika są odporne na wzrost siły odśrodkowej przy wyższej prędkości, zmniejszają wagę opony i zapewniają doskonałą stabilność.
Wyjątkowy wygląd
Wychodząc naprzeciw oczekiwaniom kierowców, dla których spore znaczenie ma wygląd ich maszyn, w gamie opon Michelin Road po raz pierwszy zastosowano technologię Michelin Premium Touch Design. To ekskluzywne rozwiązanie wykorzystuje mikrogeometrię do tworzenia na ścianach bocznych tekstury, która z kolei umożliwia modulowanie kontrastu i tworzenie odcieni szarości dla podkreślenia oznaczeń i uzyskania atrakcyjnego wykończenia opony.
Nowa gama opon Michelin Road 6 obejmuje sześć rozmiarów na przód i osiem rozmiarów na tył, natomiast gama opon Michelin Road 6 GT obejmuje jeden rozmiar opony przedniej i trzy rozmiary opony tylnej. Zakres ten pozwala dopasować ogumienie do wszystkich modeli motocykli, od małych roadsterów, jak KTM 390, poprzez maszyny sportowe i trailowe, aż po pojazdy GT, jak BMW K1600 GT/GTL.
Historia opon Michelin Road:
2002 r. – Michelin Pilot Road – pierwsza generacja gamy Michelin Road
2007 r. – Michelin Pilot Road 2 - pierwsza generacja gamy Michelin Road z lamelami
2014 r. – Michelin Pilot Road 4 – pierwsza generacja gamy Michelin Road w wersji GT
2018 r. – Michelin Road 5 – pierwsza generacja gamy Michelin Road z lamelami 3D