Hankook rozpoczyna sezon zimowy 2020 nowo opracowanymi oponami zimowymi UHP do samochodów osobowych i SUV-ów, a także odnosi sukces w niezależnych testach.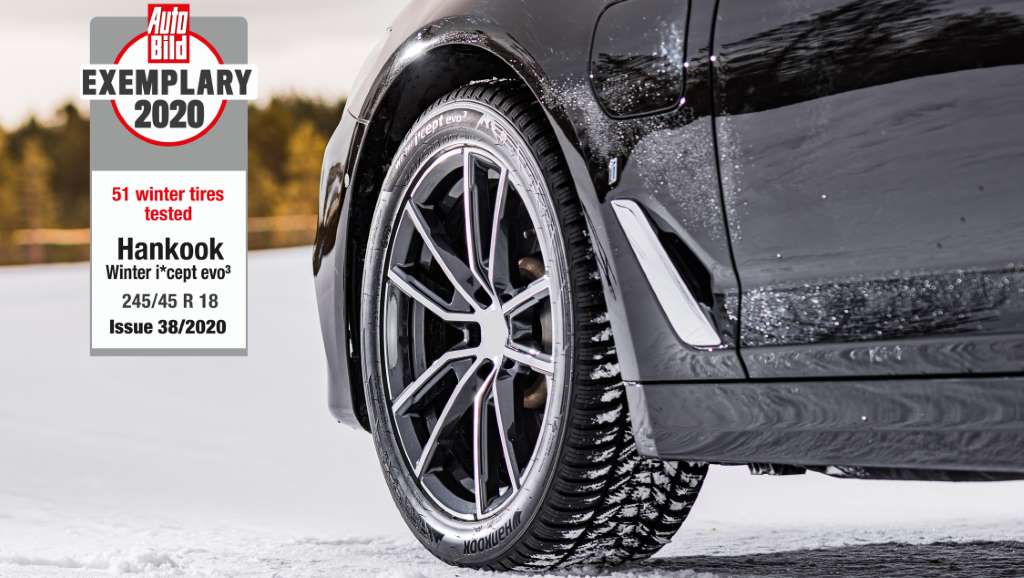 Opony samochodowe UHP (o ultrawysokich osiągach) Winter i*cept evo 3 i opony Winter i*cept evo 3 X do SUV-ów są następcami wcześniejszego udanego modelu Winter i*cept evo 2, montowanego fabrycznie przez wielu europejskich producentów pojazdów klasy premium. Nowa seria opon Winter i*cept, teraz już w trzeciej wersji, jest obecnie dostępna w 95 rozmiarach i – po raz pierwszy w serii opon zimowych Hankook UHP – posiada kierunkową rzeźbę bieżnika. Wiodący europejski magazyn samochodowy "Auto Bild" poddał ten nowy bieżnik szeroko zakrojonym testom osiągów i nagrodził Hankook Winter i*cept evo 3 mianem "Exemplary" (wzorowy).
Firma Hankook, producent opon klasy premium wzbogaca swoją serię opon zimowych UHP o nowe opony Winter i*cept evo 3do samochodów osobowych i Winter i*cept evo 3 Xdo SUV-ów. Ta nowa zmiana koncentruje się nie tylko na zmieniających się warunkach pogodowych w Europie, lecz także na wymaganiach dla pojazdów hybrydowych i elektrycznych, ponieważ producenci będą montować nowe opony zimowe Hankook UHP w przyszłości już w fabryce. Po raz pierwszy inżynierowie ds. rozwoju firmy zdecydowali się na kierunkową rzeźbę bieżnika na swoich nowych flagowych oponach zimowych. Zapewnia to nie tylko doskonałą przyczepność na śniegu, ale także pomaga skutecznie zmniejszyć ryzyko wystąpienia zjawiska aquaplaningu.
"Tworząc opony Winter i*cept evo 3 i Winter i*cept evo 3 X nasi inżynierowie ds. rozwoju stworzyli dwie linie opon zimowych o szerokiej gamie cech, które sprawdzają się szczególnie dobrze w zmieniających się i coraz bardziej wymagających warunkach zimowych," mówi Sanghoon Lee, prezes firmy Hankook Tire Europe. "Jesteśmy zatem przekonani, że te nowe rzeźby bieżnika spełnią wysokie oczekiwania naszych klientów również pod względem nowoczesnych koncepcji jazdy.
"Europejskie zimy zmieniły się w wyniku zmian klimatycznych – łagodne temperatury na przemian z nagłymi atakami zimy, które przynoszą mróz i śnieg oraz suche dni, które są niespodziewanie przerywane przez obfite opady deszczu" – mówi Klaus Krause, szef Europejskiego Centrum Badań i Rozwoju ETC w Hanowerze. Nawet mokre liście na powierzchni drogi mogą szybko spowodować powstanie niebezpiecznych warunków jazdy. Tym ważniejsze jest, aby odpowiedzialni kierowcy korzystali z odpowiednich opon podczas chłodnej pory roku i byli dobrze przygotowani na wszystkie zimowe warunki pogodowe. "Cecha szczególna trzeciej serii i*cept evo jest ukryta w mieszance bieżnika. Oprócz naturalnych żywic zastosowano tu również specjalne dodatki, które zapewniają stałą elastyczność opony, zwłaszcza w niskich temperaturach, przy jednoczesnej znacznej poprawie przyczepności na mokrych nawierzchniach", kontynuuje Krause.
Potwierdził to także najnowszy test opon zimowych, przeprowadzony przez wiodący europejski magazyn samochodowy. W jego ostatnim wydaniu (nr 38 wydany 17 września 2020), czasopismo "Auto Bild" sprawdziło łącznie 56 opon o rozmiarze 245/45R18 100V na BMW serii 5. Wynik był następujący: tylko sześć bieżników można było polecić bez zastrzeżeń, a najwyższą ocenę "Exemplary" (wzorowy) przyznano nowej oponie Hankook Winter i*cept evo 3.
Opony są bardzo dobrze przystosowane do warunków zimowych dzięki innowacjom technicznym, szczególnie pod względem zastosowanej mieszanki i samej rzeźby bieżnika. Zastosowanie naturalnych żywic sosnowych zapewnia niezbędną elastyczność w bardzo szerokim zakresie temperatur, zapobiega twardnieniu, a tym samym przyczynia się do poprawy przyczepności na zimowych i mokrych drogach dzięki zwiększonej elastyczności powierzchni styku opony. W połączeniu z kierunkową rzeźbą bieżnika, przyczepność na śniegu i mokrej nawierzchni jest jeszcze bardziej zoptymalizowana. Szczególnie wydajne wypieranie i odprowadzanie wody (lub błota pośniegowego) przez dwa główne rowki odprowadzające, które są o 20% szersze w rzeźbie bieżnika przypominającej literę V, odgrywają ważną rolę w dalszym zmniejszaniu ryzyka wystąpienia aquaplaningu. Droga hamowania na mokrych drogach została również skrócona o 7%, a na ośnieżonych – nawet o 10% w porównaniu z poprzednimi rzeźbami bieżników. Oprócz żywic naturalnych stosuje się wysoce dyspergowalną nanokrzemionkę, uzupełnioną innymi dodatkami poprawiającymi trakcję. Wraz z dalszą optymalizacją stosunku elementów dodatnich do ujemnych w rzeźbie bieżnika, sprawia to, że opona Winter i*cept evo 3 jest bardzo dobrze przystosowana do bardzo zróżnicowanych warunków drogowych tworzonych przez europejską zimę.
Poza mieszanką bieżnika o wysokiej przyczepności, dalsze zoptymalizowane rozmieszczenie lameli 3D w połączeniu z kierunkową rzeźbą bieżnika zapewnia niezawodną trakcję i boczną stabilność jazdy na zaśnieżonych drogach. Właściwości trakcyjne na śniegu są wspierane przez zwiększoną liczbę krawędzi klocków bieżnika w kształcie czekanu, które skutecznie wzmacniają przyczepność na śniegu.
Minimalizacja ruchów klocków, osiągnięta dzięki dalszej optymalizacji rozmieszczenia i konstrukcji lamel 3D, ma pozytywny wpływ na ścieranie, jak również zapewnia wysoką stabilność jazdy. Zmaksymalizowany efekt krawędziowania poprawia również ogólne właściwości jezdne.
Nową serię Winter i*cept evo 3 opracowano szczególnie z myślą o zastosowaniu w pojazdach o dużej mocy i momencie obrotowym. Wzmocniona konstrukcja osnowy zapewnia wysoką stabilność jazdy, a wypełniacz stopki o dużej wytrzymałości utrzymuje optymalne położenie na obręczy. W połączeniu z szerokim barkiem opony i zoptymalizowaną konstrukcją klocków zapewnia to bardziej precyzyjną sterowalność i lepszą przyczepność podczas pokonywania zakrętów, a także zoptymalizowane prowadzenie nawet na suchych drogach. Obszar barku nowej opony zimowej Hankook UHP, z szerokimi, zazębiającymi się klockami, zapewnia również ich niezbędną sztywność zwiększając w ten sposób stabilność na zakrętach nawet przy wyższych prędkościach.
Obie rzeźby bieżników są produkowane głównie w nowoczesnym, europejskim zakładzie firmy Hankook na Węgrzech. Jeżeli chodzi o rynek, rzeźba bieżnika Winter i*cept evo 3 do samochodów osobowych będzie dostępna w 50 rozmiarach od 17 do 21 cali z szerokościami przekroju od 195 do 295 mm i o profilu od 30 do 60, z indeksami prędkości od H do W. Wersja dla SUV-ów, Winter i*cept evo 3 X, jest obecnie dostępna w 45 rozmiarach od 17 do 22 cali, z szerokościami przekroju od 215 do 315 mm i o profilu od 30 do 65 przy indeksach prędkości od H do W. Przez najbliższy rok do serii będą dodawane nowe modele, a starsze – stopniowo wycofywane.