Niskie temperatury mają negatywny wpływ na akumulator, znacząco zmniejszając jego moc. Tylko regularne kontrole i doładowania dają gwarancję pewnego startu przez całą zimę. Exide Technologies, globalny lider w zakresie magazynowania energii, wyjaśnia, dlaczego nie tylko zima jest dziś największym wyzwaniem dla akumulatora i co robić, by służył on jak najdłużej.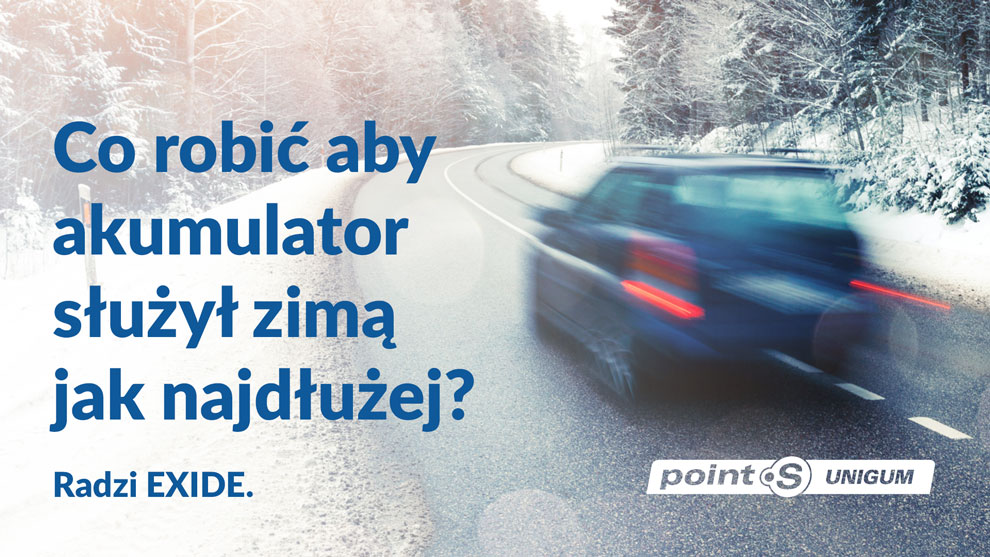 Akumulator nie lubi skrajności i wahań
Zmiana klimatu jest faktem. Towarzyszą jej coraz częstsze, skrajne zjawiska pogodowe – temperatury w Europie sięgnęły tego lata rekordowych poziomów, przekroczywszy w południowej Francji nawet 46 oC, zaś Wenecję coraz częściej nawiedzają dotkliwe powodzie. Także ostatnie lato w Polsce było upalne i suche. To sprawia, że trudno przewidzieć, jaka będzie zima, a przede wszystkim, kiedy i na jak długo przyjdą srogie mrozy. Niestety skrajne i nagłe wahania temperatury mają duży wpływ na akumulator. Upał powoduje samorozładowanie, często trwale uszkadzając akumulatory, natomiast zimno zmniejsza ich sprawność.
Wielu kierowców zastanawia się, dlaczego temperatura powietrza ma tak duży wpływ na stan akumulatora. Przyczyn jest kilka, np. fakt, że w niskich temperaturach mocno wychłodzony silnik potrzebuje więcej energii do rozruchu. – Akumulatory samochodowe działają najlepiej w temperaturze ok. 27 oC. Poniżej tej wartości reakcje chemiczne zachodzące w akumulatorze przebiegają wolniej –mówi Guido Scanagatta, Senior Product Manager Transportation w obszarze EMEA w Exide Technologies. – W niskich temperaturach, gdy silnik potrzebuje energii na start, akumulator musi poradzić sobie z większą lepkością oleju i z tarciem silnika. Ponadto, gdy temperatura powietrza osiąga 0 o C, nawet w pełni naładowany akumulator traci około 1/3 swojej mocy początkowej. Im niższe temperatury, tym oczywiście gorzej – mróz, powiedzmy
-18 oC, zmniejsza ją nawet do 40% – dodaje.
Wiele wyzwań dla akumulatorów
Zima to trudny czas dla akumulatorów. Auta mają wówczas większe zapotrzebowanie na pobór mocy do podstawowych funkcji (rozruch, światła, zapłon), a także do wyposażenia dodatkowego (różne nowoczesne systemy bezpieczeństwa, systemy zwiększające komfort jazdy czy zapewniające rozrywkę). Współczesne samochody mają bowiem wiele funkcji, a tym samym wiele odbiorników prądu: od uznawanych za "standardowe", jak wspomaganie kierownicy czy klimatyzacja, po nawigację, różne urządzenia multimedialne, kamery cofania, asystenta pasa ruchu, podgrzewane siedzenia, automatyczne klapy bagażnika i lusterka. Nowoczesne samochody często otwierane są za pomocą pilota, więc nawet zaparkowane i zamknięte, mogą pobierać energię z akumulatora. – To duże wyzwanie dla akumulatora. Dlatego, jeśli jego wydajność ucierpiała już w wyniku letnich upałów, zimą problemy mogą powrócić ze zdwojoną siłą. Oznacza to, że do czasu nadejścia najniższych zimowych temperatur zarówno pojemność akumulatora, jak i jego zdolność przyjmowania ładunku zostaną znacznie zredukowane –wyjaśnia Scanagatta.
Dodatkowo wymagania przemysłu motoryzacyjnego dotyczące ograniczenia zużycia paliwa i zmniejszenia emisji spalin pogłębiają problem. Dlatego, aby sprostać tym surowym oczekiwaniom, producenci samochodów dodali do nich nowe funkcje, np. system start-stop, który choć odciąża środowisko, zmniejszając zużycie paliwa, to dodatkowo nadwyręża zapłon pojazdu i jego funkcje rozruchowe – zwłaszcza w warunkach miejskich. Jednocześnie producenci zmniejszają rozmiary silników (silniki z turbosprężarką) i starają się redukować liczbę funkcji zasilanych z alternatora, jeśli tylko jest to możliwe. Dlatego jedynym rozwiązaniem jest wybór akumulatora, który wytrzyma częste cykle rozładowywania i krótkie okresy rekuperacji energii.
Profilaktyka w okresie zimy
Zjawiska samorozładowania i korozji akumulatora, mające miejsce w okresie letnim, często dają o sobie znać dopiero, gdy temperatury spadają i potrzebna jest większa moc do uruchomienia silnika. Wszystko to utrudnia akumulatorom wydajną pracę, a wielu kierowcom uprzykrza mroźne poranki. – Na szczęście jest kilka prostych sposobów, dzięki którym można uniknąć awarii akumulatora –mówi ekspert Exide. – Świadomi zagrożeń kierowcy kontrolują stan akumulatora samodzielnie i w razie potrzeby doładowują go, np. przy pomocy nowoczesnego prostownika Exide, a mechanicy mogą diagnozować akumulator za pomocą inteligentnych narzędzi warsztatowych, a także udzielać klientom rad dotyczących zapobiegania awarii.
Zaawansowane testery akumulatorów, takie jak urządzenie Exide EBT965P, pozwalają mechanikom sprawdzić stan akumulatora, a dzięki autorskim algorytmom dostarczają danych potrzebnych do stwierdzenia, czy klient powinien jedynie ponownie przetestować akumulator za jakiś czas, czy musi go wymienić. Inne urządzenia serwisowe, jak Exide BRT-12, pomagają sprawnie wymienić akumulator, czyli poprawnie skonfigurować system po zamontowaniu nowego . – A jaka jest najważniejsza rada dla kierowców na zimę? Taka sama jak na pozostałe pory roku – akumulator należy regularnie sprawdzać przez cały rok, choć zwłaszcza przed nadejściem zimy i lata. Kontrolujmy i doładowujmy go nie tylko samodzielnie, ale także pod okiem profesjonalisty– podsumowuje ekspert Exide.
[1] http://naukawpolsce.pap.pl/aktualnosci/news%2C78421%2Cbadanie-europa-ogrzewa-sie-szybciej-niz-zakladano.html oraz http://naukawpolsce.pap.pl/aktualnosci/news,79506,naukowiec-zmiany-klimatyczne-przyczynia-sie-do-czestszych-powodzi-w-wenecji [dostęp: grudzień 2019 r.].