Bridgestone powiększa swoją ofertę produktów dla motocykli, wprowadzając cztery nowe opony, które zapewniają wyjątkową przyczepność, prowadzenie i pewność podczas jazdy.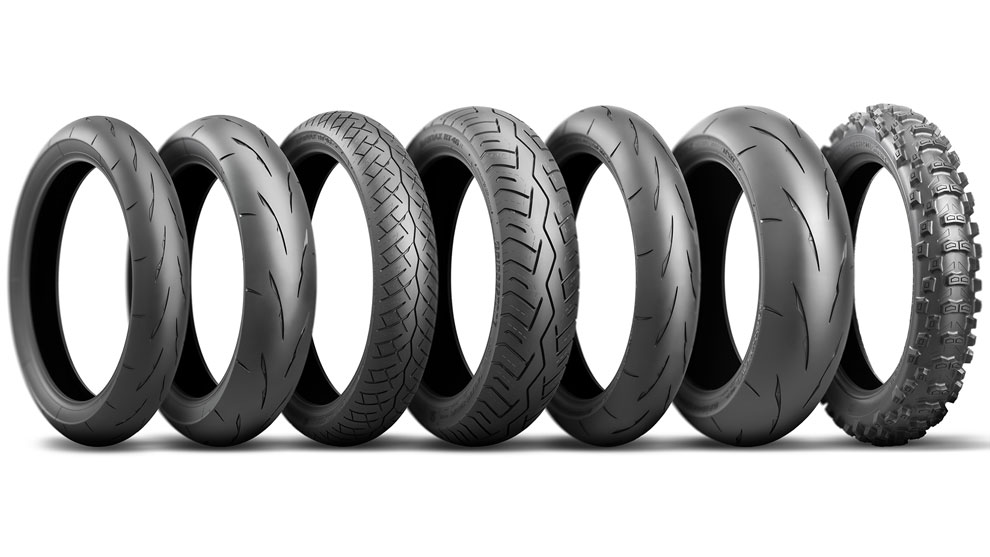 Od lewej do prawej: Battlax Classic Racing CR11 (przód i tył), Battlax BT46 (przód i tył), Battlax Racing Street RS11 (przód i tył), Battlecross E50 Extreme.
Jako największy na świecie producent opon i wyrobów z gumy Bridgestone zawsze idzie o krok dalej, aby oferować swoim klientom produkty najwyższej klasy. Firma stale opracowuje nowe, zaawansowane opony, które sprawiają, że każdy motocykl może w pełni wykorzystać swój potencjał. Bridgestone co roku inwestuje przeszło 800 milionów euro, co umacnia pozycję spółki, która tak jak żadna inna w branży angażuje się w procesy badania i rozwoju. W rezultacie oferta firmy jest pełna produktów, które wykorzystują najnowsze rozwiązania technologiczne. Dzięki temu możemy zaproponować różne opony stworzone do różnych celów, które spełnią oczekiwania każdego motocyklisty. W następny roku na rynku zadebiutują cztery nowe opony typu premium – a co za tym idzie 2020 będzie dla Bridgestone absolutnie wyjątkowy.
Battlax Classic Racing CR11 – Rozgrzewka przed zwycięstwem
Opona opracowana specjalnie z myślą o rajdach Maxi Classic miała już okazję udowodnić, na co ją stać. Jeszcze na etapie tworzenia produktu Battlax Classic Racing CR11 zwyciężyła w długodystansowych mistrzostwach świata (EEC) FIM Europe. Podczas 4-godzinnego wyścigu motocyklowego Biker's Classic w Spa-Francorchamps opona pomogła zespołowi #10 Poweracing-Japauto zdobyć najwyższe miejsce na podium, a drużynie #5 Roadrunner z sukcesem zawalczyć o drugą lokatę. Na trudnym, podmokłym terenie opony Bridgestone pomogły zawodnikom pokonać okrążenie w najlepszym czasie i osiągnąć najwyższą prędkość.
Opona Battlax Classic Racing CR11 błyskawicznie się rozgrzewa – co ma ogromne znaczenie podczas wyścigów, w których używanie podgrzewaczy opon jest zabronione. Wzór bieżnika zaczerpnięto ze żłobionej opony wyścigowej Bridgestone – Battlax Racing R11. Dzięki niemu opona stabilnie trzyma się nawierzchni i pozwala maksymalnie zwiększyć osiągi. Dzięki wydajnej konstrukcji pasa (variable monospiral belt) na przodzie, opona zapewnia wyjątkową stabilność podczas hamowania i świetnie reaguje w zakrętach. W tylnej oponie zastosowano połączenie wysokowydajnych elementów w zaawansowanej 3-warstwowej konstrukcji, które zwiększa osiągi na mokrej nawierzchni. Opona spełnia wymogi FIM Europe dla kategorii Maxi Classic, dzięki czemu stanowi twoja przepustkę do rajdowego sukcesu.
Dostępna od marca 2020 r, w rozmiarach 110/80 R18 na przód i 150/65 R18 na tył pojazdu.
Battlax BT46 – Twoja nowa ulepszona opona turystyczna
Battlax BT46 zastąpi legendarny model opony Battlax BT45. Od wprowadzenia jej na rynek 22 lata temu opona Battlax BT45 była oczywistym wyborem dla motocykli turystycznych. Teraz Bridgestone ulepsza ją, wprowadzając nowoczesną technologię.
Na przodzie opona Battlax BT46 posiada wzór w kształcie odwróconej litery V – przejmuje siły działające na oponę, redukuje nierównomierne zużycie i niezwykle reaguje na komendy kierowcy, zapewniając wyjątkowe prowadzenie. W tylnej oponie zastosowano jednoskładnikową mieszankę wzbogaconą krzemionką, aby zmaksymalizować osiągi, przyczepność i ograniczyć zużycie. W porównaniu do modelu BT45 nowa opona lepiej trzyma się mokrej nawierzchni, zachowując przy tym świetne prowadzenie na suchym podłożu i odporność na zużycie, z jakich słynął jej poprzednik. BT46 nadaje się do zastosowania w UM: opony bezdętkowe można montować na feldze dętkowej po założeniu odpowiedniej dętki.
Bridgestone opracował tę oponę specjalnie z myślą o zastosowaniu w rożnych maszynach, które rywalizują w kategorii motocykli turystycznych. Dostępna w 21 rozmiarach na przód i 27 na tył motocykla. Dziesięć podstawowych rozmiarów zadebiutuje w styczniu 2020 r., a pozostałe dopełnią ofertę niedługo potem.
Battlax Racing Street RS11 – Najlepsza opona dla motocykli sportowych klasy premium
Nowy flagowy produkt w kategorii Racing Street gwarantuje wyjątkową przyczepność i niezwykłą precyzję prowadzenia. Już podczas dwuminutowego okrążenia okazała się o dwie sekundy szybsza od poprzednika (modelu RS10). To pierwsze opona drogowa, w której zastosowano unikalną konstrukcję pasa V-MS-Belt od Bridgestone – wypróbowaną i przetestowaną w każdym rodzaju wyścigu. Battlax Racing Street RS11 to wybór numer jeden wielu producentów motocykli podczas prezentacji sportowych pojazdów klasy premium. Jesteśmy oficjalnym dostawcą opon do modeli YZF-R1 i YZF-R1M Yamaha, Kawasaki H2 i H2 carbon, Suzuki GSX-R 1000 i GSX-R 1000 R, a wkrótce także wielu innych.
Battlax Racing Street RS11 posiada wzór bieżnika opracowany z myślą o najlepszej przyczepności na suchej nawierzchni. Bezpośrednim źródłem inspiracji do stworzenia tej opony była żłobiona opona wyścigowa Bridgestone R11, a model RS11 dostosowano tak, aby zagwarantować idealny kontakt z podłożem. Ulepszono także ogólną sztywność i stabilność tylnej opony dzięki zastosowaniu nakrętki i podstawy. W przedniej i tylnej oponie zastosowano konstrukcja 3LC, która pod względem osiągów i zużycia nie ma sobie równych. Innowacyjna konstrukcja V-MS-Belt optymalnie dostosowuje rozkład sztywności bieżnika na oponie tylnej, aby zwiększyć kontakt z podłożem na krawędzi opony i znacznie poprawić przyczepność w zakrętach przy dużym nachyleniu. Drobne cząsteczki węgla zastosowane w mieszance wykorzystanej w konstrukcji krawędzi tylnej opony zwiększa przyczepność, aby motocykliści mogli bez przeszkód pokonywać ostre zakręty przy dużej prędkości, w pełnym nachyleniu i z nieograniczoną pewnością.
Dostępna od marca 2020 r., w 1 rozmiarze na przód: 120/70 ZR 17 M/C (58W); i 2 rozmiarach na tył: 190/55 ZR 17 M/C (75W) i 200/55 ZR 17 (78W).
Battlecross E50 Extreme – Dopracowana z myślę o ekstremalnych wyścigach wytrzymałościowych
Wprowadzona na rynek w 2019 r. opona Battlecross E50 zaliczyła zwycięski debiut, wygrywając w wyścigach w różnych kategoriach enduro. Na fundamencie tego sukcesu firma Bridgestone wypuszcza na rynek nową oponę opracowaną właśnie z myślą o ekstremalnych wyścigach wytrzymałościowych. Nowy model E50 Extreme poradzi sobie nawet w najtrudniejszym terenie. W jej konstrukcji zastosowano miękką mieszankę, stworzoną z myślą o maksymalnej przyczepności i trakcji. We wzorze bieżnika zastosowano zaawansowane rozmieszczenie klocków. Bieżnik idealnie współgra z technologią Castle Block modelu E50, gwarantując wykorzystanie krawędzi opony i przyczepność.
Dostępna od stycznia 2020 r., w 1 rozmiarze na tył: 140/80 – 18 70M NHS.