Zima zbliża się wielkimi krokami. To dobry czas, by przemyśleć temat zmiany opon na takie, które mają właściwości odpowiednie dla tej pory roku. W samochodach marek premium wymiana opon to koszt nawet kilku tysięcy złotych. Niektórzy kierowcy szukają oszczędności, kupując opony całoroczne. Kiedy powinniśmy zmienić ogumienie i czy warto rezygnować z zimówek?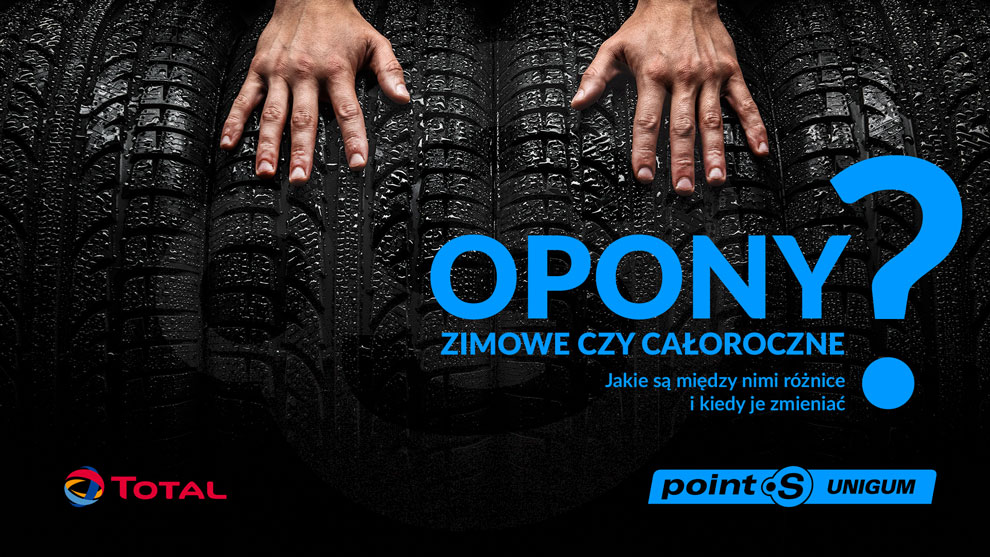 Opony w przypadku samochodów cywilnych dzielą się na trzy rodzaje: letnie, zimowe i właśnie całoroczne, nazywane także wielosezonowymi. Różnią się one wzorem bieżnika i składem mieszanki, z której są wytworzone. Opona zimowa, w przeciwieństwie do swojego letniego odpowiednika, nie twardnieje w niskich temperaturach, dzięki czemu zapewnia optymalną przyczepność. Z kolei latem nagrzewa się zbyt szybko, co powoduje nadmierne zużycie bieżnika i pogorszenie przyczepności kół. Wpływa to również na komfort jazdy, gdyż zimówki użytkowane latem wydają zazwyczaj nieprzyjemny szum, który zwiększa się wraz ze wzrostem prędkości.
Wytwarzanie opon za każdym razem jest swego rodzaju kompromisem pomiędzy odpowiednią przyczepnością na nawierzchni suchej i mokrej. Wydawać by się mogło, że opony całoroczne spełniają optymalnie oba te zadania. Niestety, nie jest to do końca prawda – redakcje motoryzacyjne i niezależne ośrodki badawcze przeprowadziły wiele testów, które wykazały, że żadna opona całoroczna nie będzie na śniegu tak samo dobra jak markowa zimówka, a przy wysokich temperaturach nie sprawdzi się tak dobrze, jak opona letnia. Nie oznacza to jednak, że należy z nich zupełnie zrezygnować, bo wszystko zależy od naszych potrzeb i stylu jazdy.
Opony wielosezonowe mają oznakowanie M+S oraz 3PMSF. To drugie ma obok oznaczenia symbol śnieżynki na tle góry, co oznacza, że opony spełniają wymagania ogumienia przeznaczonego do poruszania się w warunkach zimowych. Na takich oponach możemy całkowicie legalnie poruszać się we wszystkich krajach, które mają ustawowy obowiązek jazdy na zimówkach w ustalonych miesiącach. Ceny opon wielosezonowych są niższe niż łączna cena kompletu opon zimowych i letnich. Jak wygląda kwestia bezpieczeństwa ich użytkowania?
Odpowiedź na to pytanie nie jest łatwa, bo to zależy od wielu czynników. Jak wspomniano, testy opon całorocznych wykazały, że choć spełniają one wymogi producentów, to niemal zawsze będą miały nieco gorsze parametry przyczepności niż opony letnie i zimowe. Jeśli jednak jeździmy mało, zazwyczaj po mieście, gdzie działają odśnieżarki, i nie mamy ciężkiej nogi, nic nie stoi na przeszkodzie, żeby wybrać takie ogumienie. Inaczej jest w przypadku, gdy lubimy szybszą jazdę lub wybieramy się w zaśnieżone tereny górzyste. Wtedy wybór zimówek powinien być oczywisty, bo w trudnych warunkach liczą się centymetry.
A kiedy należy wymieniać opony? Wśród wielu kierowców nadal panuje przekonanie, że opony zimowe zakładamy wtedy, gdy spadnie pierwszy śnieg. To błąd, gdyż nie jest to kwestia śniegu, a temperatury. Jeśli temperatura otoczenia spadnie poniżej 7°C, to najwyższy czas pomyśleć o zimówkach. Na pewno nie warto stawiać na najtańsze chińskie komplety sprzedawane w marketach – nie zapewniają one odpowiedniej przyczepności i zazwyczaj szybko tracą bieżnik. To oszczędność na krótką metę.
Jest jeszcze jeden mit, który warto rozwiać. Dotyczy on zakładania łańcuchów. Musimy pamiętać, że łańcuchy – nieważne, czy na oponach zimowych, czy wielosezonowych – nie pomogą nam w przypadku lodu. Sprawdzą się podczas próby wyjechania ze śniegu, ale na nic zdadzą się w sytuacji, w której nie możemy złapać przyczepności ze względu na tzw. szklankę – czasem mogą wręcz utrudnić manewrowanie samochodem.
Widać zatem, że chociaż opony wielosezonowe mają zazwyczaj nieco gorsze właściwości od opon zimowych oraz letnich, to mogą być odpowiednie dla kierowców o określonych potrzebach i poruszających się w niewymagającym otoczeniu. Wybierając zakład oponiarski, który wykona dla nas usługę zmiany ogumienia, warto kierować się renomą. Wymiana powinna odbywać się przy użyciu profesjonalnych maszyn, a koła muszą zostać odpowiednio wyważone. Dopilnowanie tych kwestii w połączeniu z zakupem markowych opon to gwarancja ich bezpiecznego użytkowania przez cały okres przewidziany przez producenta.
Adam Klimek - Ekspert Team Total
Skorzystaj z porady eksperta w sieci serwisów point S UNIGUM.