Firmy Michelin i General Motors stworzyły nową generację bezdętkowych opon pełniących funkcję koła do samochodów osobowych – MICHELIN Uptis. Obie firmy planują wprowadzić to rozwiązanie w wybranych modelach aut już w 2024 roku.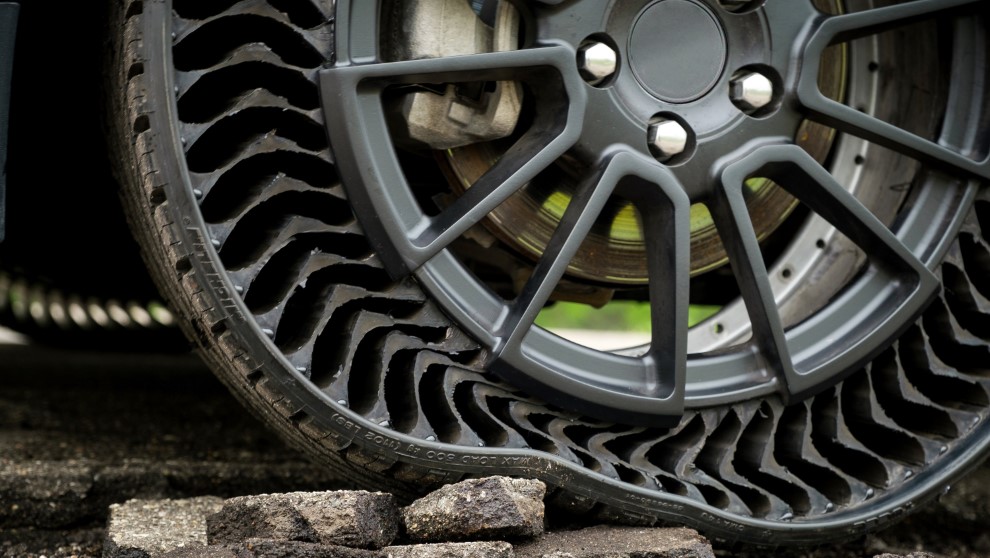 Opona MICHELIN Uptis jest de facto kołem i ogumieniem w jednym. Składa się ze sztywnej piasty, którą z bieżnikiem łączą elastyczne ramiona w formie żeber. W ten sposób MICHELIN Uptis zachowuje wszystkie właściwości standardowej opony, takie jak amortyzacja w czasie jazdy, utrzymywanie trakcji czy odpowiednie hamowanie. Dzięki takiemu bezdętkowemu rozwiązaniu użytkownicy nie muszą martwić się ewentualnym przebiciem ani utrzymywaniem prawidłowego ciśnienia w oponie.
Michelin i General Motors rozpoczęły już testy prototypu MICHELIN Uptis na modelu Chevrolet Bolt EV, a jeszcze w tym roku obie firmy planują start rzeczywistych testów nowego rozwiązania na flocie Chevroletów Bolt EV. Opona ma się pojawić jako wyposażenie wybranych modeli aut już w 2014 roku. Ze względu na swoją bezdętkową konstrukcję MICHELIN Uptis ma szansę stać się przełomową innowacją, która całkowicie wyeliminuje ryzyko przebitych opon i przełoży się na bezpieczeństwo podróżowania. Korzyści z używania takiego koła odczują również przewoźnicy i firmy transportowe, które zminimalizują przestoje oraz koszty utrzymania i napraw.
Do powyższych dochodzą kwestie ekologiczne, które dla Michelin są bardzo istotne i wyznaczają kierunek rozwoju firmy. Z jednej strony MICHELIN Uptis wyeliminuje jazdę na zbyt niskim ciśnieniu, co przekłada się na wyższe zużycie paliwa oraz szybsze zużywanie się opon. To o tyle ważne, że badanie zrealizowane przez ośrodek badawczy TNS Polska na zlecenie firmy Michelin pokazuje, że aż 25 proc. wszystkich kierowców w ogóle nie kontroluje ciśnienia w oponach, zaś 15 proc. sprawdza je najwyżej raz w roku. Z drugiej strony MICHELIN Uptis pozwoli zmniejszyć wykorzystanie surowców oraz liczbę odpadów związanych z produkcją nowego ogumienia, którym będziemy zastępować przebite, uszkodzone czy zbyt szybko zużyte opony.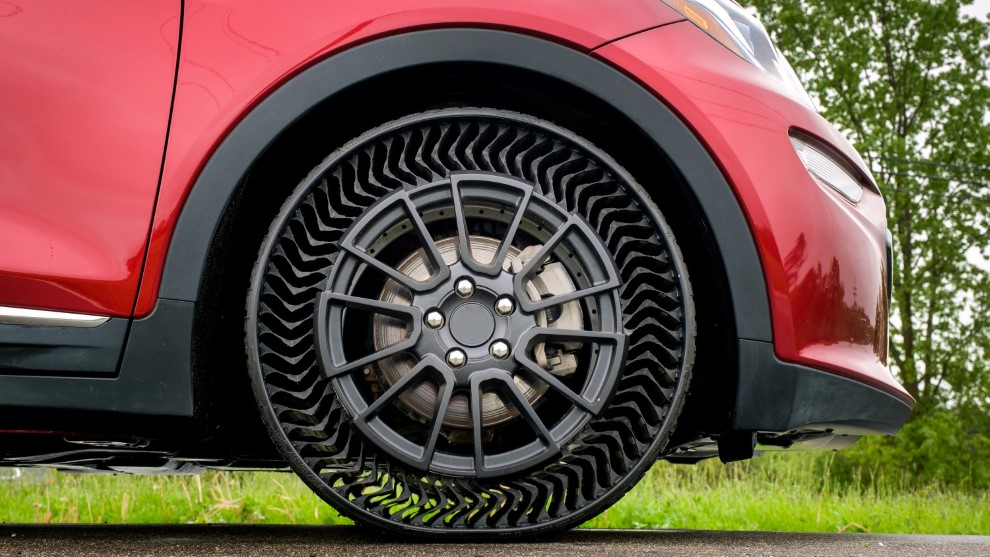 Skalę problemu pokazują szacunki Michelin, zgodnie z którymi co roku około 200 milionów opon na całym świecie jest przedwcześnie wyrzucanych w wyniku przebić, uszkodzeń lub niewłaściwego ciśnienia powietrza, które powoduje nierównomierne zużycie. MICHELIN Uptis jest też istotnym krokiem na drodze do zrealizowania zaprezentowanej w 2017 r. koncepcji MICHELIN Vision w obszarze zrównoważonej mobilności. MICHELIN Vision to rozwiązanie oparte na czterech filarach innowacji: niewymagające pompowania, podłączone do aplikacji i urządzeń umożliwiających "komunikację" z kierowcą, drukowane w 3D i całkowicie ekologiczne dzięki wykorzystaniu w produkcji biodegradowalnych materiałów pochodzących z recyklingu.