Obecnie najnowsze modele samochodów w coraz większym stopniu wyposażone są w inteligentne technologie. Sztuczna inteligencja o szybszym w porównaniu do człowieka czasie reakcji zaczyna być stosowana także przy produkcji ogumienia. Cechą, na której szczególnie zależy kierowcom jest zdolność dostosowywania się opon do zmiennych warunków pogodowych dzięki wykorzystaniu technologii czujników. Według ankiety przeprowadzonej na zlecenie Nokian Tyres*, 34% europejskich kierowców chce, aby w przyszłości ich opony potrafiły reagować na zmiany pogody.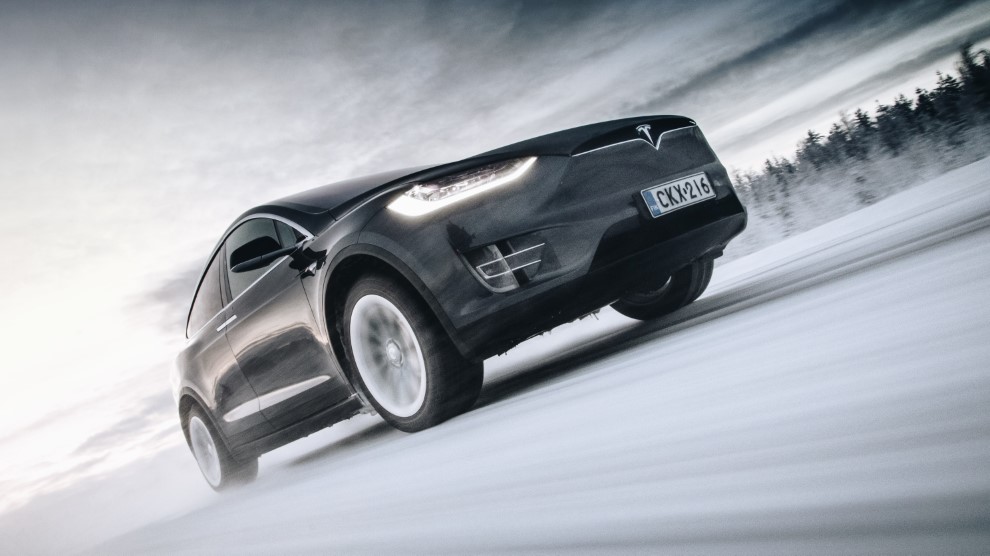 Internet Rzeczy zaczyna odgrywać coraz większą rolę na rynku produktów konsumpcyjnych. W praktyce oznacza to, że oferowane klientom towary coraz częściej wyposażone są w czujniki, które dokonują pomiarów, a także rozpoznają i reagują na zmiany zachodzące w otoczeniu. Na przykład łóżka wyposażone w system czujników są w stanie monitorować jakość snu, a inteligentne ubrania - chłodzić lub ogrzewać w zależności od potrzeb.
Inteligentne ogumienie oprócz kontroli stanu opon mogłoby monitorować otoczenie w sposób szybszy i bardziej kompleksowy niż jest to w stanie zrobić kierowca.
"Zamontowane w oponach czujniki kontrolowałyby głębokość i stopień zużycia bieżnika, aby informować kierowcę o konieczności wymiany ogumienia na nowe. Mogłyby także przypominać o konieczności rotowania opon, co umożliwiłoby optymalizację ich eksploatacji zapobiegając jednocześnie nierównomiernemu zużyciu bieżnika" – mówi Teemu Soini, odpowiedzialny za nowe technologie w firmie Nokian Tyres.
Inteligentne rozwiązania już na horyzoncie
W pierwszej fazie wykorzystania inteligentnych technologii umieszczone w oponach czujniki będą dokonywać rożnego rodzaju pomiarów, a następnie przekazywać zebrane informacje kierowcy za pośrednictwem komputera pokładowego lub urządzenia mobilnego. Prawdziwie inteligentna opona powinna być jednak w stanie automatycznie reagować w odpowiedni sposób na zebrane przez czujniki dane – bez potrzeby ingerencji ze strony kierowcy.
"Takie opony automatycznie dostosowywałyby się do warunków pogodowych i drogowych chociażby zmieniając rzeźbę bieżnika. Podczas deszczu rowki odprowadzające wodę zwiększałyby swoją szerokość, aby ograniczyć ryzyko akwaplanacji".
Przemysł oponiarski już poczynił pierwsze kroki w kierunku wprowadzenia inteligentnego ogumienia. Technologia czujników jest już powszechnie wykorzystywana do pomiaru ciśnienia powietrza w oponie. Mimo tego prawdziwe inteligentne opony nie są jeszcze dostępne.
"Na dziś rozwiązania technologiczne nowej generacji są w niewielkim stopniu stosowane w oponach przeznaczonych do samochodów pasażerskich. W ciągu najbliższych pięciu lat z pewnością się to zmieni, a opony klasy premium w jeszcze większym zakresie będą wspierać kierowcę podczas jazdy. Jednak do automatycznie reagujących opon ciągle jeszcze daleka droga" – ocenia Soini.
Aby stały się one rzeczywistością konieczne jest przezwyciężenie szeregu przeszkód natury technicznej. Jedną z nich jest stworzenie odpowiednio bezpiecznych i wytrzymałych czujników, które byłyby odporne na wywierany na nie w ciągu jazdy ciągły nacisk. Kolejny problem stanowi kwestia wprowadzenia inteligentnych rozwiązań w taki sposób, aby stały się one naturalną częścią złożonego procesu masowej produkcji ogumienia.
Bezpieczeństwo przede wszystkim
Konsumentom zależy głównie na tym, aby inteligentne opony były bezpieczne. Według ankiety przeprowadzonej na zlecenie Nokian Tyres*, prawie co drugi kierowca chciałby, aby stosowane przez niego ogumienie było bezpieczniejsze niż jest obecnie.
Opony mają ogromne znaczenie dla bezpieczeństwa na drodze. Są one jedynym punktem styku pojazdu z jezdnią, a ich głównym zadaniem jest sprawić, aby pasażerowie dotarli bezpiecznie do celu bez względu na warunki pogodowe i drogowe.
Choć dostępne obecnie na rynku opony wysokiej jakości są już niezwykle bezpieczne zawsze jednak istnieje pole do poprawy. Kluczem są tutaj ciągły rozwój i nieustające testy.
"Postęp w zakresie technologii materiałowej umożliwił nam stworzenie opon, które doskonale sprawdzają się nawet w najbardziej wymagających warunkach. W praktyce jesteśmy w stanie zaoferować dobrą przyczepność w ekstremalnych warunkach przy zachowaniu wysokiej trwałości. Jeśli chodzi o projektowanie i produkcję nowych opon dla Nokian Tyres bezpieczeństwo jest i zawsze będzie kwestią priorytetową" – mówi Teemu Soini.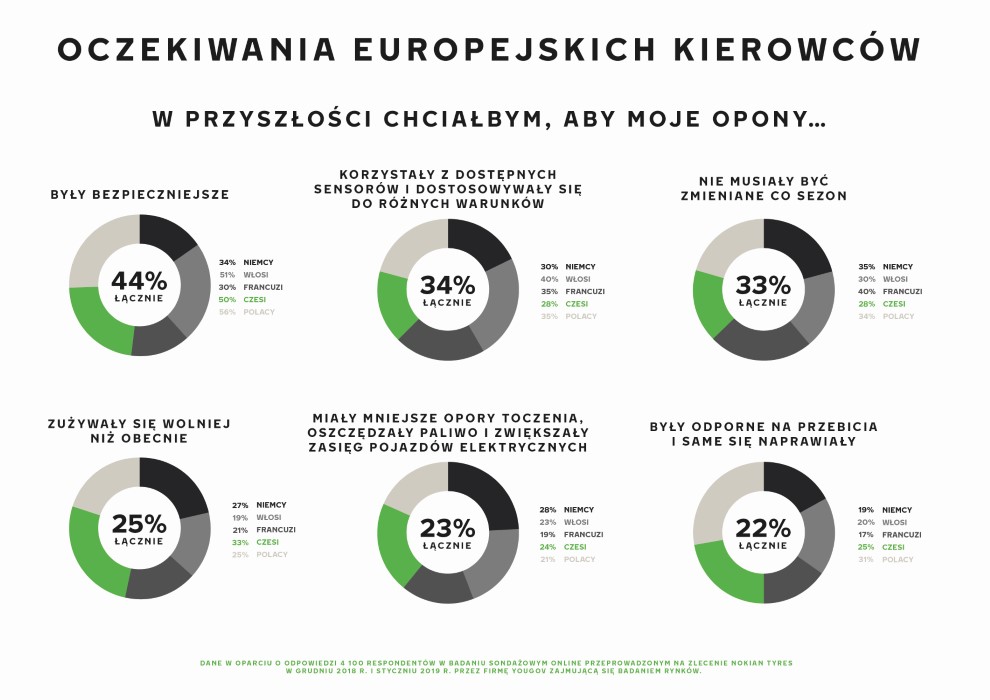 Oczekiwania europejskich kierowców, co do opon przyszłości*
Chciałbym/-abym, aby w przyszłości moje opony…
były bezpieczniejsze 44% (wszystkie kraje)
Niemcy 34%, Włochy 51%, Francja 30%, Czechy 50%, Polska 56%
wykorzystywały technologię czujników, aby dostosowywać się do zmiennych warunków 34% (wszystkie kraje)
Niemcy 30%, Włochy 40%, Francja 35%, Czechy 28%, Polska 35%
nie wymagały sezonowej wymiany 33% (wszystkie kraje)
Niemcy 35%, Włochy 30%, Francja 40%, Czechy 28%, Polska 34%
zużywały się wolniej niż obecnie 25% (wszystkie kraje)
Niemcy 27%, Włochy 19%, Francja 21%, Czechy 33%, Polska 25%
pozwoliły na zmniejszenie oporu toczenia i ograniczenie zużycia paliwa, zwiększając tym samym realny zasięg mojego elektrycznego samochodu 23% (wszystkie kraje)
Niemcy 28%, Włochy 23%, Francja 19%, Czechy 24%, Polska 21%
były odporne na przebicia, same się naprawiały 22% (wszystkie kraje)
Niemcy 19%, Włochy 20%, Francja 17%, Czechy 25%, Polska 31%
* Dane uzyskane na podstawie odpowiedzi udzielonych przez 4 100 respondentów, którzy wzięli udział w ankiecie przeprowadzonej w okresie od grudnia 2018 r. do stycznia 2019 r. na zlecenie Nokian Tyres. Ankieta przeprowadzona została online przez firmę badawczą YouGov.