Bridgestone,został wybrany jako dostawca opon na pierwszy montaż dla nowego, w pełni elektrycznego SUV-a Audi - e-tron. Współpraca obu producentów miała na celu podkreślenie najważniejszych cech nowego modelu, począwszy od spektakularnego przyspieszenia, a skończywszy na komforcie i ciszy panujących w samochodzie, a wszystko to przy jednoczesnym zapewnieniu najwyższego poziomu bezpieczeństwa. Audi wybrało Bridgestone na dostawcę sześciu różnych opon o rozmiarach od 19 do 21 cali – czterech letnich i dwóch zimowych.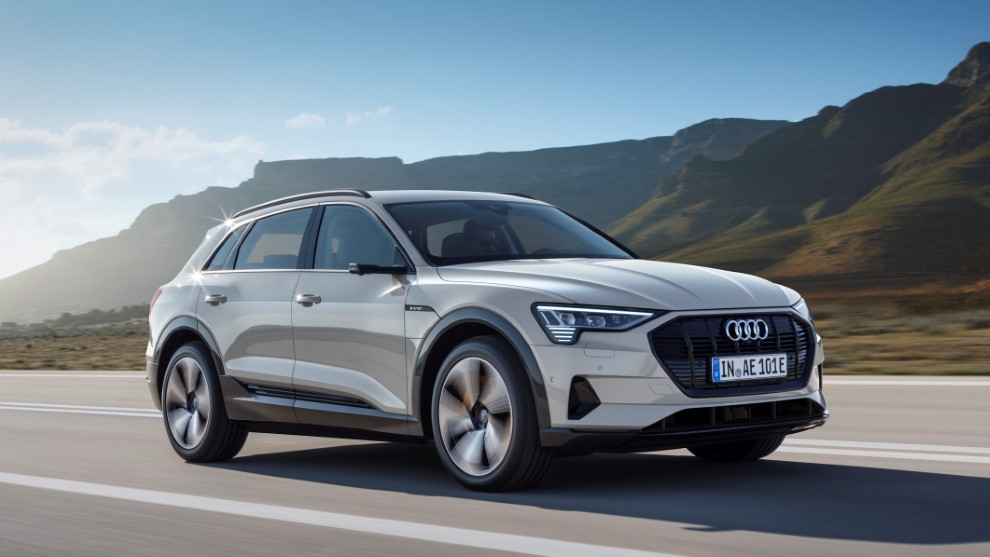 Prędkość i bezpieczeństwo
Napędzane dwoma silnikami elektrycznymi, Audi e-tron legitymuje się świetnym przyspieszeniem – pierwsze 100 km/h pojawia się na prędkościomierzu po niecałych 6 sekundach. Samochód z takimi osiągami musi być wyposażony w opony z doskonałą przyczepnością, które zapewniają najwyższy komfort prowadzenia i świetną skuteczność hamowania. Firma Bridgestone dostarczyła opony letnie Alenza 001, specjalnie zaprojektowane dla SUV-ów. Opony te mają strukturę blokową, która optymalizuje kontakt z nawierzchnią w celu poprawy prowadzenia pojazdu podczas skręcania i stabilności podczas jazdy na wprost. Ogumienie otrzymało unijną etykietę klasy A – najwyższą na rynku, przyznawaną za przyczepność na mokrej nawierzchni.
Do jazdy w warunkach zimowych Bridgestone dostarczył opony Blizzak LM 001 gwarantujące pewność w zakrętach i świetne prowadzenie na mokrych, suchych, oblodzonych, błotnistych i zaśnieżonych drogach. Ogumienie to łączy w sobie wysoką zawartość krzemionki z polimerem Bridgestone Nano Pro-Tech, co zapewnia doskonałą przyczepność.
Niskie opory toczenia dla optymalnej autonomii
Zasięg jest jednym z najważniejszych aspektów każdego pojazdu wyposażonego w napęd całkowicie elektryczny. Ogumienie w takim samochodzie musi legitymować się bardzo niskimi oporami toczenia, a opony, w które Bridgestone wyposażył Audi e-tron, zostały nagrodzone najlepszą w swojej klasie unijną etykietą klasy A. Ich właściwości potwierdza aż 400 km zasięg nowego modelu producenta spod znaku czterech pierścieni. Opony Bridgestone są również bardzo odporne na zużycie. Wszystkie te cechy pozwalają w pełni wykorzystać możliwości elektrycznego SUV-a e-tron i oprócz komfortu, zapewniają kierowcy również najwyższą przyjemność z jazdy.
Muzyka ciszy
Audi to marka będąca synonimem luksusu i komfortu. Ponieważ e-tron jest pierwszym samochodem elektrycznym tej marki, producent chce wraz z jego wprowadzeniem podkreślić cechy wyróżniające go na tle innych pojazdów. W konstrukcji zastosowano podwójne szyby dźwiękoszczelne oraz specjalne uszczelki, które pozwalają kierowcom "usłyszeć" jak bezgłośnie pracuje silnik. Zdając sobie sprawę z tego, co jest celem Audi, firma Bridgestone zaproponowała własną technologię B-Silent, jako kolejny środek minimalizacji hałasu w pojeździe. Przestrzenie wewnątrz opony, które przeważnie są puste, tutaj są wypełnione specjalnym materiałem w celu zmniejszenia hałasu, podczas gdy ściany boczne i konstrukcja opony są wzmocnione. Dzięki temu do minimum ograniczono wibracje i pogłos wynikający z ruchu opon na powierzchni drogi.
Zadowolenie i duma
Dostarczanie opon na pierwszy montaż do całkowicie elektrycznego Audi e-tron jest najnowszym krokiem w ramach ścisłej współpracy pomiędzy Bridgestone i Audi, która uczyniła japońskiego producenta numerem jeden wśród dostawców opon dla niemieckiej marki.
"Cieszymy się, że zostaliśmy wybrani przez Audi, aby dostarczyć opony na pierwszy montaż do ich pierwszego w historii w pełni elektrycznego pojazdu" - mówi Mark Tejedor, Vice President of Original Equipment w Bridgestone EMEA. Audi stworzyło pojazd, który jest innowacyjny, przyjazny dla środowiska i oferuje niesamowity komfort jazdy. Wyposażenie go w opony Bridgestone, które oferują takie same właściwości, jest bardzo logicznym rozwiązaniem. W branży przechodzącej szybkie zmiany, pojazdy stają się coraz bardziej zgodne z zasadą CASE (connected, autonomous, shared and electric) – połączone, autonomiczne, współdzielone i elektryczne. Bridgestone dostarcza nowe rozwiązania i technologie, które są w stanie sprostać najwyższym wymogom producentów samochodów, zwłaszcza dzięki wiodącym na naszym rynku branżowym inwestycjom poczynionym w obszarze badań i rozwoju."