Siedmiu mężczyzn, trzy samochody i ponad 5 000 kilometrów lodu. Wiosną zeszłego roku członkowie islandzko-amerykańskiej ekspedycji pokonali trasę z południa Grenlandii do jej najdalej na północ wysuniętego punktu w zaledwie 20 dni. Jeden z biorących udział w wyprawie pojazdów stworzony przez firmę Arctic Trucks wyposażono w zaprojektowane specjalnie z myślą o zimowych warunkach opony Nokian Hakkapeliitta 44. Ta dzika przygoda w bezkompromisowym arktycznym klimacie stanowiła prawdziwy sprawdzian zarówno dla uczestników wyprawy jak i ich sprzętu.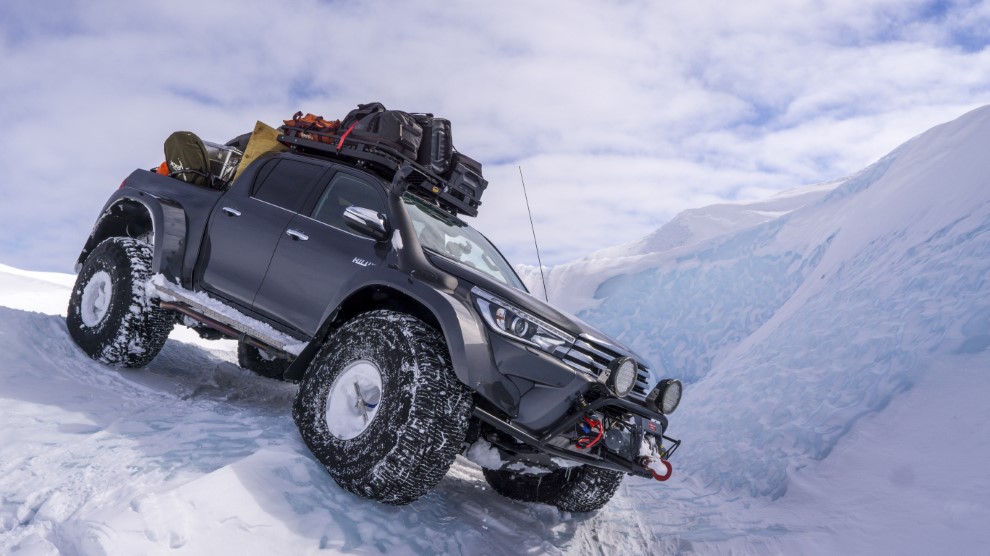 Opony Nokian Hakkapeliitta 44 wystawiono na ciężką próbę. Wyprawa pod nazwą "Expeditions7" wyruszyła z miejscowości Isortoq na południowym wybrzeżu Grenlandii kierując się w stronę Wulff Land, na północnym krańcu wyspy. Duża część podróży prowadziła przez długi na kilka tysięcy kilometrów grenlandzki lądolód osiągający miejscami grubość nawet do trzech kilometrów.
Informacje dotyczące warunków pogodowych oraz próbki śniegu i lodu zgromadzone przez uczestników wyprawy przekazane zostały uniwersytetom w celach naukowych. Po prawie trzech tygodniach ekspedycja dotarła do wioski Sisimiut na zachodnim wybrzeżu Grenlandii, pokonując łącznie odległość 5 169 km.
Nie ulec przeciwnościom
Trudne warunki panujące na Grenlandii stanowiły wyzwanie zarówno dla kierowców jak i pojazdów biorących udział w wyprawie. W czasie przygotowań jedno z aut prawie wpadło do pokrytej lodem rzeki.
"Najtrudniejszy był początek wyprawy. Problematyczne okazało się także znalezienie bezpiecznej drogi z pokrywającego morze lodowca na lądolód" – powiedział Emil Grimsson, jeden z założycieli Arctic Trucks, który także brał udział w ekspedycji.
"Jechaliśmy przez rzekę, kiedy nagle lód pod jednym z samochodów pękł i auto zaczęło wpadać do wody. Na szczęście było to najgorsze co nas spotkało i wyprawa mogła rozpocząć się zaledwie kilka dni później niż planowaliśmy" – dodał.
W drodze uczestnicy ekspedycji musieli stawić czoła licznym wyzwaniom. Zmienne warunki pogodowe i zerowa widoczność spowodowana intensywnymi opadami śniegu spowalniały postęp
wyprawy. W skrajnych momentach pojazdy poruszały się z prędkością zaledwie 10 km/h. Najniższa temperatura jaką udało się zanotować to aż -40°C. Jednocześnie, członkowie wyprawy mieli okazję podziwiać niezwykłe piękno grenlandzkiej przyrody.
"Widok lodowca w całej jego okazałości po prostu zapierał dech w piersiach" – powiedział Grimsson. "W pamięć zapadł mi także moment, kiedy po dniach na lodzie dojechaliśmy w końcu do Wolff Land. To niesamowite miejsce sprawiało niemal surrealistyczne wrażenie. Nie jestem pewien czy ktoś kiedykolwiek dotarł samochodem tak daleko na północ" – dodał.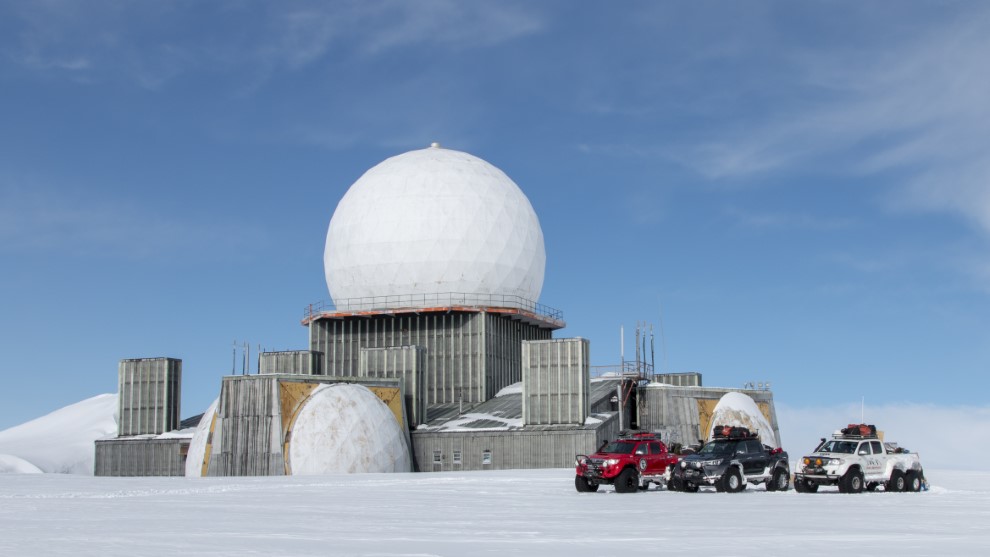 Do granic możliwości
Piękny i dziewiczy krajobraz Grenlandii stanowi jednak wyzwanie nawet dla najbardziej doświadczonych kierowców. Aby pokonać lodowiec oraz pokryty śniegiem, skalisty teren członkowie wyprawy musieli polegać na najwyższej klasy sprzęcie.
Do udziału w ekspedycji wybrano trzy, specjalnie zaprojektowane przez islandzką firmę Arctic Trucks pojazdy – te same, które wykorzystywane są do wypraw na Antarktydę. Najnowszy z nich wyposażono w opony o wysokich osiągach Nokian Hakkapeliitta 44 od najdalej na północ wysuniętego producenta opon, firmy Nokian Tyres. Specjalna mieszanka gumowa bieżnika gwarantuje zarówno doskonałą przyczepność jak i niezwykłą wytrzymałość nawet przy bardzo niskich temperaturach.
"Zdecydowałem się na Nokian Tyres ze względu na moje poprzednie doświadczenia z oponami tej firmy. Nokian Hakkapeliitta 44 nie mają sobie równych, jeśli chodzi o jazdę w ekstremalnych warunkach i świetnie sprawdzają się nawet w temperaturach poniżej -40 stopni" – powiedział Grimsson.
Pojedyncza opona waży około 70 kilogramów i ma ponad metr średnicy. Wprowadzone w zeszłym roku na rynek ciężkie opony Hakkapeliitta 44 to owoc współpracy Nokian Tyres i Arctic Trucks. "Do jazdy po miękkim śniegu potrzebne są duże opony oferujące możliwie największą przestrzeń powietrzną" – tłumaczył Grimsson. Powierzchnię styku z podłożem można regulować zmieniając ciśnienie w oponie. Szersze opony lepiej od wąskich przenoszą obciążenie i nie zapadają się tak bardzo w śniegu.
Czy starczy nam paliwa?
Jednym z najważniejszych punktów przygotowań do ekspedycji było dokładne ustalenie zużycia paliwa. W końcu na lodowcu nie ma stacji benzynowych.
"Na szczęście zużycie paliwa było niższe niż zakładaliśmy" – powiedział Grimsson. "To także zasługa opon Nokian Hakkapeliitta, które pozwalają na większą jego oszczędność. Ponad połowa zapasu paliwa przeznaczonego dla ekspedycji transportowana była na saniach ciągniętych za samochodami" – dodał.
"To był pierwszy raz, kiedy przewoziliśmy paliwo w specjalnych elastycznych zbiornikach na saniach ciągniętych za samochodami. Mieliśmy spore trudności z przymocowaniem zbiorników do sań, nie wspominając o samych saniach, które musiały być na tyle wytrzymałe, aby przetrwać podróż po bardzo ubitej nawierzchni" – wspominał Grimsson.
Jedyne w swoim rodzaju przeżycie
Trzytygodniowa przygoda przerodziła grupę siedmiu członków ekspedycji w zgrany zespół, w którym każdy miał określoną rolę i obowiązki, od gotowania, przez konserwację pojazdów po robienie zdjęć.
A co o wyprawie mają do powiedzenia sami uczestnicy?
"To było na prawdę jedyne w swoim rodzaju doświadczenie" – podsumował Grimsson. "Tego typu wyprawy przenoszą cię w inną rzeczywistość; sprawiają, że skupiasz się wyłącznie na tu i teraz; pozwalają Ci cieszyć się chwilą obecną i zapomnieć o całym świecie" – stwierdził.
W ekspedycji udział wzięli: Greg Miller (przewodniczący), Scott Brady, Clay Croft, Dr Jon Solberg, a także Kurt Williams ze Stanów Zjednoczonych oraz Emil Grimsson (współprzewodniczący) i Torfi Johannsson z Islandii.