Wydatki związane z utrzymaniem samochodu to w budżecie firmy czy domu dość ważna pozycja. Co zatem zrobić, by je zmniejszyć? Radzi Adam Klimek, expert Team Total.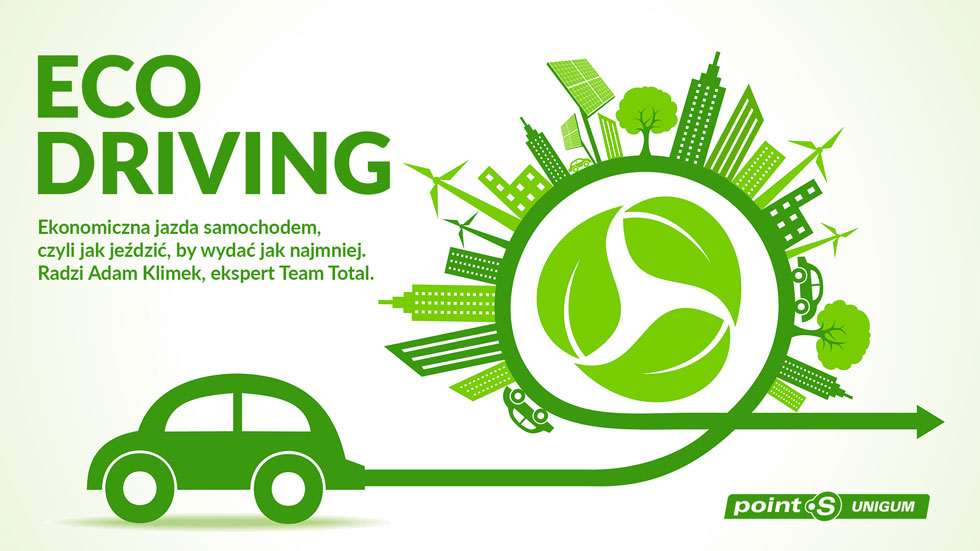 W ostatnich latach karierę robi pojęcie eco driving– taki sposób jazdy przynosi wymierne oszczędności. Metoda ta, wdrożona przez miłujących ekologię Skandynawów, wg ekspertów i instruktorów ekojazdy potrafi przynieść oszczędności rzędu od 5 do nawet 25%! Oblicza się, że przeciętny kierowca amator, stosując się do zasad eco drivingu, jest w stanie zaoszczędzić na paliwie ok. 8%. Mówiąc bardziej obrazowo, to cały jeden miesiąc w roku jeżdżenia za darmo. Płynna ekologiczna jazda oszczędza nie tylko paliwo, ale również wiele podzespołów samochodu, np. hamulce.
Patrząc na ruch uliczny w takich skandynawskich miastach jak Sztokholm czy Kopenhaga, widać, że jest on płynny, a kierowcy praktycznie nie zatrzymują się przed skrzyżowaniami. Znajomości zasad eco drivingu wymaga się tam od lat podczas egzaminu na prawo jazdy. Według Rozporządzenia Ministerstwa Infrastruktury, zgodnego z Dyrektywami Unii Europejskiej, również polscy kandydaci na kierowców muszą znać zasady ekologicznej jazdy i stosować je na egzaminie.
Na czym zatem polega eco driving?Jak sama nazwa wskazuje, na jeździe możliwie jak najbardziej ekologicznej, a tym samym maksymalnie oszczędnej. To jednak duże uproszczenie. Nie chodzi o to, aby toczyć się po jezdni z jak najniższą prędkością. Eco driving to przede wszystkim płynna jazda i świadome podejście do tematyki poruszania się po drogach. Można oczywiście zapisać się na specjalny kurs, na którym instruktorzy pokażą, co robić, by jeździć oszczędniej i bezpieczniej, ale można też wprowadzić te zasady samodzielnie, stosując się do kilku najważniejszych wytycznych.
Po pierwsze: przed wyjazdem sprawdź ciśnienie w oponach. Niższe od zalecanego już o 0,2 bara wpływa na wzrost spalania o 1–2%. Zbyt niskie ciśnienie to wyższe opory toczenia. Przekłada się to nie tylko na spalanie, ale też na szybsze zużycie ogumienia. Na wzrost zapotrzebowania na paliwo mają też wpływ zużyte elementy zawieszenia, źle ustawiona geometria, nieprawidłowo pracujący silnik itd.
Po drugie: ruszaj zaraz po uruchomieniu silnika. To, że jednostka napędowa musi się rozgrzać podczas postoju, to mit. Jest odwrotnie. Nierozgrzany silnik pracujący na postoju na wolnych obrotach szybciej się zużywa, bo to dla niego niesprzyjające warunki. Współczesne auta są przystosowane do tego, żeby nawet przy największym mrozie móc od razu ruszyć w drogę. Pamiętać trzeba tylko, żeby do momentu osiągnięcia optymalnej temperatury nie wkręcać silnika na wysokie obroty i unikać dużego obciążenia. Rozgrzewanie na postoju to również bezsensownie wypalane paliwo i większe zanieczyszczenie środowiska.
Po trzecie: jedź na możliwie najwyższym biegu i najniższych obrotach. Zaleca się, by w autach z silnikami benzynowymi zmieniać przełożenie na wyższe najpóźniej przy 2500 obr./min. W przypadku pojazdów z jednostkami wysokoprężnymi za próg uznaje się 2000 obr./min. Zarówno w samochodach z silnikami benzynowymi, jak i w autach z dieslami pierwszy bieg powinien służyć tylko do ruszania z miejsca, a drugi należy wrzucić już po przejechaniu ok. 10 metrów. Trzeci bieg można wrzucić przy 30–50 km/h, czwórkę przy 40–50. Na piątkę wystarczy już 50–60 km/h. Należy zwrócić uwagę na jazdę na jak najwyższym biegu zwłaszcza w ruchu miejskim – to znacząco oszczędza paliwo.
Po czwarte: hamuj silnikiem i wyłączaj silnik. Hamowanie silnikiem to nic innego, jak umiejętna redukcja biegów przed skrzyżowaniem (lub innym miejscem, przed którym musimy wytracić prędkość) oraz wciskanie sprzęgła w ostatniej chwili przed zmianą lub zatrzymaniem. Gdy już się zatrzymamy przed sygnalizacją świetlną lub np. przed przejazdem kolejowym, wyłączmy silnik. To również zmniejsza zużycie paliwa i wpływa na ochronę środowiska. Posiadacze pojazdów z systemem start–stop mają ułatwione zadanie, bo auto wyłączy się automatycznie i zaskoczy ponownie po przyciśnięciu pedału gazu. Kierowcy samochodów bez tego systemu również powinni się do tej zasady stosować. Bez obaw – gdy stoimy jako drudzy czy trzeci w kolejce przed światłami, po ich zmianie będziemy mieli dość czasu na uruchomienie silnika.
Po piąte: zadbaj o odpowiednią aerodynamikę i nie przewoź zbędnego bagażu. Zmniejszenie masy auta ma wpływ na zużycie paliwa i dodatkowo poprawia bezpieczeństwo, szczególnie w przypadku przewożenia przedmiotów, które mogą w momencie hamowania gwałtownie przemieszczać się po aucie. Z bagażnika i wnętrza należy usunąć zbędne rzeczy. Boks dachowy również powinno się zdejmować zaraz po tym, jak przestało się z niego korzystać. Starajmy się też możliwie rzadko otwierać szyby, zwłaszcza przy jeździe z wyższymi prędkościami.
Specjaliści i maniacy eco drivingu zwracają także uwagę na wyłączanie klimatyzacji, kiedy nie jest ona konieczna, i ograniczenie używania dodatkowych systemów w samochodzie, np. muzycznych. One również wpływają na podwyższenie spalania. Tu jednak każdy kierowca powinien kierować się zdrowym rozsądkiem. Ekojazda polega nie tylko na wykonywaniu pewnych czynności, ale głównie na umiejętności przewidywania. Trzeba przede wszystkim uważnie obserwować drogę przed sobą i już zawczasu zdjąć nogę z gazu i hamować silnikiem, gdy w oddali widzimy czerwone światło. Dzięki przewidywaniu i korzystaniu z wyobraźni jeździmy bezpieczniej, bardziej płynnie, a nasz samochód nie jest narażony na duże przeciążenia i niebezpieczne sytuacje. Stosując się do zasad eco drivingu, odczujemy wiele korzyści. Te najbardziej zauważalne już przy najbliższym tankowaniu na stacji benzynowej.
Adam Klimek, ekspert Team Total
Źródło: Total