Akumulator w pełni naładowany, o odpowiedniej gęstości elektrolitu, zamarza dopiero przy -68 °C. Dlaczego zatem niemal każdy kierowca, wsiadając do samochodu zimowym porankiem, zadaje sobie to samo pytanie: Odpali dzisiaj?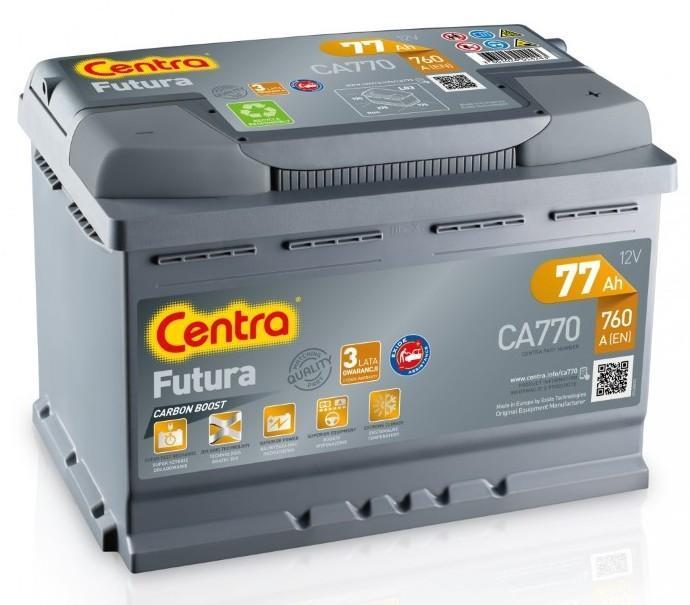 Temperatury bliskie -70°C raczej nam nie grożą, pokazują jednak, na jakie warunki atmosferyczne przygotowane są akumulatory pod względem technologicznym. Aby akumulator tę odporność zachował powinien być spełniony jeden podstawowy warunek – musi być w pełni naładowany. Rozładowany akumulator odmawia posłuszeństwa niezależnie od temperatury, jednak w skrajnej sytuacji i w termperaturach poniżej 0°C zamarza oraz podlega nieodwracalnym zniszczeniom.
Ilość energii, którą możemy pobrać z akumulatora, zależy od jego temperatury. Spadek temperatury akumulatora np. od +25°C do -20°C zmniejsza zakumulowaną energię o połowę, a więc w przypadku akumulatora częściowo rozładowanego jego pojemność i sprawność będą proporcjonalnie mniejsze. Przyczyna: wewnętrzny opór rośnie, a reakcja chemiczna przebiega wolniej. Jednocześnie taka sama zmiana (spadek) temperatury silnika powoduje dwukrotny wzrost natężenia prądu pobieranego przez rozrusznik w chwili uruchamiania silnika. Dlatego ważne jest, aby akumulator zamontowany w samochodzie był w pełni naładowany. Zamontowanie niedoładowanego akumulatora w pojeździe, który użytkujemy także niesystematycznie, może doprowadzić do głębokiego rozładowania, a w konsekwencji do uszkodzenia akumulatora.
Z tych właśnie powodów uznany producent akumulatorów firma Exide Technologies, z powodzeniem stosuje w swoich najlepszych produktach, unikatową technologię Carbon Boost.
Akumulatory Centra Futura Carbon Boost ładują się do 1,5 raza szybciej dzięki zastosowaniu opatentowanych dodatków węglowych. Technologię tę odkryto podczas prac rozwojowych nad gamami AGM i EFB, co doprowadziło do poprawy zdolności przyjmowania ładunku i znaczącego skrócenia czasu ładowania. Akumulator Centra Futura Carbon Boost został zaprojektowany, aby sprostać ekstremalnym temperaturom i wymaganiom pojazdów z bogatym wyposażeniem oraz intensywnie użytkowanym.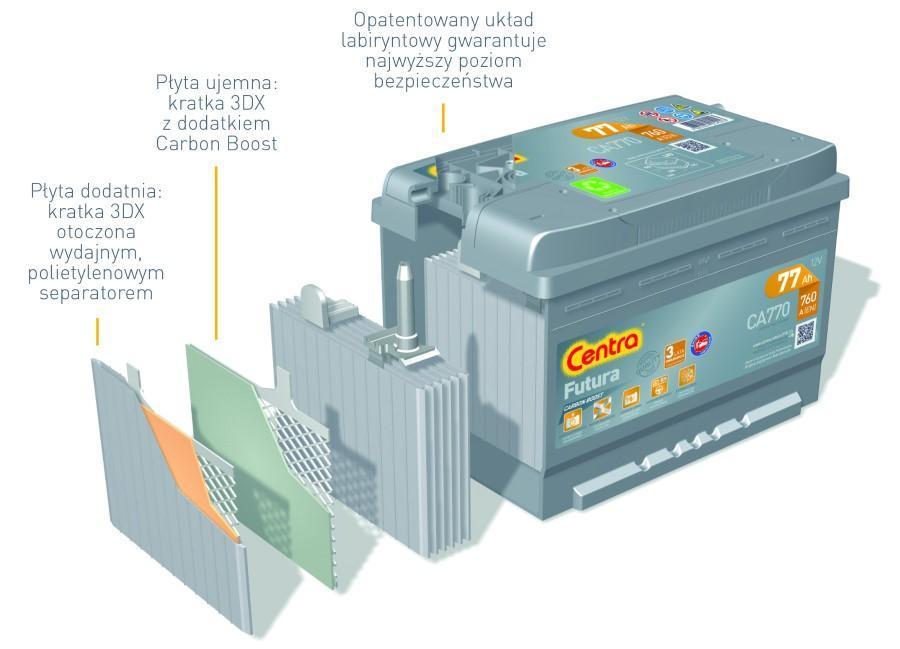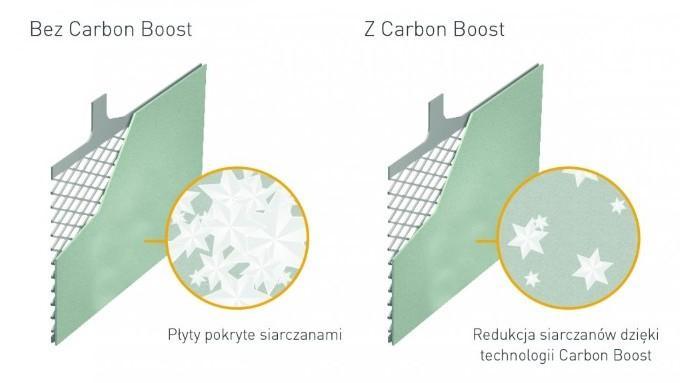 W wyniku rozładowywania akumulatora nieprzewodzące cząsteczki siarczanów stopniowo pokrywają płyty ujemne, izolując je od elektrolitu. W takiej sytuacji podczas ładowania akumulatora duża ilość energii jest wykorzystywana na rozpuszczenie siarczanów, co obniża efektywność ładowania. Wysoko powierzchniowy węgiel w akumulatorach Centra Futura Carbon Boost zapewnia doskonałe przewodnictwo, dzięki czemu siarczany rozpuszczają się znacznie szybciej.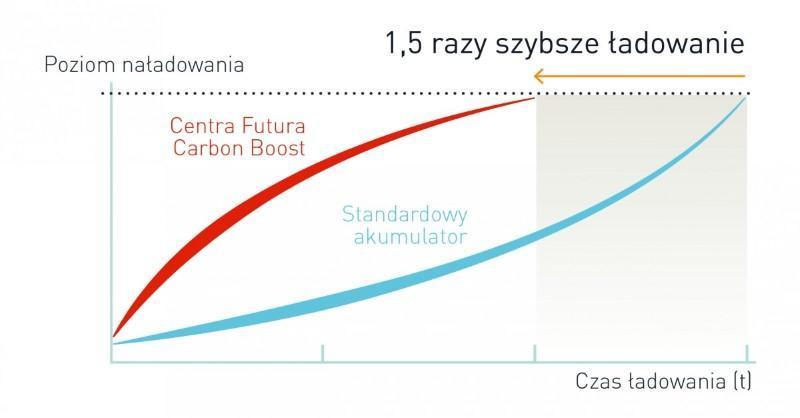 Testy laboratoryjne wykazały, że ładowanie akumulatora Centra Futura Carbon Boost trwa zdecydowanie krócej niż ładowanie standardowego akumulatora w takich samych warunkach.
Centra Futura Carbon Boost ma lepszą zdolność przyjmowania ładunku (ładuje się do 1,5 raza szybciej niż standardowe akumulatory). To ważne, ponieważ akumulator często jest pierwszą przyczyną awarii samochodu*. Dzięki szybkiemu ładowaniu akumulator jest zawsze w pełni doładowany, co w określonych warunkach użytkowania (niskie temperatury, ruch miejski) przekłada się na wydłużenie jego żywotności.
Wyjście awaryjne
Zawsze dobrze jest mieć w zanadrzu wyjście awaryjne i (w przypadku gdy samochód z powodu np. rozładowanego akumulatora nie chce zapalić) posiadać pod maską akumulator z pakietem assistance. Takim rozwiązaniem są objęte akumulatory Centra Futura i Exide Premium.
Więcej informacji na ten temat można znaleźć tutaj:Exide assistance - akumulator z ubezpieczeniem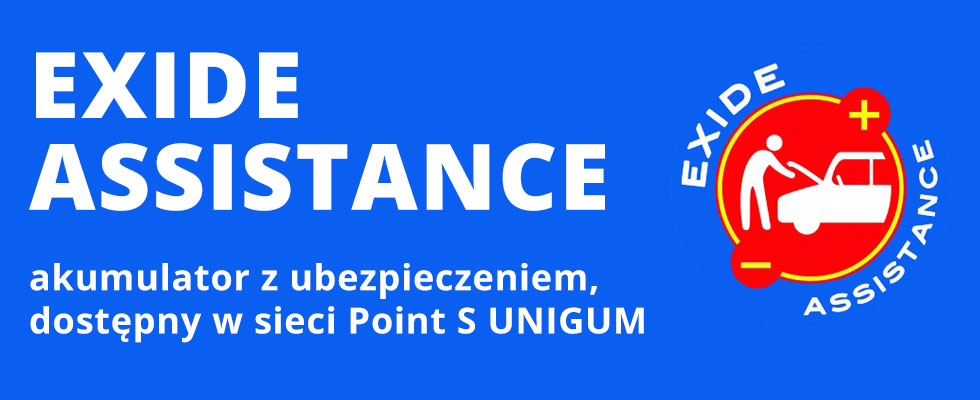 Akumulatory Centra z pakietem assistance dostępne są w sieci serwisów Point S UNIGUM
Źródło: akumulator.pl