Większość kierowców zna to uczucie, ten dźwięk lub drgania, gdy koło wpadnie w dziurę w jezdni lub wjedzie na wybój. Sprawdź, jeśli uważasz, że coś jest nie tak - nie ignoruj żadnego uderzenia.
Rozsądny kierowca zjedzie na bok, gdy tylko to będzie możliwe i bezpieczne, by sprawdzić, czy opona nie uległa uszkodzeniu. W przypadku poważnego uderzenia, oponę należy jak najszybciej zdemontować i sprawdzić w specjalistycznym warsztacie. Oczywiście lepiej, gdy kierowca uważa na drodze, jedzie ostrożnie i zwraca uwagę na większe kamienie i dziury w jezdni.
Niektóre uszkodzenia widać od razu, takie jak na przykład wybrzuszenia boku opony czy nacięcia na jej powierzchni. Ale zderzenie z krawężnikiem, wjechanie w dziurę w jezdni, czy najechanie na większy kamień może także spowodować uszkodzenia wewnętrzne, które podobnie jak widoczne uszkodzenia, mogą stanowić duże ryzyko dla bezpieczeństwa.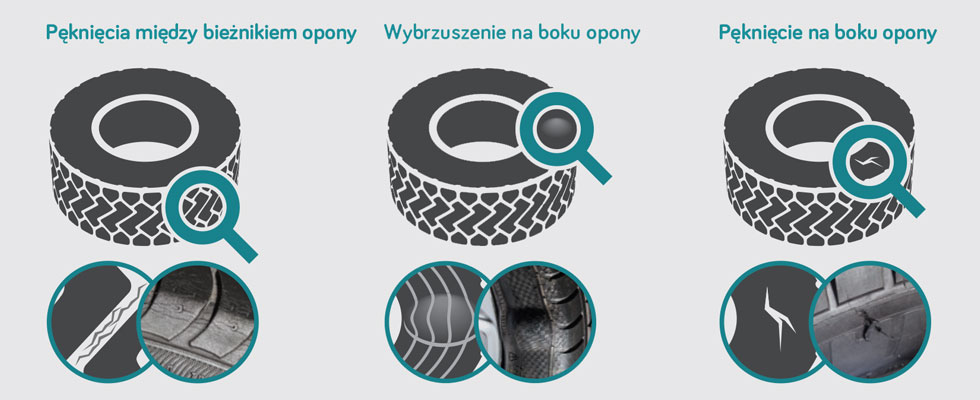 Aby uniknąć uszkodzeń przy wjechaniu w dziurę, kierowca powinien zawsze:
Zachować czujność.
Zachować bezpieczny odstęp od samochodu, który jedzie się przed Tobą.
Uważać na innych kierowców i pieszych przed zmianą kierunku jazdy, aby uniknąć najechania na dziurę w jezdni, czy wybój.
Zawsze kontrolować prędkość.
Unikać niepotrzebnego hamowania.
Pamiętać o prawidłowym trzymaniu kierownicy w celu zachowania maksymalnej kontroli.
Regularnie sprawdzać ciśnienie w oponach. Informację na temat prawidłowego ciśnienia w oponach znaleźć można po wewnętrznej stronie klapki wlewu paliwa, w instrukcji pojazdu i/lub po wewnętrznej stronie drzwi samochodu.
Ale bądźmy realistami. Rzadko który kierowca nigdy nie miał powodów do zmartwień. Najistotniejsze jest, by działać odpowiedzialnie w takich przypadkach i zachować bezpieczeństwo.
Źródło: TyreAWARE.org