O najpopularniejszych faktach i mitach na temat filtrów oleju, powietrza i paliwa opowiadają eksperci z PZL Sędziszów S.A.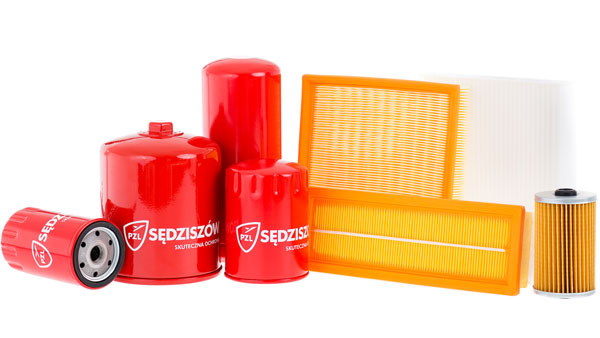 FAKTY
Wymiana filtrów powietrza i paliwa zwiększa moc silnika
Prawda: Zatkany filtr powietrza to mniej tlenu potrzebnego do spalania mieszanki, a zatem moc silnika maleje. Znaczne zatkanie filtra paliwa, który ma duży zapas jeżeli chodzi o powierzchnię i żywotność, również zmniejsza osiągi silnika.
Filtry z wkładem z celulozy są o wiele mniej odporne na działanie czynników zewnętrznych i znacznie gorzej filtrują powietrze płynące do silnika
Prawda: Na pewno są mniej odporne na działanie wilgoci i wody niż filtry z włóknin syntetycznych. Jednak obróbka cieplna (polimeryzowanie żywicy w papierze) znacznie tę odporność poprawia.
Niewłaściwie przefiltrowane paliwo może być przyczyną uszkodzenia układu wtryskowego
Prawda: Przy ciśnieniach stosowanych w nowoczesnych układach wtryskowych, przekraczających 200 [MPa], i dużych prędkościach przepływu paliwa, każda, nawet najmniejsza drobinka pyłu może spowodować znaczne uszkodzenia układu.
Nowoczesne filtry paliwa, stosowane w silnikach o zapłonie samoczynnym, powodują odseparowanie wody
Prawda: W tego rodzaju filtrach stosowany jest specjalny, kilkuwarstwowy materiał, który oddziela prawie 100% wody.
We wnętrzu samochodu, który nie posiada filtra kabinowego, zapylenie może być nawet 5-6-krotnie wyższe niż na zewnątrz pojazdu
Prawda: Dotyczy to jednak jazdy w kolumnach lub korkach ulicznych.
Zanieczyszczony filtr powietrza może wpływać na większe zużycie paliwa
Prawda: Większe opory przepływu filtra powietrza zawsze powodują zwiększone zużycie paliwa.
MITY
Ciemny olej świadczy o złej filtracji.
Fałsz: Oleje silnikowe zawierają specjalne dodatki, które utrzymują w czystości wnętrze silnika przez usuwanie osadów węglowych. Osady te pozostają w oleju, w postaci nieszkodliwej zawiesiny. Jeśli olej silnikowy nie ściemniał, oznacza to, że nie pracuje on najlepiej.
Materiały stosowane w filtrach są niekompatybilne z nowoczesnymi olejami syntetycznymi
Fałsz: Do nowoczesnych silników z olejami syntetycznymi, w których temperatura oleju osiąga 130 stopni C, stosuje się papiery filtracyjne nowej generacji, m.in. dwuwarstwowe. Wszystkie materiały użyte do produkcji filtrów (kleje, tworzywa, uszczelnienia) muszą być odporne na agresywne działanie nowoczesnych olejów.
Filtry stożkowe gorzej filtrują powietrze i często do silnika dostają się drobiny, które przyspieszają jego zużycie
Fałsz: Sam kształt filtra (stożkowy, walcowy, panelowy) nie decyduje o jakości filtracji. Wpływa na to jedynie zastosowany materiał i jakość wykonania.
Wymianę filtra oleju zaleca się średnio co rok lub po pokonaniu dystansu 10-20 tys. km
Fałsz: Wymianę filtra zaleca się wykonywać wraz z wymianą oleju. Filtry oleju nowej generacji - tzw. long life, wytrzymują znacznie większe przebiegi, ale najlepiej stosować się do zaleceń producenta pojazdu lub silnika.
Prędkość przepływu powietrza przez filtr nie ma wpływu na skuteczność filtracji
Fałsz: Prędkość przepływu przez filtr ma decydujący wpływ na skuteczność filtracji! Po przekroczeniu tzw. krytycznej prędkości przepływu skuteczność filtracji spada gwałtownie nawet o 50%.
Źródło: PZL Sędziszów