Amortyzatory są jednym z najważniejszych elementów wpływających na bezpieczeństwo jazdy. Mają one znaczący wpływ na utrzymanie kontroli nad pojazdem w czasie jazdy oraz hamowania. Na co należy zwrócić uwagę, aby uniknąć jazdy na niesprawnych amortyzatorach?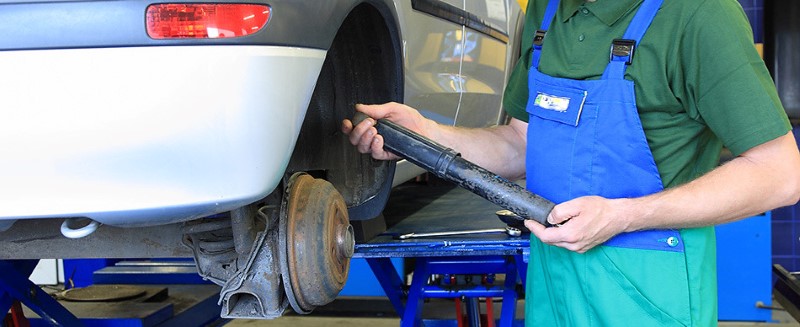 Dobrze funkcjonujące amortyzatory zapewniają samochodom nie tylko większe bezpieczeństwo w czasie jazdy i hamowania, ale także zmniejszone drgania samochodu, co znacząco wpływa na komfort podróżowania. Dlatego eksperci doradzają, aby w przypadku zaobserwowania oznak niesprawnych amortyzatorów, bezzwłocznie udać się do serwisu.
Symptomy niesprawności amortyzatorów:
- wydłużona droga hamowania
- koła odrywające się od nawierzchni i podskakujące podczas ostrego hamowania
- niepewnie prowadzenie się auta na zakrętach
- znaczne przechyły podczas zakrętów oraz efekt "pływania" i "bujania" auta
- "przestawianie" pojazdu w czasie pokonywania np. torów klejowych, poprzecznych uskoków
- nierównomierne zużycie opon
- wyciek oleju z amortyzatora
Znając te oznaki, kierowca jest w stanie sam dostrzec potencjalny problem z amortyzatorami w swoim aucie, dzięki czemu może uniknąć szeregu niebezpieczeństw, takich jak:
- utrata przyczepności kół do nawierzchni i utrata panowania nad pojazdem
- wydłużenie drogi hamowania
- zmniejszenie komfortu podróżowania
- szybsze zużycie opon
Amortyzatory to jeden z podstawowych elementów zawieszenia samochodu. Dlatego, podobnie jak inne elementy auta, należy je regularnie, dwa razy w roku, serwisować, bo dzięki temu zwiększamy ich żywotność oraz bezpieczeństwo i komfort. Aby amortyzatory długo nam służyły i zapewniały bezpieczne warunki jazdy, warto też omijać widoczne dziury w jezdni, unikać gwałtownego wjeżdżania na krawężniki i przeciążania samochodu. Ważne jest też, aby dobór i serwis amortyzatorów pozostawić ekspertom, unikając przy tym rad "fachowców" z for internetowych. Co więcej, doradzamy poprosić o wydruk w stacji kontroli pojazdów, gdyż ułatwi to życie mechanikowi obsługującemu nasz pojazd.
Wymiany amortyzatorów dokonasz w serwisie Point S UNIGUM
Źródło: Michelin