WinterContact TS 860 to najnowsza zimowa opona Continental do samochodów kompaktowych i średniej wielkości. W porównaniu do poprzedniego modelu, gwarantuje ona wyższy poziom bezpieczeństwa: zapewnia znaczną poprawę prowadzenia oraz hamowania na mokrych, pokrytych szronem, oblodzonych i zaśnieżonych drogach.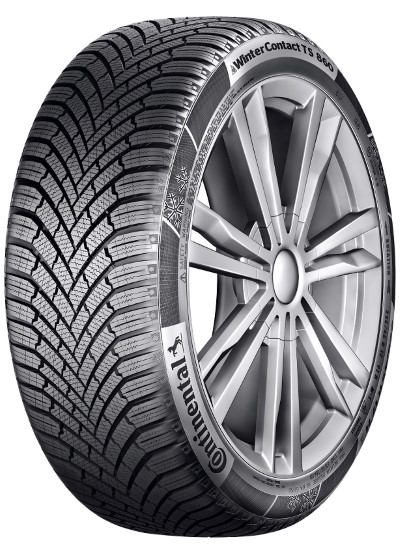 WinterContact TS 860 – zimowy ekspert
Z oponą WinterContact TS 860 Continental raz jeszcze poprawił wyniki już i tak bardzo dobrej poprzedniczki – ContiWinterContact TS 850. Dotychczasowy model w ciągu ostatnich czterech lat osiągnął najlepsze wyniki w aż 47 niezależnych testach porównawczych przeprowadzonych przez europejską prasę branżową, kluby samochodowe i organizacje konsumenckie, co czyni go najlepszą oponą zimową Continental.
Nowe opony to połączenie najlepszych doświadczeń Continental oraz innowacyjnych technologii opracowanych i wdrażanych przez niemieckich specjalistów. WinterContact TS 860, dzięki udoskonalonej mieszance gumowej oraz nowej strukturze i technologii bieżnika, zapewnia o 5% lepsze osiągi na mokrych jezdniach oraz o 4% krótszą drogę hamowania na oblodzonych drogach. Ponadto opona zapewnia lepszą przyczepność na śniegu i stabilność prowadzenia w warunkach zimowych.
WinterContact TS 860 – opona zimowa klasy premium - została zaprojektowana z myślą o kierowcach, którzy poruszają się swoimi samochodami po drogach Europy Środkowej i Zachodniej – czyli tam, gdzie zimy są zazwyczaj mroźne oraz wilgotne, a częste deszcze i niskie temperatury tworzą ryzyko występowania gołoledzi. Właśnie dlatego celem inżynierów z Continental stało się zaprojektowanie opony, która zapewni maksymalne bezpieczeństwo w zmiennych zimowych warunkach pogodowych.
[lb]Nowa mieszanka – większa przyczepność/lb]
W przypadku mokrych nawierzchni to skład chemiczny mieszanki ogumienia wpływa bezpośrednio na przyczepność i hamowanie. Dlatego, wykorzystywana w oponie Continental WinterContact TS 860 udoskonalona mieszanka gumowa Cool Chili została zaprojektowana w taki sposób, aby zapewniać optymalne bezpieczeństwo - podczas pokonywania zakrętów czy nagłego naciśnięcia pedału hamulca.
Mieszanka Cool Chili charakteryzuje się wysoką zawartością siliki o maksymalnej przyczepności, co znacznie poprawia hamowanie oraz przenoszenie sił podczas hamowania na mokrych drogach. Zawiera ona również specjalne żywice, które zapewniają odpowiednią elastyczność opony w niskich temperaturach, a tym samym szybsze hamowanie na mokrych, oblodzonych czy pokrytych śniegiem jezdniach. Nowością w składzie mieszanki WinterContact TS 860 jest także łańcuch elastycznych polimerów, którego obecność daje zauważalną poprawę właściwości trakcyjnych na wszystkich rodzajach nawierzchni zimą.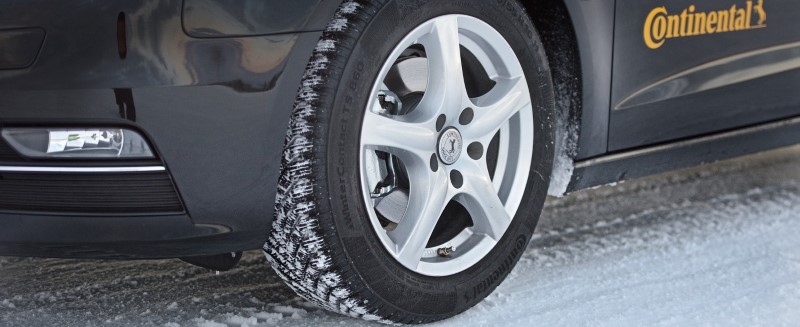 Nowa technologia bieżnika dla idealnego prowadzenia
W efektywnym hamowaniu na oblodzonych i oszronionych drogach pomaga także specjalny wielokanałowy wzór lameli, czyli Technologia Liquid Layer Drainage. Podczas hamowania na pokrytych lodem jezdniach, pod bieżnikiem tworzy się cienka warstwa wody, tzw. film wodny, który znacząco zmniejsza kontakt opony z nawierzchnią, wydłużając tym samym drogę hamowania. Dzięki zastosowaniu obwodowych lameli, które wspierają odprowadzanie wody do kanałów poprzecznych, a następnie głównych rowków bieżnika, film wodny jest szybciej usuwany spod opony, dzięki czemu droga hamowania znacząco się skraca. Nowością jest również zastosowanie technologii SnowCurve+ z trójwymiarowymi rowkami bieżnika. Dodatkowy rowek w ścianie bloków bieżnika zapewnia lepsze wczepianie się w śnieg, a tym samym lepszą trakcję i przyczepność na zaśnieżonych zakrętach.
Obecnie WinterContact TS 860 jest dostępna w 36 rozmiarach, o średnicach od 14 do 17 cali. Poszerzenie oferty o kolejne 20 modeli zaplanowano na 2017 rok. Wszystkie rozmiary nowej opony WinterContact TS 860 uzyskały ocenę B, zgodnie z unijnym wymogiem etykietowania, dla kategorii "przyczepność na mokrej nawierzchni".
Źródło: Continental