Aby silnik mógł pracować prawidłowo dostarczone do niego powietrze oraz płyny eksploatacyjne muszą być oczyszczone. To decyduje o jego niezawodności oraz okresie jego eksploatacji.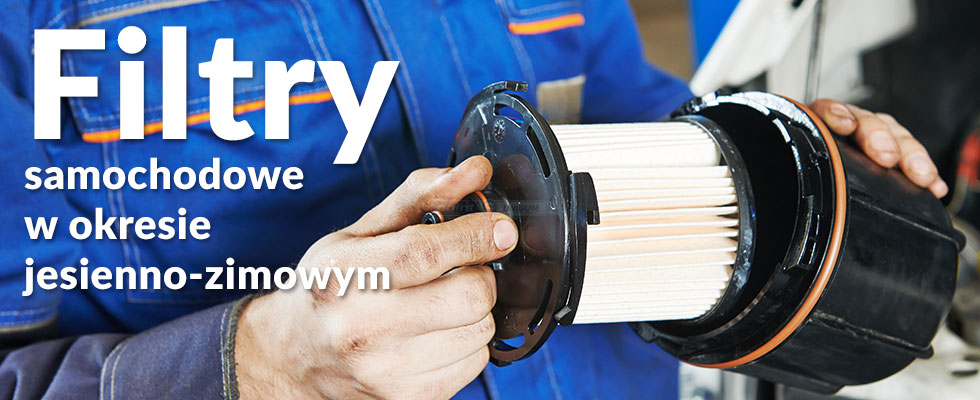 Każdy eksploatowany pojazd napędzany silnikiem spalinowym jest wyposażony w szereg filtrów lub separatorów, które oczyszczają: płyny eksploatacyjne (paliwo, powietrze, olej smarny) dostarczane do silnika, powietrze wykorzystywane w układach pneumatycznych samochodów ciężarowych oraz powietrze dostarczane do kabin samochodowych.
Okres jesienno - zimowy jest szczególnie niekorzystny dla prawidłowej pracy filtrów z uwagi na występowanie: niskich temperatur i znacznych wahań temperatur oraz wysokiej wilgotności powietrza. Aby przeciwdziałać ewentualnym trudnościom eksploatacyjnym w okresie jesienno-zimowym należy zastosować się do wskazówek opisanych w dalszej części artykułu.
Filtry powietrza do silników spalinowych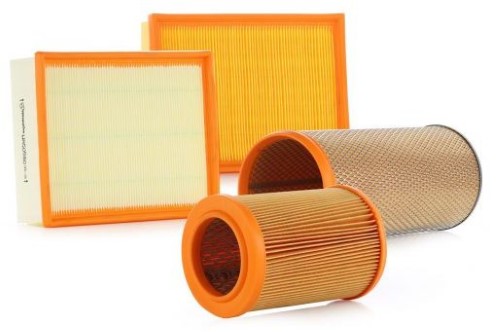 Podczas oczyszczania powietrza, gromadzące się na powierzchni filtracyjnej wkładu wymiennego zanieczyszczenia, powodują wzrost oporów zasysania powietrza do silnika. Przepływ powietrza o wysokiej wilgotności przez warstwę zgromadzonych zanieczyszczeń powoduje jej nawilżenie i dalszy wzrost oporów ssania, spowodowanych zjawiskiem zaklejania por w materiale filtracyjnym. Efektem opisanego procesu jest zmniejszanie ilości powietrza zasysanego do silnika, niepełne spalanie paliwa, zwiększenie emisji szkodliwych substancji i obniżanie mocy. Dla utrzymania poziomu mocy konieczne jest dostarczenie większej dawki paliwa i w efekcie następuje wzrost zużycia paliwa przez pojazd.
Wkłady filtrów powietrza powinny być wymieniane z częstotliwością określoną w instrukcji obsługi pojazdu lub częściej jeżeli pracuje on w warunkach uciążliwych.
W celu uniknięcia problemów zaleca się wymianę wkładu filtra powietrza na nowy przed okresem jesienno - zimowym jeżeli:
- zbliża się czas wymiany wkładu przewidziany instrukcją obsługi pojazdu
- pojazd był często eksploatowany w warunkach dużego zapylenia powietrza (bezdroża, drogi polne, w kolumnach, w dużych miastach o wysokim natężeniu ruchu itp.) a minęła połowa okresu do wymiany przewidzianego instrukcją obsługi
Zalecenia nie dotyczą pojazdów wyposażonych w sygnalizatory zanieczyszczenia wkładu filtra powietrza ,wskazujących potrzebę wymiany wkładu.
Filtry paliwa do silników spalinowych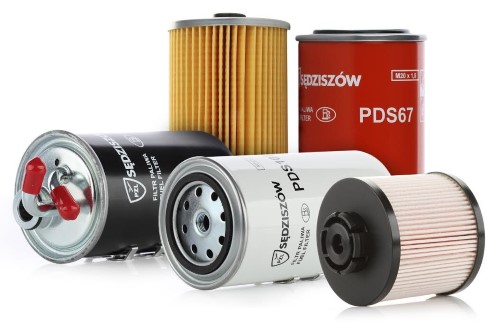 Do zanieczyszczeń paliw płynnych mogących powodować trudności eksploatacyjne w pracy silników spalinowych w okresie zimowym należą:
Woda dostająca się do paliwa podczas:

produkcji ( zawartość ograniczona normami odbiorczymi do bezpiecznego poziomu) (zaleca się częste uzupełnianie paliwa w zbiorniku samochodowym do pełna w okresie zimowym celem obniżenia możliwości wydzielania wody na ściankach zbiornika)
tankowania do cystern, zbiorników i samochodów, z wilgoci znajdującej się w powietrzu, (zaleca się częste uzupełnianie paliwa w zbiorniku samochodowym do pełna w okresie zimowym celem obniżenia możliwości wydzielania wody na ściankach zbiornika)
przechowywania w zbiornikach i samochodach, w wyniku znacznych zmian temperatur otoczenia, woda znajdująca się w powietrzu ponad poziomem paliwa skrapla się na zimnych ścianach zbiornika i spływa do paliwa (zaleca się częste uzupełnianie paliwa w zbiorniku samochodowym do pełna w okresie zimowym celem obniżenia możliwości wydzielania wody na ściankach zbiornika)

Parafina wydzielająca się z oleju napędowego w niskich temperaturach. Szczególnie dotyczy to olejów letnich i przejściowych. Norma PN-EN 590 precyzuje temperatury zablokowania zimnego filtra, mianowicie, olej napędowy: letni - 0°C; przejściowy -10°C, zimowy -20°C.
Filtry benzyny do silników z zapłonem iskrowym
Do większości produkowanych w Europie nowoczesnych silników z zapłonem iskrowym stosowane są bezobsługowe filtry paliwa zintegrowane z pompą paliwa zamontowaną w zbiorniku. Do starszych silników stosowane są filtry przewodowe wymieniane w całości z częstotliwością określoną w instrukcji obsługi pojazdu.
W okresie zimowym powodem trudności z uruchomieniem silnika, lub przerwy w pracy są najczęściej cząstki lodu powstałe z wody wydzielonej z paliwa w filtrze. W okresie gdy temperatury otoczenia nie obniżają się poniżej 0°C woda ta zostaje częściowo zabrana przez przepływające paliwo i dostaje się do cylindrów silnika, gdzie następuje jej odparowanie. Cześć wydzielonej z paliwa wody pozostaje w filtrze zwłaszcza gdy wkład filtrujący jest znacznie zanieczyszczony. W okresie zimowym gdy temperatura otoczenia obniży się poniżej 0°C woda ta zamarznie i zablokuje przepływ paliwa w układzie zasilania silnika powodując przerwę w jego pracy lub trudności z uruchomieniem. Dla uniknięcia omówionych trudności zaleca się wymianę filtra paliwa przed okresem zimowym, zwłaszcza wówczas gdy okres jego eksploatacji zgodnie z instrukcją obsługi kończy się w okresie zimowym lub wiosennym.
Filtry oleju napędowego do silników z zapłonem samoczynnym (wysokoprężnych).
Nowoczesne wysokoprężne silniki spalinowe w wysokociśnieniowym wtryskiem bezpośrednim do cylindra ( z pompowtryskiwaczami lub z układem Common Rail wtrysku paliwa) wyposażane są w filtry z podgrzewaczami paliwa sterowanymi automatycznie i separatorami wody z sygnalizacją poziomu oddzielonej wody nie wymagającymi specjalnej obsługi przed okresem zimowym.
Podczas eksploatacji silników starszej generacji wyposażonych w filtry bez podgrzewaczy i separatorów nawet przy stosowaniu paliwa zimowego mogą wystąpić problemy eksploatacyjne spowodowane:
blokowaniem dopływu paliwa przez cząstki lodu
blokowaniem przepływu paliwa przez filtr w wyniku wydzielania się parafiny podczas eksploatacji w temperaturach poniżej -20°C
W filtrach tradycyjnych, bez separatorów, woda wydzielona na materiale filtracyjnym wkładu gromadzi się w dolnej części obudowy, jej ilość wzrasta wraz z zanieczyszczeniem wkładu. Możliwość zablokowania filtra parafiną w niskich temperaturach wzrasta wraz ze stopniem zatkania powierzchni filtracyjnej wkładu zanieczyszczeniami co przekłada się bezpośrednio na czas jego użytkowania.W układach zasilania silnika paliwem często są stosowane separatory wody lub filtry z separatorami i jeżeli przy intensywnym użytkowaniu pojazdu, systematycznie, co najmniej raz w tygodniu w okresie letnim i codziennie, po powrocie z trasy w okresie zimowym, jest spuszczana woda z osadnika separatora, nie powinny wystąpić problemy z blokowaniem dopływu paliwa do silnika w wyniku zamarzania wody.
Omówione procesy wskazują na potrzebę wymiany filtra lub wkładu paliwa przed sezonem zimowym, co da nam większą pewność, że podczas niskich temperatur nie wystąpią problemy z uruchomieniem silnika i nie nastąpi zatrzymanie pojazdu w trasie z powodu braku dopływu paliwa do silnika.
Filtry oleju smarnego (silnikowego)


Olej smarny pracuje w układzie smarowania silnika spalinowego w obiegu zamkniętym, pomijając dolewki. Olej jest pobierany przez pompę z miski olejowej i tłoczony poprzez filtr do elementów silnika które muszą być smarowane, a następnie spływa do miski olejowej zabierając ze sobą zanieczyszczenia dostarczone z powietrzem i paliwem oraz wytworzone w silniku. Zanieczyszczenia te podczas przepływu oleju przez filtr zostają oddzielone ze sprawnością zależną od jakości filtra lub wkładu wymiennego i gromadzą się na powierzchni filtracyjnej wkładu, zwiększając opory przepływu oleju przez filtr. Oznacza to że im dłużej eksploatowany jest filtr, pompa w układzie olejenia musi wytwarzać coraz wyższe ciśnienie dla podania do układu takiej samej objętości oleju w jednostce czasu.
W okresie zimowym, podczas postoju samochodu olej schładza się do temperatury otoczenia i jego lepkość wzrasta. Wzrost lepkości jest większy dla olejów mineralnych a mniejszy dla olejów syntetycznych. Powoduje to dalszy wzrost oporów przepływu przez filtr i wzrost ciśnienia przed filtrem. Wszystkie filtry wyposażone są w zawory przelewowe chroniące wkład przed zniszczeniem w wyniku nadmiernego wzrostu ciśnienia przed filtrem. W okresie zimowym przy ujemnych temperaturach otoczenia podczas rozruchu silnika w wyniku wysokiej lepkości oleju ciśnienie przed filtrem może przekroczyć wartość ciśnienia otwarcia zaworu przelewowego i do układu smarowania będzie podawany zanieczyszczony olej smarny. Podczas pracy silnika, olej zostanie podgrzany, lepkość obniży się, nastąpi zamknięcie zaworu przelewowego i prawidłowe oczyszczanie oleju. Czas jaki upłynie od uruchomienia silnika do zamknięcia zaworu powinien być jak najkrótszy i zależy od:
stosowanego oleju, dla oleju syntetycznego zawór się nie otworzy lub czas otwarcia będzie krótki,
czasu eksploatacji filtra, w filtrze długo eksploatowanym powierzchnia filtracyjna wkładu jest zanieczyszczona i ciśnienie przed filtrem jest podwyższone nawet w temperaturach dodatnich.Czas od uruchomienia silnika do zamknięcia zaworu przelewowego w filtrze będzie dłuższy niż dla filtra nowego,
temperatury oleju podczas uruchamiania, im niższa tym czas do zamknięcia zaworu będzie dłuższy.
Wydłużony czas otwarcia zaworu przelewowego powoduje że do silnika dostanie się więcej zanieczyszczeń, ale po zamknięciu zaworu filtr pracuje normalnie i poziom zanieczyszczeń szybko wraca do normy, jednak wielokrotne (przy każdym uruchomieniu) wprowadzenie do silnika porcji zanieczyszczeń może przyspieszyć jego zużycie.Zaleca się przyspieszenie wymiany oleju i filtra na okres jesienny, jeżeli zgodnie z instrukcją obsługi pojazdu przypada ona w okresie zimowym lub wczesno-wiosennym, zwłaszcza gdy silnik smarowany jest olejem mineralnym.
Osuszacze powietrza w układach pneumatycznych.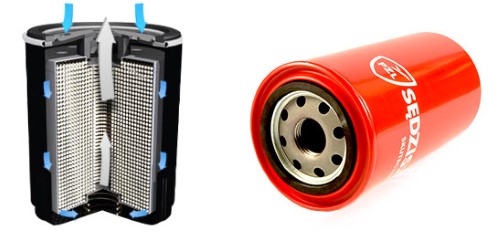 W ciągnikach, samochodach ciężarowych, autobusach itp. stosowane są instalacje sprężonego powietrza (pneumatyczne) wykorzystywane głownie w układach hamowania pojazdów. Powietrze pobierane jest przez sprężarkę w czasie eksploatacji pojazdu i wtłaczane do instalacji. W zależności od warunków atmosferycznych może ono być zawilgocone. W instalacji pneumatycznej następuje skraplanie wody na ,ściankach przewodów i zbiornika. Woda w instalacji powoduje korozję części, awaryjność układów roboczych, a w okresie zimowym zamarzanie przewodów. W celu usunięcia wody ze sprężonego powietrza stosuje się wymienne osuszacze pracujące na zasadzie pochłaniania (sorpcji) wody z powietrza podczas przepływu przez granulowany sorbent znajdujący się w osuszaczu, Czas prawidłowej pracy osuszacza jest ograniczony i zależy od technicznego stanu sprężarki. Wyeksploatowana sprężarka emituje ze sprężonym powietrzem oleju smarny, który dostając się do osuszacza zmniejsza sprawność pochłaniania wody.
Zaleca się wymianę osuszacza zawsze przed okresem zimowym co zapewni prawidłowe osuszanie sprężonego powietrza w zimie i wyeliminuje awarie układu pneumatycznego z powodu zamarzania przewodów.
Filtry kabin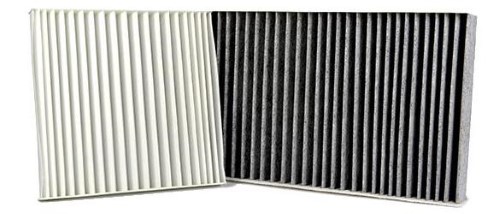 Zadaniem filtrów do kabin jest oczyszczanie powietrza dostarczanego do kabin pasażerskich lub kabin operatorów. Sprawność oczyszczania powinna zabezpieczać taką czystość powietrza aby było ono nieszkodliwe dla pasażerów. Zapylenie powietrza w okresie zimowym jest na ogół mniejsze niż w okresie letnim i filtry eksploatowane w lecie mogą nadal pracować bez wymiany chyba, że mija okres podany w instrukcji obsługi pojazdu.
Źródło: PZL Sędziszów