Opracowany przez Continental projekt powierzchni wykorzystującej aktywne haptyczne sprzężenie zwrotne został nagrodzony tytułem "Najlepszy z najlepszych" w konkursie Automotive Brand 2016. Przyznając tę nagrodę Niemiecka Rada Wzornictwa wyraziła uznanie dla osiągnięć wiodącego dostawcy rozwiązań dla branży motoryzacyjnej w zakresie doskonalenia koncepcji interfejsu człowiek-maszyna.
Innowacyjna koncepcja Continental obejmuje zastosowanie monitora TFT o rozdzielczości Full HD i przekątnej 12,3 cala (31,2 cm) oraz kontrolera z wbudowaną powierzchnią dotykową opartą na technologii aktywnego haptycznego sprzężenia zwrotnego (Haptic Feedback Display). Doceniony przez Radę Wzornictwa panel dotykowy przekazuje informacje zwrotne za pomocą impulsów ruchowych, które można wyczuwać palcami. To rozwiązanie nie tylko zwiększa komfort użytkownika, ale przede wszystkim poprawia bezpieczeństwo jazdy, gdyż kierowca nie musi odrywać wzroku od jezdni i patrzeć na ekran, by sprawdzić, czy pożądana operacja została uruchomiona oraz zrozumiana przez system.
"Jako że dotyk jest najbardziej naturalną metodą interakcji z otaczającym nas światem, w równie naturalny sposób dotykowe interfejsy komunikacji człowieka z urządzeniami zyskują coraz większe znaczenie. Wizję przyszłości w tym zakresie zaprezentował Continental i jednocześnie dotrzymał obietnicy, którą sugeruje hasło firmy: The Future in Motion. Projekt powierzchni wykorzystującej aktywne haptyczne sprzężenie zwrotne opracowany przez Continental bezkompromisowo łączy intuicyjną obsługę z bezpieczeństwem korzystania z urządzenia." - powiedziała prof. Andrea Lipp, członek jury.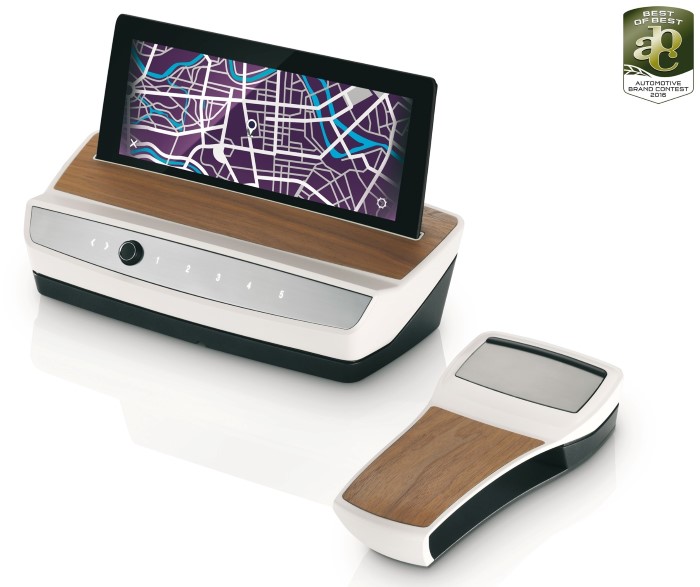 Nie patrz, poczuj!
Dzięki innowacyjnemu rozwiązaniu Continental, kierowca może liczyć na prawdziwą interakcję z autem. Cechuje je przyjazny interfejs zaprojektowany w taki sposób, aby sterowanie oraz zarządzanie urządzeniem było intuicyjne i nie rozpraszało uwagi osoby prowadzącej samochód.
Gdy użytkownik dotyka palcem powierzchni panelu, system sterujący mierzy siłę nacisku, a następnie uruchamia mechaniczne sprzężenie zwrotne, czyli miejscowe ugięcie ekranu. Precyzyjne rozpoznawanie siły nacisku gwarantuje, że przypadkowe dotknięcia zostaną odróżnione od zamierzonych poleceń operacyjnych. Co za tym idzie, matryca pozostanie niewzruszona, a system nie zareaguje. Kolejnym elementem, który wpływa na komfort i bezpieczeństwo jazdy, a także ułatwia obsługę systemu jest wyszukiwanie haptyczne. Kiedy użytkownik przesuwa palcem po panelu dotykowym haptyczne sprzężenie zwrotne przekazuje informacje o ograniczeniach elementów służących do obsługi czy ikonach znajdujących się na ekranie. Znacznie ułatwia to np. przewijanie długich list lub menu nawigacji. Ponadto system przekazuje kierowcy informacje dotyczące pomyślnego wprowadzenia danych poprzez haptyczne impulsy potwierdzające.
Technologia szyta na miarę
Inżynierowie Continental zadbali o to, by intensywność haptycznego sprzężenia zwrotnego mogła być dostosowywana do indywidualnych wymagań producentów samochodów, konkretnej sytuacji na drodze lub do określonego zdarzenia podczas użytkowania pojazdu. Nie zapomnieli także o kwestiach eleganckiego i funkcjonalnego designu, który umożliwia łatwe wkomponowanie urządzenia we wnętrza pojazdów różnego typu. Dopełnieniem przyjaznej dla użytkownika konstrukcji jest szklana powierzchnia ekranu, która ogranicza odbijanie światła dzięki wykorzystaniu metody optical bonding i powłoki antyodblaskowej. Nagrodzona technologia jest także w pełni skalowalna, co oznacza, że można ją dostosować do urządzeń różnego typu i wielkości.
O konkursie
Automotive Brand jest międzynarodowym konkursem dla marek motoryzacyjnych w dziedzinie wzornictwa. Niemiecka Rada Wzornictwa, powołana w 1953 roku jako fundacja, nagradza produkty i kampanie komunikacyjne wyróżniające się pod względem stylistycznym oraz stara się zwracać uwagę na fundamentalne znaczenie wzornictwa marek w branży motoryzacyjnej.
Źródło: Continental