Każdego roku na wakacje z kamperem i swobodne podróżowanie w "domu na czterech kółkach" decyduje się wiele osób. Współczesne kempingi, szczególnie te za granicą, to nierzadko prawdziwe miasteczka – z wieloma atrakcjami i ciekawą ofertą dla turystów. Podobnie z kamperami – to bogato wyposażone, nowoczesne pojazdy, w których można wygodnie spędzić całe wakacje. Jednak bogate wyposażenie elektryczne wymaga wydajnych i dobrze dobranych akumulatorów, które zagwarantują, że kamper zawsze będzie miał pewne źródło mocy.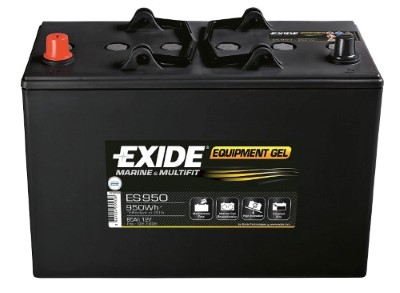 Siła dwóch
Jak pokazuje wakacyjna praktyka i powakacyjna refleksja, jeśli źle dobierzemy akumulatory do potrzeb energetycznych naszego kampera (jego wyposażenia elektrycznego i zapotrzebowania energetycznego innych użytkowanych sprzętów niebędących stałym wyposażeniem, np. laptop, ładowarki do telefonów etc.), to niestety ryzykujemy, że podczas wakacji nie tylko nie odpalimy silnika, ale będziemy mieć problem z utrzymaniem sprawnego działania sprzętów kluczowych podczas urlopu, jak lodówka czy klimatyzacja. Niestety taka "niemoc" zdarza się nader często, o czym i w tym roku zapewne nie jeden miłośnik kamperów się przekonał.
Dlatego jeśli w te wakacje pojawiły się pierwsze problemy z zasilaniem, to pamiętajmy, aby przed kolejnym wyjazdem nie tylko sprawdzić napięcie, czyli stopień naładowania akumulatora/akumulatorów, ale także policzyć zapotrzebowania sprzętów na moc, szczególnie jeśli nasz kamper został doposażony w dodatkowe urządzenia. Przydatny jest także wcześniejszy pomiar tzw. upływności prądu. – Na przykład uszkodzona lodówka może pobierać znacznie więcej energii, niż powinna, i w rezultacie doprowadzić do całkowitego rozładowania akumulatora– wyjaśnia Krzysztof Najder, kierownik marketingu produktu w Exide Technologies S.A. W przypadku kampera może to być szczególnie uciążliwe, ponieważ rozładowany akumulator oznacza nie tylko niemożność skorzystania z urządzeń pokładowych, ale także kłopoty z odpaleniem silnika. Tymczasem, jeśli zaparkowaliśmy z dala od cywilizacji, wezwanie pomocy może być kłopotliwe i kosztowne.
Dlatego, aby uniknąć takiej sytuacji, w kamperach często stosuje się 2 akumulatory, dzięki czemu zminimalizowane zostaje ryzyko całkowitej utraty źródła energii. Jeden z akumulatorów odpowiada w takim układzie za rozruch silnika, natomiast drugi (tzw. akumulator użytkowy) zasila urządzenia pokładowe. W takiej sytuacji rozładowanie akumulatora użytkowego nie spowoduje, że nie odpalimy silnika. – Jako akumulator użytkowy może posłużyć ten wykonany w technologii żelowej, który generuje zbyt małe prądy rozruchowe, by odpalić silnik, ale doskonale nadaje się do zasilania urządzeń ze względu na odporność na głębokie rozładowanie. Z kolei jako akumulator rozruchowy doskonale sprawdzi się typ AGM, np. Exide Dual AGM o wysokiej mocy rozruchowej– wyjaśnia Najder.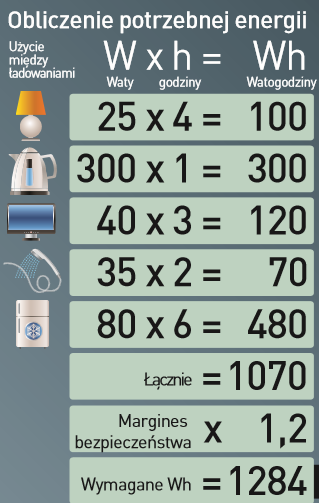 Bilans energetyczny
Twój kamper "niedomagał" podczas urlopu? Chcesz wymienić akumulator przed kolejnym wyjazdem? A może chcesz dodać do układu zasilania dodatkowy akumulator, ponieważ po wakacjach przybyło ci sprzętów wymagających większej dawki mocy? W takim przypadku najlepiej wcześniej określić bilans energetyczny (zapotrzebowanie na energię w pojeździe) oznaczony w jednostkach Wh, ponieważ watogodzina jest najlepszym parametrem określającym dobór właściwego typu i wielkości akumulatora. Dlaczego nie amperogodziny (Ah)? Ponieważ standardowo określana pojemność akumulatora (Ah) jest w rzeczywistości wskazaniem ilości energii elektrycznej dostarczanej aż do całkowitego rozładowania. Tymczasem energia oznaczona jednostką Wh przekłada się na ilość energii elektrycznej dostarczanej do momentu osiągnięcia zalecanej głębokości rozładowania.
Podczas sporządzania bilansu energetycznego pod uwagę musimy wziąć wszystkie elementy, które w trakcie podróży będą wymagały poboru energii elektrycznej, np.: obrotnica satelitarna, oświetlenie zewnętrzne kampera, ładowarki do urządzeń elektronicznych. Mając taką listę i wykonując na jej podstawie obliczenia, powinniśmy na wszelki wypadek założyć trochę energii "na zapas".
Pamiętajmy – najlepszym sposobem na uniknięcie problemów z akumulatorem jest sprawdzenie jego stanu, samodzielnie lub u mechanika, który dodatkowo ma możliwość wykonania pomiaru napięcia postojowego (jest to wartość energii pobierana przez wyłączony pojazd na podtrzymanie pamięci sterowników, alarmu, itp.) i pomiaru poboru prądu z włączonymi wszystkimi urządzeniami. Jeżeli w którymkolwiek z tych przypadków pobór prądu będzie wyraźnie większy niż powinien, powinniśmy poszukać wadliwego elementu w instalacji elektrycznej i niezwłocznie go naprawić.
Źródło: Exide