Powoli kończy się lato. Jednak to idealny moment, by zaplanować wrześniowe wakacje. Coraz bardziej popularną formą wypoczynku Polaków staje się podróżowanie samochodem kempingowym. Objazdowe wycieczki kamperem wymagają jednak odpowiedniego przygotowania. O czym warto, a o czym należy pamiętać?
Objazdowe, wakacyjne wycieczki kamperem wymagają odpowiedniego przygotowania. Kontrolę należy rozpocząć od sprawdzenia stanu opon. Bo, jak podkreślają eksperci z Continental, to właśnie od opon w dużym stopniu zależy bezpieczeństwo podróżników i pojazdu.
O opony w kamperach czy przyczepach kempingowych trzeba dbać szczególnie. Wynika to z faktu, że tego typu pojazdy używane są jedynie sezonowo i często są poddawane bardzo dużym obciążeniom. Ponadto, ze względu na gabaryty, pojazdy rzadko są garażowane oraz odpowiednio zabezpieczane przed niekorzystnymi warunkami atmosferycznymi, takimi jak promieniowanie słoneczne czy mróz. Dlatego przed pierwszym wyjazdem po "zimowaniu" trzeba dokonać szczegółowego przeglądu lub wymiany opon.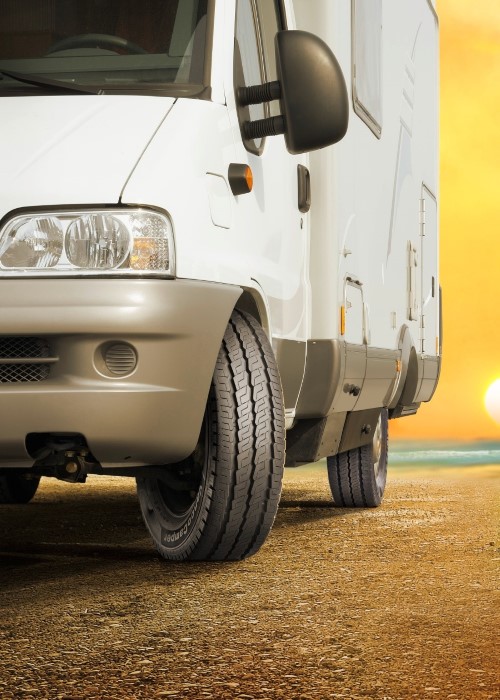 Wakacyjna kontrola
Przeprowadzając kontrolę ogumienia szczególną uwagę warto zwrócić na wszelkie wybrzuszenia, uszkodzenia i pęknięcia. Poza tym trzeba sprawdzić czy ciśnienie w oponach nie jest niższe od zalecanego oraz zmierzyć głębokość bieżnika. Opony powinny być zużyte równomiernie oraz pobawione wszelkich elementów wystających ponad powierzchnię. Należy wymienić ogumienie jeśli głębokość ich bieżnika jest niższa niż 1,6 mm. Jednak ze względu na bezpieczeństwo zaleca się, aby wysokość rzeźby opony wynosiła 3 mm. Warto pamiętać także o kole zapasowym – ono również wymaga dokładnego przeglądu i skontrolowania ciśnienia.
Jakie opony do kampera?
Jazda kamperem czy samochodem z przyczepą kempingową nie jest prosta i wymaga praktyki. Źle dobrane, zużyte lub niskiej jakości opony mogą ją dodatkowo utrudniać. Dlatego wybierając ogumienie do pojazdów turystycznych, nie warto oszczędzać. Opona dobrej jakości to inwestycja w bezpieczeństwo oraz komfort jazdy. Producenci ogumienia oferują produkty przeznaczone do specyficznych warunków kempingowych. Są one bardziej odporne na odkształcenia spowodowane długimi postojami i dużym obciążeniem. Mają także specjalną konstrukcję, czyli dodatkowy oplot kordu, który zwiększa ich nośność oraz wzmocnione boki.
Jednym z takich produktów jest letnia opona Continental VancoCamperTM. Ogumienie spełnia normę CP (Camping Pneu), co oznacza zwiększone bezpieczeństwo dla pojazdów tego segmentu. Model jest odporny na deformację profilu oraz uszkodzenia mechaniczne. Jego boki chronione są dzięki sztywnej konstrukcji, która zapewnia mocne, poprzeczne wsparcie dla obciążonych osi, czyli strefy gdzie najbardziej kumulują się naciski. Dodatkowym wzmocnieniem jest trwała mieszanka gumowa, która zapewnia wyższą przyczepność na mokrej drodze oraz powolne zużywanie się bieżnika.
Nośność kluczowa przy doborze opon do kampera
Pojazdy turystyczne mają ograniczenia dotyczące nośności. Niezbędne wyposażenie takie jak lodówka, zbiornik na wodę czy butla gazowa ograniczają ilość dodatkowego bagażu oraz zapasów. Dlatego wybierając opony do kampera czy przyczepy kempingowej należy zwrócić uwagę na to, by ogumienie miało odpowiednio dobraną nośność.
Każda opona posiada swój indeks nośności, który informuje o tym, jakie jest dozwolone obciążenie dla danego modelu przy jeździe z maksymalną, dopuszczalną przez producenta prędkością. Widząc te potrzeby inżynierowie Continental zapewnili modelowi VancoCamperTM wysoki indeks nośności, który wynosi aż 1030 i 1250 kg, a w wypadku opon bliźniaczych od 975 do 1180 kg. Co oznacza, że bliźniaczy komplet ogumienia Continental jest w stanie wytrzymać nacisk przyczepy ważącej nawet 7,2 tony. Ponieważ wysoką nośność można osiągnąć tylko wtedy, gdy opony eksploatowane są zgodnie z zalecanym ciśnieniem, należy ograniczyć ryzyko występowania zbyt niskiego ciśnienia. W tym celu konstruktorzy wyposażyli oponę VancoCamperTM w kilkuwarstwową osnowę wykonaną z innowacyjnych materiałów. Konstrukcja zapewnia bardzo dużą szczelność oraz trwałość, dzięki czemu ogranicza spadek ciśnienia nawet w przypadku wielodniowych postojów. W porównaniu do poprzedniej generacji, model utrzymuje ciśnienie wewnątrz opony o 15% wyższe ponad minimalny poziom. Uzyskano w ten sposób rezerwę nośności, która może być spożytkowana na dodatkowe walizki, zapasy napojów czy jedzenia bez narażania tylnej osi na zbyt duże obciążenia.
Nowoczesne kampery oraz przyczepy kempingowe są pojazdami, które pozwalają urzeczywistnić marzenia o komfortowym podróżowaniu i zwiększonej mobilności w trakcie wakacji. Planowanie wielokilometrowych podróży wymaga jednak zwrócenia szczególnej uwagi na kwestię ogumienia. Warto więc rozważyć wybór takich opon jak Continental VancoCamperTM, bo to gwarancja bezpiecznych i komfortowych wakacji.
Źródło: Continental