W najnowszym teście opon przeprowadzonym przez magazyn ,,Auto Świat 4X4" zdecydowanym zwycięzcą została ContiSportContact 5 SUV. Opona uzyskała najlepsze noty zarówno w poszczególnych rankingach, jak i w teście porównawczym letniego ogumienia do sportowych SUV-ów z napędem 4x4.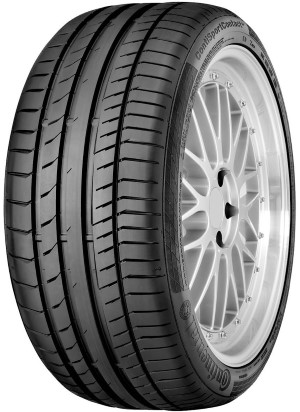 W teście magazynu "Auto Świat 4x4" ocenie poddano siedem 19-calowych, letnich opon czołowych producentów. ContiSportContact 5 SUV została absolutnym zwycięzcą testu oraz jedyną oponą, która osiągnęła wynik 5+ w 6-cio stopniowej skali.
Test przeprowadzono dla opon w dwóch rozmiarach: 235/55 R19 oraz 255/50 R 19 zamontowanych w Porsche Macan oraz pickupie Toyoty. Eksperci Auto Świata oceniali trakcję na trawie, piasku, żwirze i błocie, jakość prowadzenia i hamowanie na mokrej oraz suchej nawierzchni, odporność na aquaplanning, a także poziom hałasu. Opony Continental udowodniły, że można połączyć wzorowe prowadzenie na suchym asfalcie i maksimum jeżeli chodzi o trakcję na wilgotnej trawie i błocie. Pierwsze miejsce w ocenie ogólnej ContiSportContact™ 5 SUV zawdzięcza także najlepszemu hamowaniu na suchej nawierzchni, bardzo dobrej odporności na aquaplanning podczas pokonywania zakrętów oraz wysokiemu poziomowi trakcji na żwirze.
Znakomite prowadzenie, wysokie osiągi i pełna kontrola
Celem konstruktorów ContiSportContact 5 SUV było przede wszystkim wykorzystanie zaawansowanej technologii do podniesienia bezpieczeństwa jazdy. W efekcie prac zewnętrzna warstwa bieżnika opony "cap" odpowiada za dobrą przyczepność na mokrej nawierzchni, podczas gdy wewnętrzna "base" dba o zmniejszenie oporów toczenia. Dzięki masywnym i jednocześnie elastycznym blokom na zewnętrznym barku opony, innowacyjnemu centralnemu żebrowaniu oraz zwiększeniu powierzchni kontaktu ogumienia z drogą opona zapewnia znakomitą przyczepność i stabilność na zakrętach. Produkt Continental to także bezpieczne hamowanie – wykorzystana w tym modelu innowacyjna mieszanka Black Chilli reaguje na drgania, co gwarantuje krótszą drogę hamowania zarówno na mokrych, jak i suchych nawierzchniach. Specjalne dobrane żywice sprawiają, że oponę wyróżnia znakomita przyczepność na każdym typie nawierzchni, także podczas dynamicznych manewrów. Ponadto, wykorzystanie unikalnej mieszanki zapewnia mniejsze opory toczenia co przekłada się na dłuższe przebiegi oraz niższe zużycie paliwa.
ContiSportContact 5 SUV to oferta dla kierowców, którzy lubią sportową, dynamiczną i bezpieczną jazdę, niezależnie od warunków pogodowych.
Nowoczesne SUV-y z napędem 4x4 cechują się coraz lepszymi osiągami i właściwościami jezdnymi. Tym samym stale rosną wymagania producentów i kierowców wobec opon. Nie dziwi zatem fakt, że testy ogumienia zyskują coraz większe znaczenie i stają się ważnym źródłem wiedzy na temat ich użytkowych właściwości. Nierzadko dowodzą, że parametry poszczególnych modeli opon, nawet z tej samej grupy cenowej, mogą być bardzo zróżnicowane, co przekłada się bezpośrednio na bezpieczeństwo i komfort jazdy oraz koszty eksploatacji.
Źródło: Continental