Aquatec Visee to linia premium "płaskich" wycieraczek stworzona dla najbardziej wymagających użytkowników. Wycieraczki tej serii charakteryzuje zwarta budowa, dynamiczna stylistyka oraz najwyższej jakości materiały użyte przy produkcji.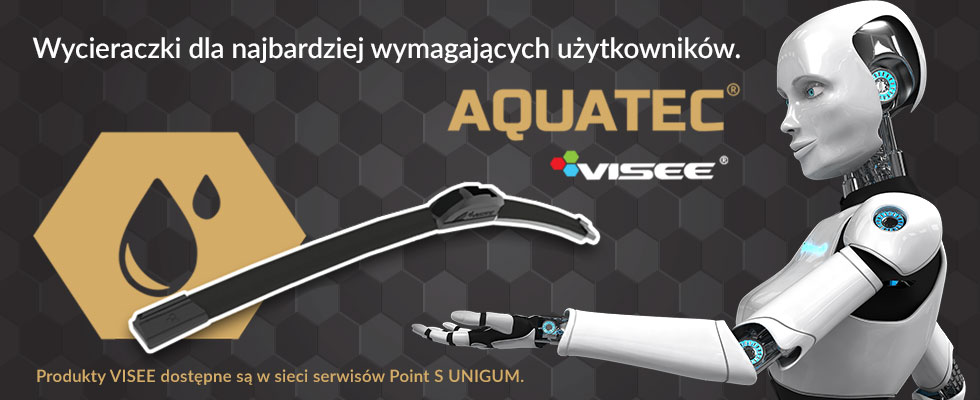 Pióro wycieraczki jest wulkanizowane z wysoko gatunkowego kauczuku naturalnego wzbogaconego dodatkami dzięki którym posiada ponadprzeciętną odporność na starzenie w wyniku promieniowania UV, wysoką stabilność w szerokim zakresie temperatur oraz jest szczególnie odporne na zużywanie poprzez tarcie.
Nowoczesna konstrukcja wycieraczki nadaje im szereg pożądanych własności:
- cicha praca przy nawrotach
- wysoka sprawność aerodynamiczna przy dużych prędkościach
- równomierne zużycie pióra na całej długości
- dokładne i precyzyjne zbieranie wody z całej powierzchni szyby
- metalowe mocowanie wycieraczki do ramienia
- najwyższa trwałość dzięki użyciu piór z mieszanki gumowej AQUATEC
- atrakcyjny, dynamiczny design
Wycieraczki z linii AQUATEC to szeroka gama produktów obejmująca wszystkie używane na rynku długości oraz rodzaje zamocowań do ramion pojazdów.
Produkty Visee dostępne są w sieci serwisów Point S UNIGUM
Źródło: Visee