Dział Opon firmy Continental, został wyróżniony tytułem "Dostawcy Roku 2015" przyznawanym przez koncern motoryzacyjny General Motors, do którego należą takie marki jak Buick, Cadillac, Chevrolet czy Opel.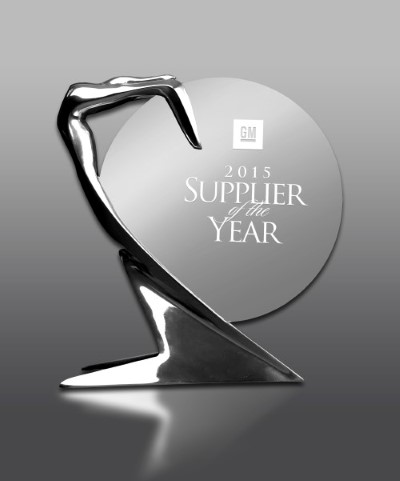 W tegorocznej, 24 edycji projektu "Dostawca Roku", General Motors (GM) wyróżnił 110 najlepszych dostawców z 17 krajów, którzy nieustannie przekraczają oczekiwania oraz wdrażając innowacyjne rozwiązania wnieśli wyjątkową wartość do współpracy z GM. Liczba laureatów ogłoszonych w tym roku jest największa od 1992 r., od kiedy koncern przyznaje wyróżnienia. To także niemal o 40 procent więcej docenionych firm w porównaniu do poprzedniego roku, w którym wyróżniono ich 79. Dział Opon Continental otrzymał nagrodę "Dostawcy Roku" po raz pierwszy.
"Naszym celem jest budowanie pozytywnych relacji z dostawcami, którzy wprowadzają do GM zorientowane na Klienta i spełniające jego oczekiwania innowacje. To także element budowania naszej pozycji jako preferowanego producenta OEM, z którym dostawcy chętnie współpracują"– komentuje Steve Kiefer, Wiceprezes GM ds. Globalnych Zakupów i Łańcucha Dostaw.
Zwycięzcy zostali wybrani spośród wszystkich dostawców przez globalny zespół GM składający się z kadry kierowniczej odpowiedzialnej za zakupy, projekty techniczne, jakość, produkcję i logistykę. Wyboru dokonano po analizie informacji dotyczących zakupów, obsługi klienta, obsługi posprzedażowej oraz logistyki.
"Czujemy się zaszczyceni i jesteśmy niezwykle dumni z przyznanej nam nagrody. Jest ona doskonałym ukoronowaniem współpracy z General Motors. Nasz zespół stale dąży do zapewnienia opon najwyższej jakości, w których wykorzystywane są innowacyjne rozwiązania, stanowiące dopełnienie oferty GM. Dzięki wyróżnieniu jesteśmy jeszcze bardziej zmotywowani, by móc wspólnie z GM stawić czoła wszystkim przyszłym wyzwaniom przemysłu motoryzacyjnego"– powiedział Enno Straten, wiceprezes ds. obsługi klientów strategicznych pierwszego wyposażenia OEM PLT, Dział Opon Continental.
Źródło: Continental