Aplikacja do wyszukiwania akumulatorów wykorzystuje najlepsze w swojej klasie, zgromadzone przez Exide, rekomendacje zastosowań, które pozwalają użytkownikowi szybko odnaleźć akumulator odpowiedni dla konkretnego pojazdu.
Jest to nowa wersja, która zastąpi obecną aplikację Exide, posiada odświeżoną szatę graficzną, jest łatwiejsza w obsłudze i nawigacji. Jej ulepszonemu działaniu towarzyszy teraz nowy, przejrzysty design. W aplikacji, która obejmuje ponad 5000 marek i modeli pojazdów, dostępne są także propozycje akumulatorów do motocykli i skuterów.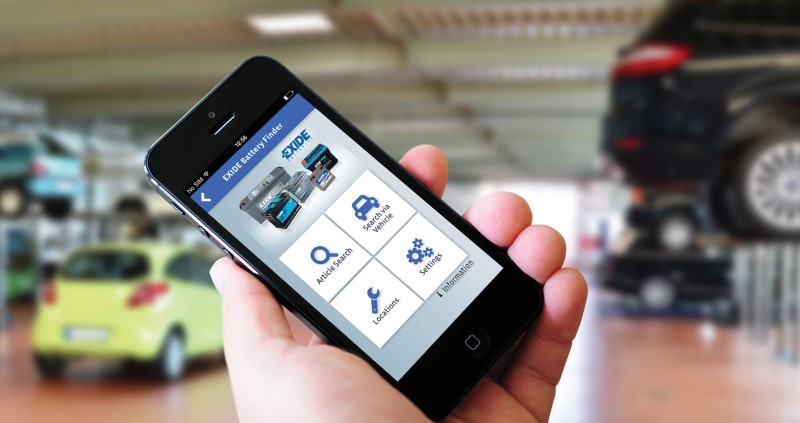 Wyszukiwarka akumulatorów w postaci aplikacji Exide dostępna jest dla systemów IOS oraz Android i działa zarówno na smartfonach, jak i na tabletach. Te same rekomendacje zastosowań dostępne są w tradycyjnych, drukowanych katalogach Exide oraz w wyszukiwarce online, dostępnej na stronach Exide.com i Akumulator.pl.
Wszystkie rekomendacje zastosowań, które zgromadził Exide, są dobierane przez zespół specjalistów i regularnie aktualizowane, gdy na rynku pojawiają się nowe modele pojazdów. Exide jest wiodącym dostawcą oryginalnego wyposażenia, cenionym za jakość swoich produktów oraz rzetelne informacje dotyczące właściwości akumulatorów i zakresu ich zastosowań.
Nowa aplikacja posiada ulepszoną funkcjonalność wyszukiwania, dzięki której dobór akumulatora staje się jeszcze szybszy i łatwiejszy. Użytkownicy mogą znaleźć i dobrać akumulator przez wpisanie: numeru VIN, marki i modelu pojazdu, a także korzystając z innych kryteriów wyszukiwania (w zależności od pojazdu). Aplikacja została zoptymalizowana dla wyświetlaczy o wysokiej rozdzielczości; oferuje zaawansowany typ nawigacji (przy pomocy jednego kliknięcia) i działa sprawniej (skrócenie czasu oczekiwania na odpowiedź serwera).
Aplikacja Exide jest używana przez warsztaty samochodowe, sprzedawców detalicznych, dystrybutorów oraz użytkowników końcowych, którzy samodzielnie wymieniają części eksploatacyjne w swoich pojazdach. Wszystkim tym podmiotom zależy na rzetelnych, łatwo dostępnych oraz aktualnych danych. Jest to szczególnie ważne dla firm oferujących pomoc drogową, które na trasie dysponują często ograniczoną liczbą akumulatorów.
–Exide wprowadził pierwszą na rynku aplikację do wyszukiwania akumulatorów w 2011 roku i w ten sposób udostępnił klientom – w wersji mobilnej – nasze najlepsze rekomendacje zastosowań i informacje produktowe– mówi Michael Ostermann, dyrektor Exide Technologies na obszar Europy, Bliskiego Wschodu oraz Afryki. – Wprowadzona właśnie nowa aplikacja jest jeszcze lepsza, odświeżona wizualnie i typograficznie, optymalna dla wyświetlaczy o wysokiej rozdzielczości. Aplikacja Exide daje także możliwość wyszukiwania rekomendacji zastosowań dla motocykli i skuterów– dodaje.
Aby pobrać aplikację, wystarczy odwiedzić App Store lub Google Play i wpisać frazę "wyszukiwarka akumulatorów Exide". Użytkownicy starej wersji aplikacji otrzymają powiadomienie o możliwości pobrania aktualnej wersji.
Źródło: Exide