Krzywdzące oceny i uprzedzenia nie są rzadkością również wśród kierowców. Okazuje się, że to jak jesteśmy postrzegani na drodze może zależeć od koloru, typu, a nawet czystości naszego auta. To kluczowe wnioski z ankiety przeprowadzonej przez Continental wśród 2 tysięcy brytyjskich kierowców.
Około 45 procent Brytyjczyków biorących udział w ankiecie przyznało, że uprzedzenia wpływają na to jak – uprzejmie czy agresywnie – zachowują się w stosunku do innych uczestników ruchu. Co to oznacza w praktyce? Kierowcy pozwalają na to, aby stereotypy decydowały o mniej lub bardziej brawurowej jeździe.
Co przeszkadza na drodze?
Jak wynika z przeprowadzonej przez Continental ankiety, kierowcy w Wielkiej Brytanii są dwa razy mniej skłonni, aby ustąpić pierwszeństwa autu, które jest "lanserskie" i bardzo drogie. Nie ma też co oczekiwać taryfy ulgowej kierowca, który próbuje włączyć się do ruchu i jednocześnie rozmawia przez telefon komórkowy.
Udowodniono, że na uczestników ruchu silnie oddziałują naklejki na samochodach. Sześć na dziesięć badanych osób denerwuje się widząc naklejkę przeciwnej drużyny sportowej lub popierającej jakąś sprawę lub organizację, która jest w sprzeczności z ich poglądami.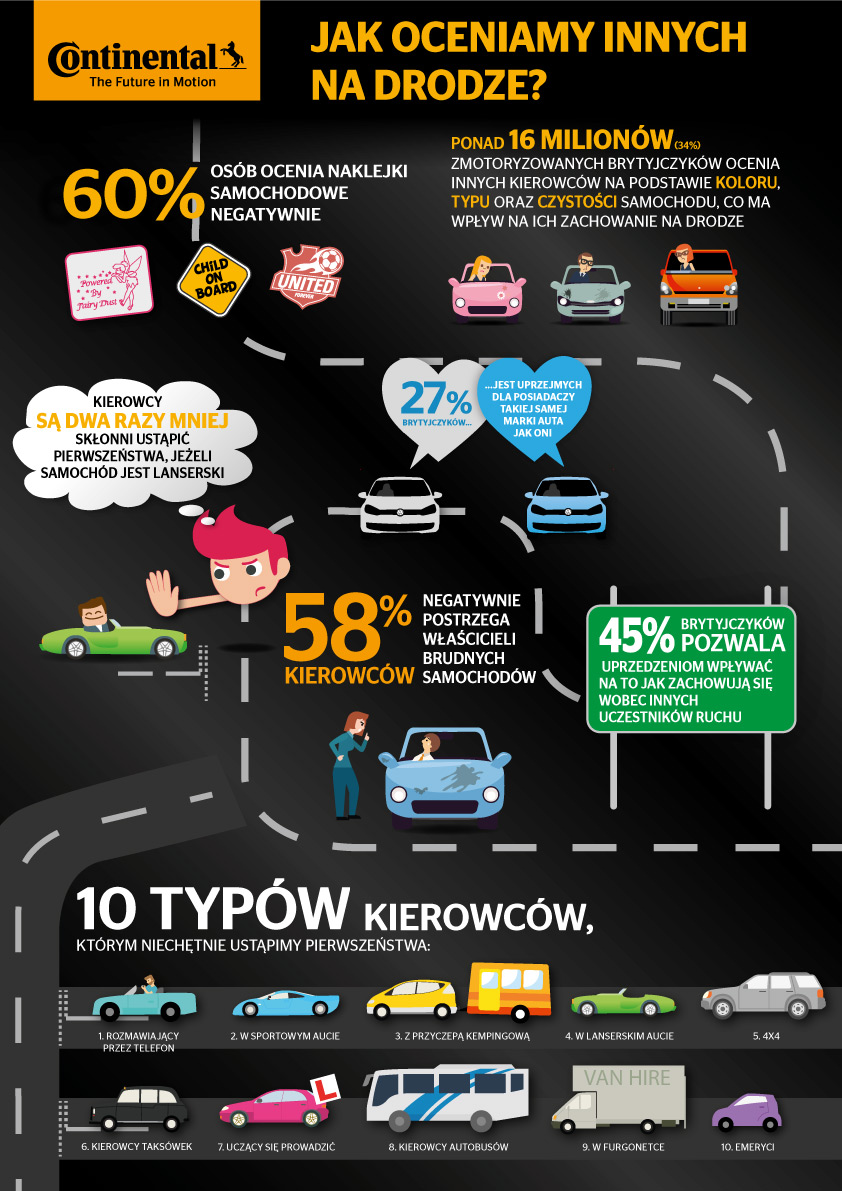 Oto 10 typów kierowców, których jesteśmy najmniej skłonni przepuścić na skrzyżowaniu:
1. Rozmawiający przez telefon
2. W sportowym samochodzie
3. Z przyczepą kempingową
4. W lanserskim aucie
5. Kierowcy taksówek
6. W samochodzie z napędem na cztery koła
7. Uczący się prowadzić
8. Kierowcy autobusów
9. W furgonetce (w vanie)
10. Emeryci
– Przeprowadzając badanie szukaliśmy czynników mających wpływ na bezpieczeństwo na drodze. Staramy się lepiej zrozumieć sposób w jaki zmotoryzowani zachowują się i to czym się kierują przy podejmowaniu decyzji za kierownicą. To alarmujące, że 34 procent kierowców zmienia swój sposób prowadzenia auta opierając się na swoich uprzedzeniach. Na drodze warto zwracać uwagę na takie czynniki jak zachowanie za kierownicą i stan opon – czyli to, co ma największy wpływ na nasze bezpieczeństwo– komentuje Mark Griffiths, rzecznik Continental Tyres w Wielkiej Brytanii.
Kiedy stereotypy pomagają
Czasami jednak stereotypy mogą działać na korzyść kierowców. Badania dowiodły, że 27 procent ankietowanych zachowuje się kulturalnie w stosunku do kierowców, którzy prowadzą ten sam model samochodu. Opinie są natomiast podzielone jeżeli chodzi o samochody hybrydowe i elektryczne. Jedna trzecia ankietowanych wierzy, że ich właściciele słusznie troszczą się o środowisko, jednak tyle samo badanych określa ich jednak jako "osoby zielone na pokaz".
Wyniki ankiety wskazują, że kierowcy na drodze w dużej mierze kierują się uprzedzeniami i najczęściej są skłonni tolerować jedynie "swoich". Warto wykorzystać tę wiedzę podczas jazdy – bez względu na markę samochodu, czy naklejkę z logiem drużyny, to bezpieczeństwo powinno zawsze mieć podstawowe znaczenie dla kierowcy.
Źródło: Continental