Hankook prezentuje nową iON FlexClimate, pierwszą na rynku europejskim oponę całoroczną stworzoną specjalnie na potrzeby samochodów elektrycznych (osobowych i SUV-ów).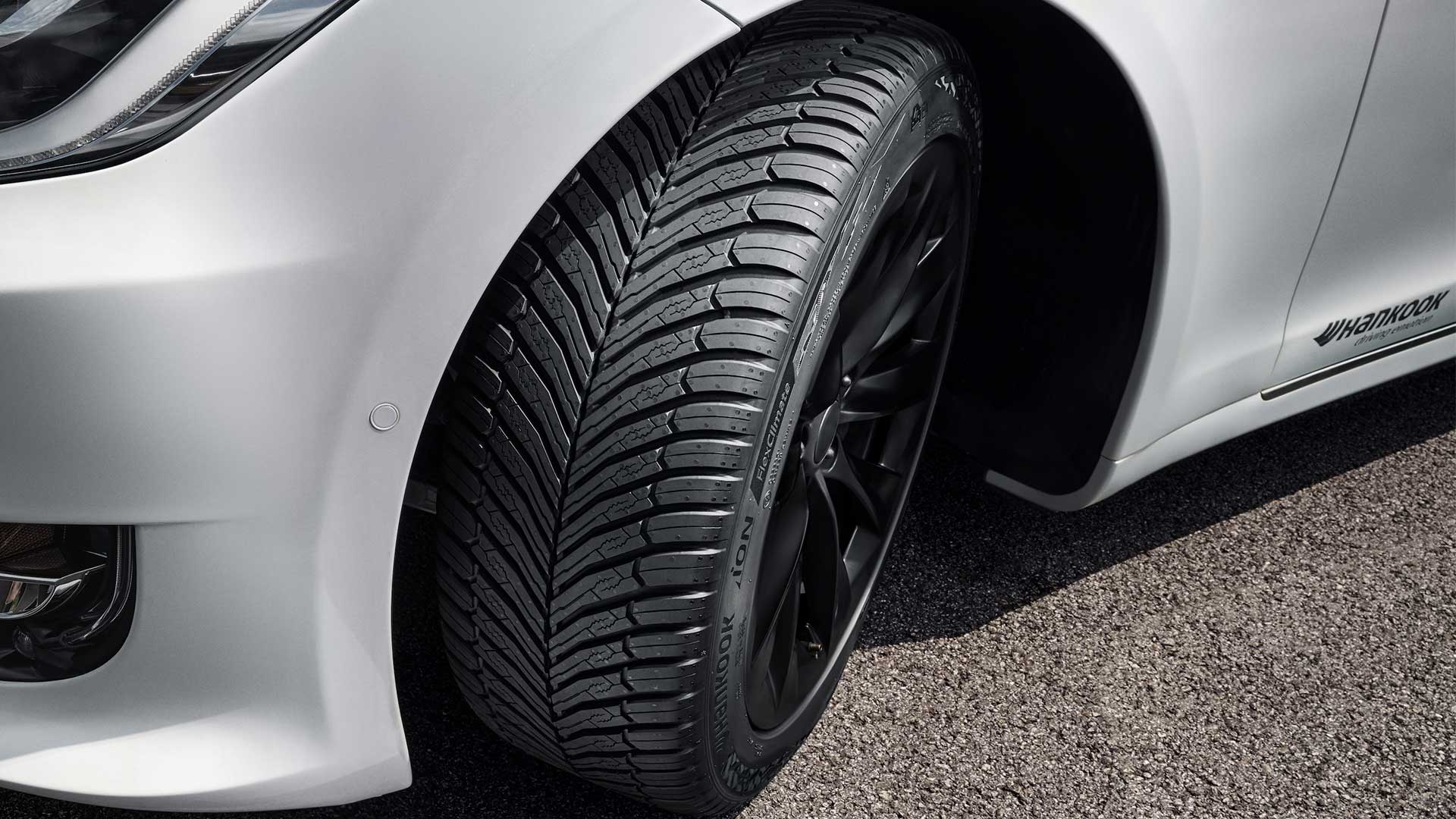 Obok bieżnika letniego do napędzanych elektrycznie samochodów osobowych i SUV-ów iON evo Hankook, a także bieżnika zimowego iON i*cept nowe opony iON FlexClimate dopełniają najnowocześniejszą rodzinę opon dostosowanych do obecnych i przyszłych generacji pojazdów elektrycznych. Zaprojektowane z myślą o obecnych i przyszłych generacjach pojazdów elektrycznych produkty Hankook iON w odpowiednich rozmiarach mogą być jednak wykorzystywane również w tradycyjnych pojazdach z napędem spalinowym lub hybrydowym, wnosząc tym samym korzyści przede wszystkim w obszarze zużycia energii, produkcji hałasu, oszczędności zasobów i trwałości w porównaniu do tradycyjnych opon.
Dzięki zastosowaniu najnowszych technologii nowe opony iON FlexClimate oferują wysoką wydajność zarówno w letnich, jak i umiarkowanych, a także zimowych warunkach. Ich cechy szczególne w porównaniu do tradycyjnych opon obejmują, oprócz doskonałej przyczepności przy mokrej nawierzchni, również wyjątkowo niskie opory toczenia oraz niższą masę przy bardzo wytrzymałej konstrukcji, która została dostosowana specjalnie do wymagań pojazdów napędzanych elektrycznie.
"Wprowadzając nową iON FlexClimate wychodzimy na przeciw oczekiwaniom wielu kierowców pojazdów elektrycznych, którzy oczekują opony mogącej zapewnić doskonałe osiągi niezależnie od pory roku również przy tego typu napędzie", mówi Sanghoon Lee, prezes Hankook Tire Europe. "W pogodny dzień, podczas deszczu czy też na śniegu – nasze nowe opony całoroczne serii iON zapewniają pewność jazdy, umożliwiają dłuższy zasięg na jednym ładowaniu akumulatora, niezależnie radzą sobie z wysokim ciężarem pojazdu, a przy tym są bardzo ciche".
Doskonałe osiągi na mokrej i zaśnieżonej nawierzchni
Główną cechą techniczną nowych opon iON FlexClimate, które dostępne są w wersjach dla samochodów osobowych i SUV-ów, są specjalne trójwymiarowe lamele w konstrukcji bieżnika. Dzięki nim opony zapewniają doskonałą przyczepność zarówno na suchej, jak i na mokrej czy też lekko zaśnieżonej drodze. Dodatkowo nowa, łącząca wysokiej gęstości krzemionkę oraz inne zrównoważone surowce mieszanka bieżnika ProGrip gwarantuje zoptymalizowaną przyczepność na mokrej nawierzchni. Aby zadbać o odpowiednie osiągi również na śniegu, opony zostały wyposażone w bieżnik o wysokiej gęstości lameli: tzw. lamele 2 w 1 w połączeniu z dodatkowymi rowkami w poszczególnych klockach bieżnika zapewniają odpowiednią trakcję i siłę hamowania także na śniegu. Opony iON FlexClimate posiadają oznaczenia M+S i 3PMSF (Three Peak Mountain Snow Flake), które potwierdzają, że mogą być wykorzystywane całoroczne na terenie Europy.
Zoptymalizowane pod kątem pojazdów elektrycznych
Odpowiedzią firmy Hankook na typową dla pojazdów elektrycznych wyższą masę konstrukcji jest w przypadku nowej opony iON FlexClimate wzmocniony pas wykorzystujący wyjątkowo wytrzymałe włókna aramidowe oraz zapewniający równomierne rozłożenie ciężaru na całej szerokości bieżnika. Umożliwia to zwiększoną nośność każdej z opon, skutecznie zapobiega działaniu sił odkształcających przy większych prędkościach, a także pozytywnie wpływa na precyzję kierowania oraz stabilność na zakrętach. Ponadto równomierny rozkład obciążenia przyczynia się do zwiększenia trwałości bieżnika. Dzięki nowej technologii Grip Boost w połączeniu z pasem aramidowym sztywność ściany bocznej opon zwiększyła się o 20 procent w porównaniu z tradycyjnymi oponami całorocznymi do pojazdów o napędzie konwencjonalnym, co znajduje odzwierciedlenie w poprawie komfortu jazdy oraz zwiększeniu kontroli nad pojazdem.
Wyjątkowe pod względem oporów toczenia
Wykorzystana w oponach iON specjalna mieszanka bieżnika zawierająca naturalną żywicę gwarantuje wysoką trwałość i redukcję ścierania w porównaniu z tradycyjnymi produktami tego typu. Jednocześnie zapewnia lepsze przyleganie, a co za tym idzie konieczną przyczepność, która pozwala na bezpieczne przeniesienie wysokich momentów obrotowych pojazdów elektrycznych na nawierzchnię. Wysoka zawartość naturalnych olejów w mieszance sprawia, że produkty iON są bardziej ekologiczne i jednocześnie pozytywnie wpływa na trwałość pasa bieżnika. Dzięki temu Hankook iON FlexClimate wymaga zużycia mniejszej ilości materiału w porównaniu z tradycyjnymi oponami umożliwiającymi taki sam okres eksploatacji, dzięki czemu opona iON jest lżejsza i oprócz zmniejszonego zużycia energii podczas jazdy pozwala również na oszczędność energii w procesie produkcji.
Nowoczesny proces mieszania oraz technologia Hankook Opti-Cure sprawiają, że konstrukcja bieżnika opony iON FlexClimate zapobiega powstawaniu zbędnych ruchów na jej powierzchni. Dzięki temu zauważalny jest spadek zużycia energii oraz zmniejszenie oporów toczenia. W efekcie opony Hankook iON FlexClimate przyczyniają się do zwiększenia zasięgu na jednym ładowaniu akumulatora.
i Sound Absorber dla niższego poziomu hałasu
W przypadku samochodów elektrycznych, w których nie słychać hałasu silnika spalinowego, inne odgłosy zauważalne są przez pasażerów jeszcze wyraźniej. Opony serii Hankook iON zostały zatem wyposażone w technologię i Sound Absorber i są przy tym wyjątkowo aerodynamiczne, dzięki czemu zapewniają dużo niższy poziom hałasu niż standardowe opony.
Hankook wprowadza nowy system technologiczny iON
Nowe opony iON FlexClimate korzystają z zalet nowo wprowadzonej "iON Innovative Technology". Jest to stworzony przez firmę Hankook szczegółowy system rozwiązań technologicznych, które mają na celu jeszcze większe usprawnienie badań i rozwoju przedsiębiorstwa, szczególnie w obszarze opon do pojazdów elektrycznych. System obejmuje cztery kluczowe technologie: i Sound Absorber (hałas), i Super Mileage (zużycie), i Perfect Grip (przyczepność) oraz i Extreme Lightness (opory toczenia). Istotą systemu jest łącznie 58 opatentowanych technologii, które wpłynęły na rozwój rodziny opon iON. Obejmują one m.in. patenty odnoszące się do redukcji hałasu. Przykładem technologii wydłużającej okres eksploatacji jest opatentowana technologia mieszanki ProDurable, która poprzez zastosowaną zaawansowaną mieszankę materiałów wpływa na zwiększenie trwałości opony, a także technologia Round Even, która zapewnia równomierny nacisk opony na nawierzchnię.
W celu zoptymalizowania przyczepności, komfortu prowadzenia oraz redukcji oporów toczenia zastosowane zostały inne technologie: m.in. zazębiające się trójwymiarowe lamele Grip Claw, technologia mieszanki ProGrip wykorzystująca kombinację krzemionki o wysokiej gęstości i innych przyjaznych dla środowiska materiałów, a także technologia ProCoupling pozwalająca na lepsze rozprowadzanie krzemionki dzięki optymalizacji zastosowanej mieszanki.
Nowe opony iON FlexClimate będą dostępne na rynku europejskim od października 2023 początkowo w 8 rozmiarach, najpopularniejszych dla elektrycznych samochodów osobowych i SUV-ów. W najbliższym czasie oferta rozmiarów zostanie uzupełniona i dostosowana do innych popularnych wielkości w zakresie między 17 a 21 cali.