Marki opon należące do Goodyear zajęły 1, 2 i 3 miejsce w najnowszych testach opon zimowych ADAC, które są jednymi z najbardziej kompleksowych badań tego typu w Europie. Opony Goodyear i Dunlop otrzymały najwyższe noty, a modele Fuldy i Savy zostały sklasyfikowane na wysokich pozycjach wśród marek ekonomicznych.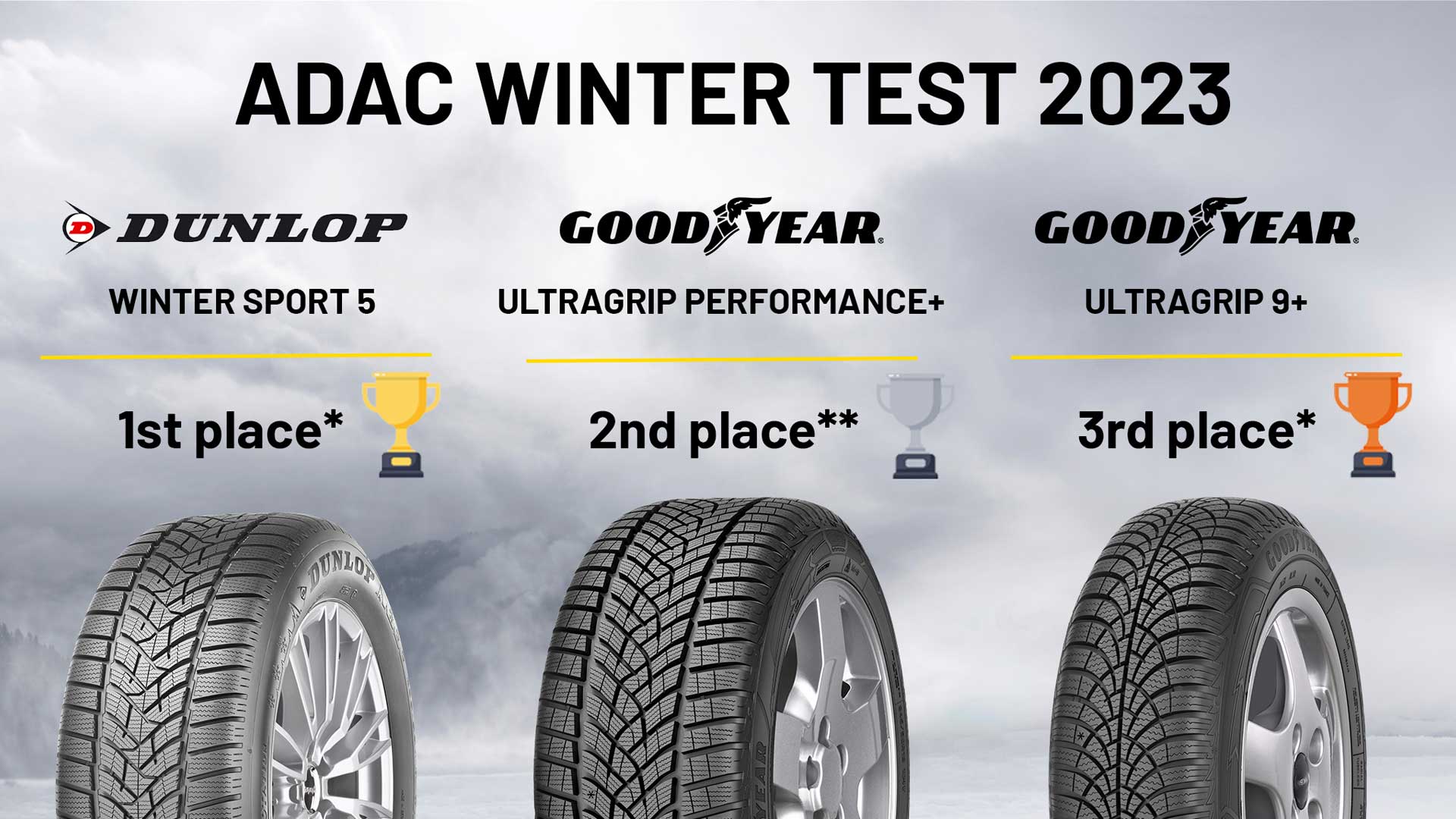 ADAC to największe europejskie, niezależne stowarzyszenie motoryzacyjne. W najnowszych testach badacze organizacji poddali wymagającym próbom 16 marek opon zimowych w popularnych rozmiarach 205/60R16 [1] i 225/45R17 [2].
Opony zimowe marki Goodyear na podium ADAC
Testy ADAC potwierdziły nie tylko zrównoważone osiągi, ale także wysoką wydajność opon zimowych Goodyear UltraGrip 9+ i UltraGrip Performance+.
UltraGrip Performance+ zajęła 2. miejsce w teście opon 17-calowych. Eksperci docenili ten produkt za "bezpieczne właściwości jezdne na suchej nawierzchni, dobre prowadzenie na mokrej nawierzchni, bardzo wysoki przewidywany przebieg, niską ścieralność i dobrą wydajność." [2]
Inny model Goodyear, UltraGrip 9+ zajął z kolei trzecie miejsce w rankingu opon 16-calowych. Według badaczy opona była bezkonkurencyjna pod względem wydajności. Chwaloną ją również za "bezpieczne właściwości jezdne na suchej nawierzchni, dobre osiągi na mokrej nawierzchni i wysoki przewidywany przebieg". [3]
Obie opony zimowe UltraGrip są wyposażone w technologie Goodyear Mileage Plus i Winter Grip, które wydłużają przebieg i zapewniają doskonałą przyczepność na zaśnieżonych i oblodzonych drogach.
Dunlop Winter Sport 5 na najwyższym stopniu podium w teście opon 16-calowych
Kolejne sukcesy w testach odniosła opona Dunlop Winter Sport 5, która zajęła 1. miejsce w teście opon 16-calowych [1] i 4. miejsce w porównaniu opon 17-calowych [2].
"To zrównoważona opona, która oferuje precyzyjne i bezpieczne prowadzenie podczas dynamicznej jazdy na suchej nawierzchni oraz pewne zachowanie na mokrych nawierzchniach. Ponadto zapewnia wzorowe bezpieczeństwo na zimowych drogach oraz wyróżnia się bardzo długim przewidywanym przebiegiem. Charakteryzuje się też niższą wagą i dobrą efektywnością paliwową", ocenili testerzy ADAC. [1]
Za pewne prowadzenie Dunlop Winter Sport 5 na zimowych drogach odpowiadają innowacyjne rozwiązania, takie jak zwiększona liczba klocków bieżnika, które zachowują się jak dodatkowe krawędzie chwytne, zapewniając doskonałą trakcję i właściwości jezdne na śniegu, co pozwala oponie oferować wiodące w branży osiągi.
Opony Fuldy i Savy zapewniają przekonujące osiągi
Ekspertów ADAC przekonały również właściwości marek Goodyear z segmentu środka i budżetowego. Uznali oni opony Fuldy i Savy za "zadowalające". W teście opon 16-calowych Fulda Kristall Control HP2 uplasowała się na 11. miejscu, a jej mocne strony to "precyzyjne i bezpieczne osiągi na suchej nawierzchni, najdłuższy przewidywany przebieg, niska ścieralność, ponadprzeciętnie niska masa i niskie zużycie paliwa." [1]
Z kolei Sava Eskimo HP2 zajęła 11. miejsce w rankingu opon 17-calowych i była chwalona za "bezpieczne właściwości na zimowych drogach, długi przewidywany przebieg, niską ścieralność, bardzo niską wagę i najniższe zużycie paliwa w teście." [2]
"Cieszymy się, że cztery nasze marki zostały docenione w jednym z najbardziej skrupulatnych i prestiżowych europejskich testów opon zimowych. Sukces tych produktów jest świadectwem innowacyjności i zaangażowania Goodyeara na rzecz zimowych osiągów i jest potwierdzeniem, że mamy doskonałe portfolio opon zimowych," powiedział Laurent Colantonio, starszy dyrektor Goodyear ds. technologii w oponach osobowych w regionie EMEA.
[1] ADAC - test opon zimowych 2023 - 205/60R16
[2] ADAC - test opon zimowych 2023 - 225/45R17
[3] Cytaty przetłumaczone z oryginalnych ocen testerów w języku niemieckim