Gdy nadchodzi lato, kierowcy tracą czujność – błędnie zakładając, że w upalne dni akumulatorom nic nie zagraża. Tymczasem wysokie temperatury mają niekorzystny wpływ na ich kondycję. By uniknąć nieprzyjemnych zdarzeń na drodze i nie dopuścić do samorozładowania, wystarczy wdrożyć kilka nieskomplikowanych zasad.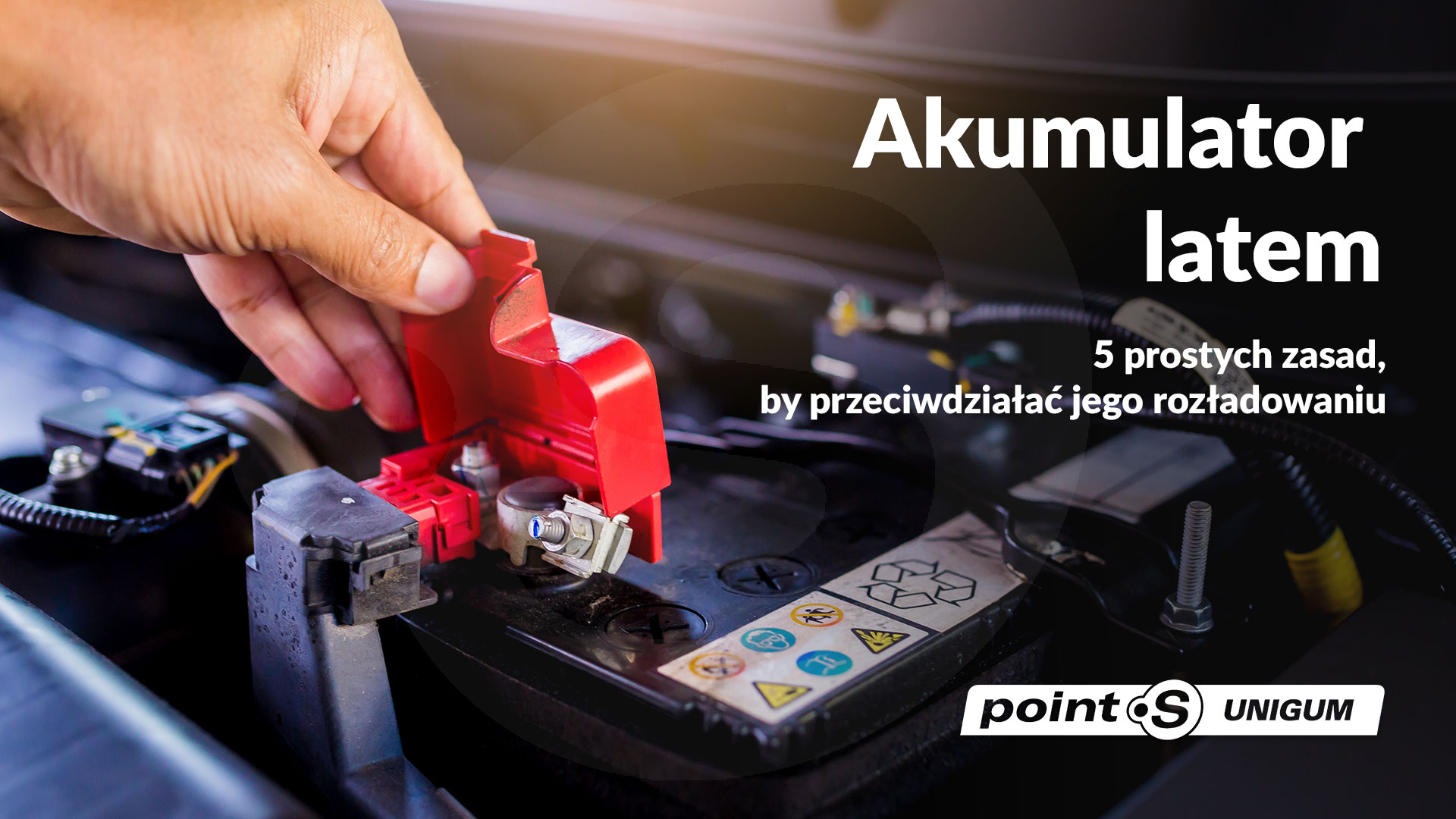 Wyjeżdżasz i pozostawiasz auto na parkingu pod chmurką, gdzie stoi w pełnym słońcu? Po powrocie możesz się spodziewać przykrych niespodzianek w postaci rozładowanego akumulatora. Dlaczego? Odpowiedź jest prosta. Podczas upałów rośnie temperatura pod maską samochodu, a reakcje chemiczne zachodzą szybciej. Gdy temperatura powietrza osiąga 30°C lub więcej, w nieużywanym samochodzie następuje dużo szybsze samorozładowanie. Gdy jeździmy autem codziennie, akumulator jest systematycznie doładowywany podczas jazdy. Wystarczy kilka dni na parkingu, by poziom jego naładowania spadł. Jak uniknąć przymusowego postoju i konieczności użycia kabli rozruchowych?
1. Sprawdzaj stan naładowania akumulatora
Napięcie w prawidłowo naładowanym akumulatorze wynosi 12,7 V lub więcej. Gdy jego wartość spadnie poniżej 12,5 V, to sygnał, że zaczął się rozładowywać. Aby nie dopuścić do jego samorozładowania, kontroluj systematycznie te wartości. Możesz to zrobić samodzielnie lub korzystając z pomocy sprawdzonego mechanika, dysponującego inteligentnym testerem nowej generacji, np. Exide EBT965P. Przy jego udziale można sprawdzić akumulatory: EFB, AGM, GEL, a także klasyczne kwasowo-ołowiowe. To inteligentne urządzenie jest wieloczynnościowe i pozwala także na ocenę: systemu elektrycznego pojazdu, poprawności działania alternatora oraz rozrusznika. Ocenę poziomu naładowania akumulatora można także wykonać samodzielnie przy pomocy woltomierza, podłączonego do gniazda zapalniczki samochodowej.
NASZA RADA: Używając woltomierza, pamiętaj, że rzetelny wynik otrzymasz mierząc napięcie postojowe, co najmniej pół godziny po zakończeniu jazdy. Inaczej jego wartość będzie zawyżona.
2. Stosuj ładowanie zachowawcze
Jeśli latem nie korzystasz z pojazdu przez kilka dni, staraj się nie dopuścić do rozładowania akumulatora, stosując ładowanie zachowawcze. Pozwoli to zminimalizować skutki samorozładowania spowodowanego przez upał. W tym celu możesz użyć inteligentnego prostownika, np. Exide 12/7, dzięki któremu w prosty sposób naładujesz swój akumulator. Urządzenie nie wymaga od użytkownika kontroli. Nie tylko ustala parametry i czas ładowania, ale również samo przerywa ładowanie, nie dopuszczając do przeładowania akumulatora.
NASZA RADA: Gdy do ładowania akumulatora używasz urządzenia starszej generacji, nie zapominaj o kontrolowaniu tego procesu, który w tym przypadku nie jest zautomatyzowany. Przeładowanie może doprowadzić do niekontrolowanego wzrostu temperatury elektrolitu i uszkodzenia akumulatora.
3. Zadbaj o czystość
Podczas eksploatacji akumulatora na jego obudowie, czy też pomiędzy biegunami, gromadzą się zanieczyszczenia: brud (np. pozostałości po oleju) i kurz. Nieczyszczone systematycznie klemy z czasem śniedzieją, a to skutkuje ograniczeniami w przepływie prądu. Brudny akumulator może ulec szybszemu samorozładowaniu. Aby temu zapobiec, wystarczy zadbać o niego – czyszcząc go regularnie przy pomocy ściereczki i specjalnej szczoteczki do klem, która poradzi sobie także z zaśniedziałymi lub zabrudzonymi zaciskami.
NASZA RADA: Przy okazji czyszczenia klem sprawdź, czy nie są poluzowane i w razie potrzeby dobrze je dokręć. Luźne klemy mogą utrudniać przepływ prądu i powodować kłopoty z uruchomieniem pojazdu. Niestabilne mocowanie może nawet skutkować szybkim rozładowaniem akumulatora.
4. Parkuj w cieniu i kontroluj poziom płynów
Jeśli chcesz uchronić akumulator przed rozładowaniem i przedłużyć jego żywotność, nie pozostawiaj go latem przez dłuższy czas w pełnym słońcu. Działanie promieni słonecznych na akumulatory jest tak znaczące, że producenci zalecają ich kontrolowanie już po ekspozycji słonecznej przy 20°C, ponieważ każde 10°C powyżej tej granicy przyspiesza zjawisko samorozładowania i to nawet dwukrotnie.
Przegrzanie silnika też może mieć niekorzystny wpływ na działanie auta. Aby tego uniknąć, dobrze jest kontrolować poziom oleju oraz uzupełniać płyn chłodzący w układzie chłodzenia.
NASZA RADA: W przypadku posiadania starszego typu akumulatora kwasowo-ołowiowego z dostępem do ogniw – należy sprawdzić poziom elektrolitu w każdym ogniwie. Jeśli jest go zbyt mało, koniecznie jest uzupełnienie płynu wodą destylowaną.
5. Stawiaj na sprawdzone technologie
Kto chce spać spokojnie przez cały rok i nie chce martwić się wahaniami temperatur, ten może przy okazji wymiany akumulatora wybrać model z technologią Carbon Boost 2.0, zastosowaną np. w akumulatorze Exide Premium. Dzięki dodatkowi aktywnego węgla, akumulatory wykonane w tej technologii mają lepszą wydajność i dłuższą żywotność. Charakteryzują się większą zdolnością przyjmowania ładunku, w związku z czym wymagają krótszego czasu ładowania – odbywa się ono dwa razy szybciej niż w przypadku technologii tradycyjnej. Carbon Boost 2.0 to technologia, która sprawdzi się w ekstremalnych warunkach pogodowych (upał, mróz) – w samochodach z mocnymi silnikami, bogato wyposażonych i intensywnie użytkowanych, także w ruchu miejskim.
NASZA RADA: Jeśli szukasz akumulatora odpowiedniego do twojego pojazdu, skorzystaj z pomocy wykwalifikowanej kadry Point S UNIGUM.