W maju 2022 r. Hankook, wprowadził na rynek Ventus iON S, pierwszą oponę letnią z nowej gamy produktów, która została zaprojektowana specjalnie z myślą o pojazdach elektrycznych. Poprzez takie podejście firma chce wnieść decydujący wkład w przyspieszenie procesu przechodzenia na pojazdy o zerowej emisji spalin. Nowa opona letnia jest pionierem nowej, globalnej rodziny opon "iON" opracowanych z myślą o pojazdach elektrycznych klasy premium, do której we wrześniu 2022 r. dołączy opona Hankook Winter i*cept iON.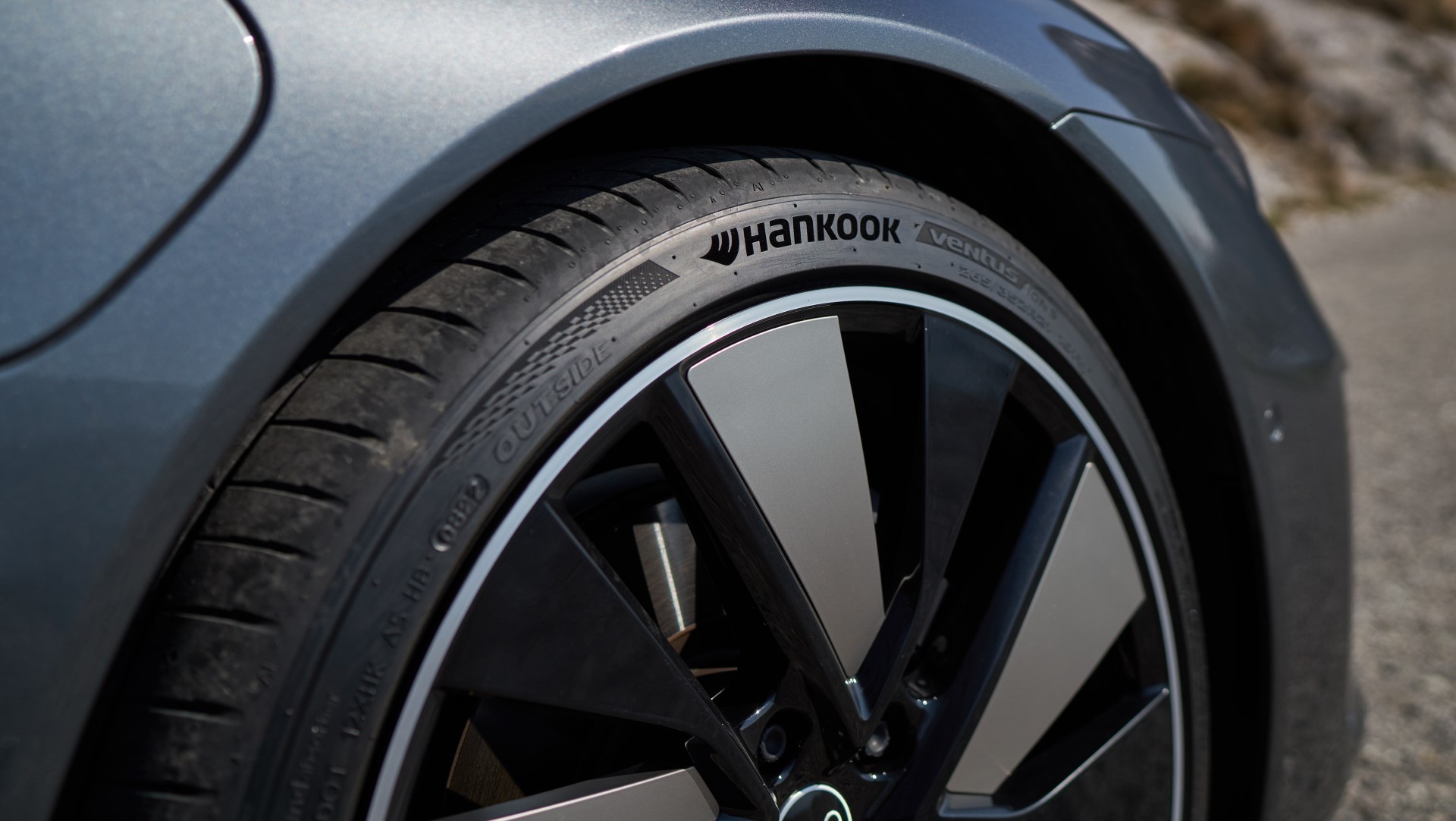 Cechy charakterystyczne nowej opony to zmniejszony opór toczenia, wyjątkowo cicha charakterystyka toczenia i wysoka nośność. Dla kierowców samochodów elektrycznych oznacza to większy zasięg na jednym ładowaniu i przyjemniejsze wrażenia z jazdy w porównaniu z konwencjonalnymi oponami. Ponadto nowe produkty Hankook iON są specjalnie zaprojektowane z myślą o natychmiastowych wysokich momentach obrotowych, które są generowane przez dysponujące dużą mocą pojazdy elektryczne.
Liczne środki w celu spełnienia wymogów dla pojazdów elektrycznych
Nowe opony Hankook Ventus iON S dzięki szerokiemu zestawowi rozwiązań technicznych spełniają wysokie wymagania stawiane oponom do pojazdów elektrycznych. W szczególności firma Hankook poprzez większą nośność zrównoważyła większą masę pojazdów elektrycznych spowodowaną dużym ciężarem akumulatorów. Między innymi ultrawytrzymałe włókna aramidowe skutecznie przeciwdziałają siłom odkształcającym, które są spowodowane wyjątkowo wysokim momentem obrotowym w pojazdach elektrycznych. Mieszanka tworząca bieżnik, w której skład wchodzi duża ilość żywicy naturalnej, zapewnia również wzorową trwałość i mniejsze zużycie. Wysoka zawartość krzemionki zapewnia przyczepność na poziomie mikro na mokrych drogach, przeciwdziałając tworzeniu się zagrażającej bezpieczeństwu warstwy wody między nawierzchnią drogi a oponami. Inną cechą szczególną nowej mieszanki jest wysoka zawartość olejów naturalnych. Dzięki temu produkty iON są nie tylko bardziej przyjazne dla środowiska, ale mają również pozytywny wpływ na trwałość bieżnika. Oznacza to, że do uzyskania stałych osiągów potrzeba mniejszej ilości materiału, a zmniejszenie ciężaru opony nawet o jeden kilogram na oponę poprawia opór toczenia.
Jedną z cech szczególnych opon Ventus iON S jest zoptymalizowana aerodynamika, która pozwala wykorzystać ich potencjał dla zapewnienia zwiększonej wydajności i zasięgu. Wzór opony został zaprojektowany w taki sposób, aby zmniejszyć opór powietrza - dotyczy to nawet napisów na ściankach bocznych opony.
Kolejnym celem rozwojowym było uzyskanie jak najcichszej charakterystyki pracy, co jest szczególnie istotne w obliczu eliminacji hałasu silnika spalinowego. Dlatego też tak ważna rolę pełni zintegrowana technologia Sound Absorber™ firmy Hankook, która wraz z redukującym‑hałas wzorem bieżnika zauważalnie zmniejsza poziom hałasu wewnątrz pojazdu.
Z certyfikatem TÜV SÜD: udane zarządzanie konfliktem celów
Inżynierowie Hankook doskonale rozwiązali konflikt celów, jakimi były minimalizacja oporu toczenia przy zachowaniu tej samej jakości w innych ważnych kryteriach osiągów. Zostało to również potwierdzone przez TÜV SÜD w niezależnym teście porównawczym z wykorzystaniem produktów konkurencyjnych z segmentu premium. Opony Hankook Ventus iON S, zastosowane w popularnych pojazdach elektrycznych klasy premium, wyraźnie górują nad konkurencją, nie wykazując słabych punktów w innych ważnych kryteriach.
Osiągają również najlepsze wartości w zakresie skuteczności hamowania na mokrej i suchej nawierzchni. Ponadto są to również najcichsze opony w teście.
Duży potencjał redukcji CO 2w sektorze wymiany
Opony specjalne do pojazdów elektrycznych stają się także coraz bardziej istotne w sektorze wymiany ogumienia. Według prognoz serwisu informacyjnego IHS Markit, globalny udział samochodów elektrycznych zasilanych bateriami w całkowitej sprzedaży pojazdów będzie rósł o 36,6% rocznie – z obecnych 6,4% udziału w rynku do 29,5% do 2028 roku. Ponieważ opony Hankook iON w porównaniu ze standardowym ogumieniem pozwalają przejechać więcej kilometrów na jednym ładowaniu, mogą one również w znacznym stopniu przyczynić się do zmniejszenia emisji CO 2w ruchu drogowym.
Sanghoon Lee, prezes Hankook Tire Europe: "Wprowadzając Ventus iON S jako pierwsze opony w nowej gamie, nasza firma w coraz większym stopniu uwzględnia gwałtowny wzrost popytu na pojazdy elektryczne i związane z tym zapotrzebowanie na odpowiednie opony, także w kontekście konieczności ich wymiany. Dzięki zwiększonemu zasięgowi na jednym ładowaniu akumulatora ta nowa generacja opon będzie przyczyniać się do dalszej optymalizacji wydajności pojazdów elektrycznych w codziennym użytkowaniu. Z przyjemnością możemy powiedzieć, że zostało to już potwierdzone przez niezależne instytucje."
Klaus Krause, dyrektor Centrum Technicznego Hankook Tire Europe w Hanowerze: "Jesteśmy szczególnie dumni na przykład z tego, że nowa opona Hankook Ventus iON S uzyskała ocenę A/A/A na etykiecie UE dla opon. Odpowiada to najwyższym poziomom osiągów pod względem oporu toczenia, przyczepności na mokrej nawierzchni i hałasu opon."
Opony Hankook Ventus iON S są dostępne w rozmiarach od 18 do 22 cali. Opony Hankook Winter i*cept iON, zaprojektowane z myślą o miesiącach zimowych, zadebiutują na rynku we wrześniu 2022 roku. Na rynku północnoamerykańskim dostępna będzie również wersja całoroczna opon Hankook Ventus iON A. Kolejne wersje produktu są w przygotowaniu.
Wymiana technologii pomiędzy motorsportem elektrycznym a pojazdami przeznaczonymi do jazdy po drogach
Inżynierowie ds. rozwoju firmy Hankook, jednego z wiodących na świecie producentów oryginalnego wyposażenia dla pojazdów elektrycznych marek premium, już wielokrotnie udowodnili swoje kompetencje w tym wymagającym segmencie. Zoptymalizowane pod kątem elektromobilności opony OE firmy Hankook są już używane przez Audi, BMW, Porsche, VW i inne wiodące marki. Od sezonu 2022/2023 producent opon klasy premium będzie mógł również zaprezentować swoją wiedzę techniczną w dziedzinie zrównoważonego rozwoju i wyczynowej mobilności jako wyznaczony przez Międzynarodową Federację Samochodową (FIA) dostawca w świecie motorsportu elektrycznego.