Geometria zawieszenia to zestaw parametrów poszczególnych jego elementów, które mają wpływ na ustawienie koła względem podłoża i karoserii samochodu. Jest ona kluczowa z punktu widzenia naszego bezpieczeństwa, ponieważ decyduje o właściwościach jezdnych naszego samochodu, oraz zużycia eksploatacyjnego opon i części zawieszenia. Usługę jej regulacji popularnie nazywamy "zbieżnością kół", gdyż jest to najczęściej ustawiany parametr. Co powinniśmy wiedzieć o geometrii zawieszenia i o czym pamiętać, gdy udajemy się do warsztatu?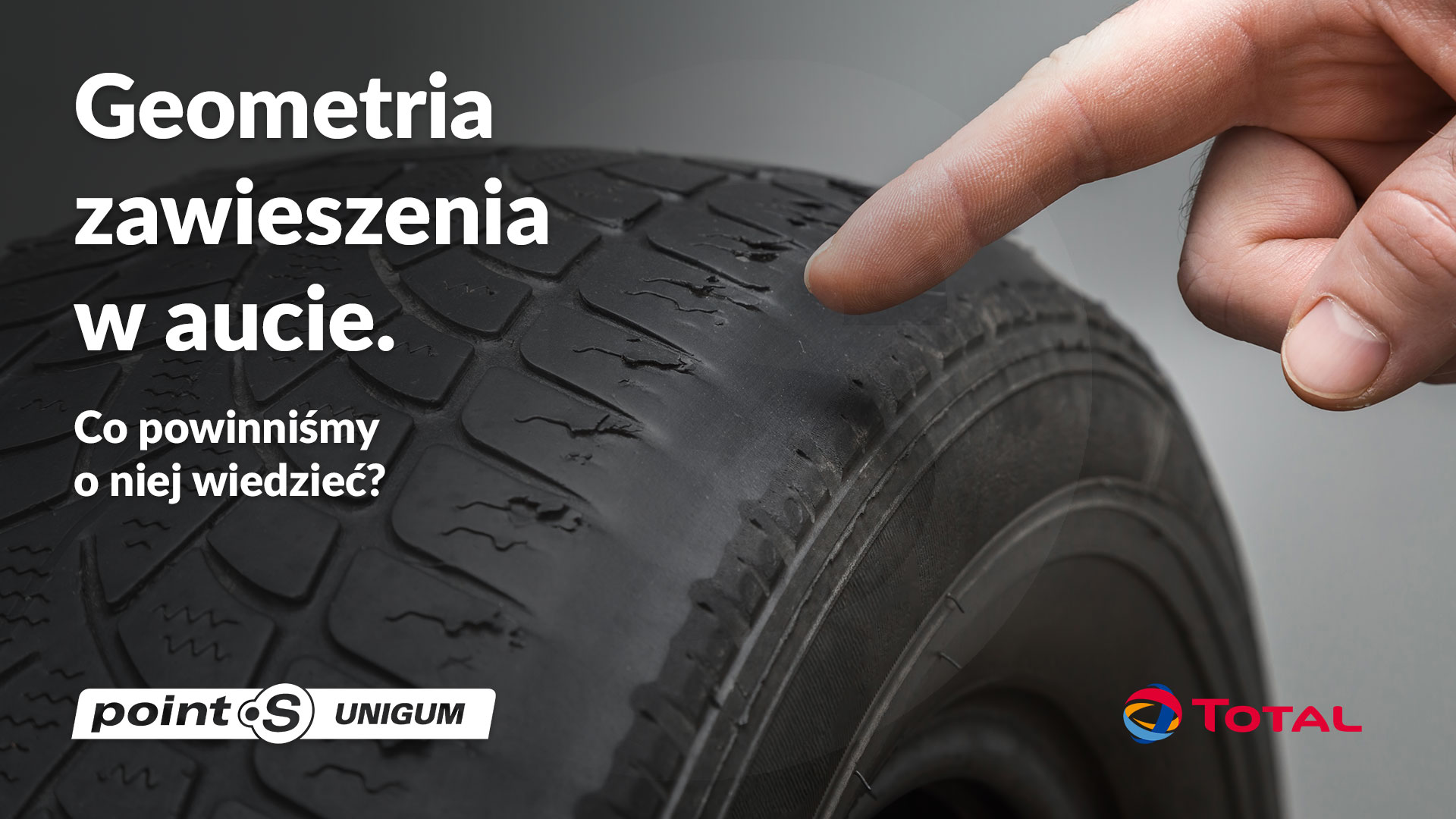 Opony są jedynym elementem łączącym samochód z nawierzchnią drogi, dlatego ważne jest, aby dotykały jej w najbardziej optymalny sposób. Poprawna geometria zawieszenia ma bezpośredni wpływ na nasze bezpieczeństwo, ponieważ zapewnia odpowiednią pracę opon, natomiast nieprawidłowo ustawiona – utrudnia kierowanie samochodem.
Mechanik do sprawdzania geometrii wykorzystuje urządzenia z technologią laserową (w latach 60. robiło się to na sznurek!). Podczas regulacji może odczytać: zbieżność kół, kąt ich pochylenia, kąt pochylenia sworznia zwrotnicy oraz kąt wyprzedzenia osi sworznia zwrotnicy. W praktyce w nowoczesnych samochodach reguluje się jedynie zbieżność kół oraz czasem kąt pochylenia koła. To ostatnie ma szczególne znaczenie w przypadku samochodów przygotowywanych do sportu (wyścigów, rajdów lub driftingu), w których priorytetem jest szybkie pokonywanie zakrętów. Bardzo często mają ustawiony tzw. negatyw – patrząc na wprost samochodu, dolna część koła jest wysunięta na zewnątrz bardziej niż górna. Można to zrobić poprzez zmianę położenia górnego mocowania kolumny McPhersona albo zmianę długości wahacza.
Parametrem zawsze regulowanym w cywilnych samochodach jest zbieżność kół i to jej poświęcimy najwięcej uwagi. Nieprawidłowo ustawiona zbieżność to wiele mniejszych lub większych problemów, spośród których należy wyszczególnić:
– pogorszone właściwości trakcyjne ("ściąganie samochodu"),
– nieprzewidywalne prowadzenie w zakrętach,
– szybsze zużycie układu kierowniczego i zawieszenia,
– szybsze i nierównomierne zużycie bieżnika opon,
– negatywny wpływ na trwałość łożysk kół,
– zwiększone zużycie paliwa.
Regulacja geometrii zawieszenia jest zawsze swego rodzaju kompromisem, gdyż niemożliwe jest poprawienie jednych parametrów, bez obniżenia pozostałych. Rozróżniamy trzy podstawowe ustawienia kół. Koła są zbieżne wtedy, gdy patrząc na samochód z góry, są skierowane do siebie, a rozbieżne – gdy są skierowane od siebie. Mogą być także ustawione równolegle. Samochód z przednią osią ustawioną bardziej zbieżnie będzie prowadził się pewnie i spokojnie na prostej drodze, ale nieco bezwładnie i ospale w zakrętach. Rozbieżność spowoduje z kolei szybszą reakcję na skręt kierownicą, ale także to, że pojazd będzie prowadzić się "nerwowo" na prostej.
Zła geometria kół powoduje, że koła nie przylegają prawidłowo do podłoża, więc muszą pokonać większe opory toczenia – stąd zwiększone zużycie paliwa oraz ścieranie się opon. Zakres regulacyjny zbieżności zamyka się od -3 do +3 stopni. Reguluje się ją za pomocą drążków: kierowniczego i reakcyjnego, które się wydłuża lub skraca. Oba koła tej samej osi muszą zachowywać identyczną zbieżność. W przypadku występowania dużej różnicy pomiędzy dwoma kołami możemy być niemal pewni, że opona na jednym zużyje się szybciej niż na drugim, a samochód będzie prowadził się nieprzewidywalnie i ściągał w którąś stronę. Trzeba będzie dokonywać nieustannej korekty podczas jazdy na wprost. Widzimy zatem, że ten parametr ma fundamentalny wpływ na zużycie i zachowanie samochodu podczas jazdy, a objawów nieprawidłowo ustawionej geometrii nie należy lekceważyć. Pozostaje pytanie, kiedy powinniśmy sprawdzić i ewentualnie wyregulować zbieżność.
Powinniśmy to robić przynajmniej raz w roku, najlepiej po okresie zimowym. Zima jest czasem, który poddaje nasze zawieszenie największej próbie, więc zmiany parametrów geometrii zawieszenia są bardzo częste. Zbieżność powinniśmy sprawdzić także po wymianie elementów układu kierowniczego i zawieszenia. Nowe i stare części "trzymają" inne parametry, więc warto je sprawdzić, by uniknąć opisanych konsekwencji. Należy równocześnie wspomnieć, że nie ma sensu regulować zbieżności, gdy mamy do wymiany jakieś elementy zawieszenia – powstałe luzy spowodują, że parametry wrócą do wartości nieprawidłowych i będziemy musieli płacić dwa razy za to samo. Dlatego podczas ustawiania zbieżności ważne jest to, by w zawieszeniu nie było luzów, felgi były proste, a w oponach panowało prawidłowe ciśnienie.
Regulacja geometrii zawieszenia jest zatem normalną czynnością serwisową, o której powinien pamiętać każdy świadomy kierowca. Korzyści, jakie osiągamy, dbając o parametry zawieszenia, są ogromne. Prawidłowo ustawiona zbieżność to gwarancja równomiernego ścierania opon, optymalne zużycie paliwa oraz przewidywalne prowadzenie samochodu na drodze, co – szczególnie w warunkach zimowych – jest bardzo istotne dla bezpieczeństwa naszego i innych.
Adam Klimek, Ekspert Team Total
Źródło: Total

Diagnostykę geometrii wykonasz w serwisach Point S UNIGUM