Co zrobić gdy poprzejechaniu dużej odległości, nasz samochód zasygnalizował, że poziom oleju jest niski. Jaki olej należy zastosować "na dolewkę", jeśli nie mamy pod ręką oleju dedykowanego do naszego silnika?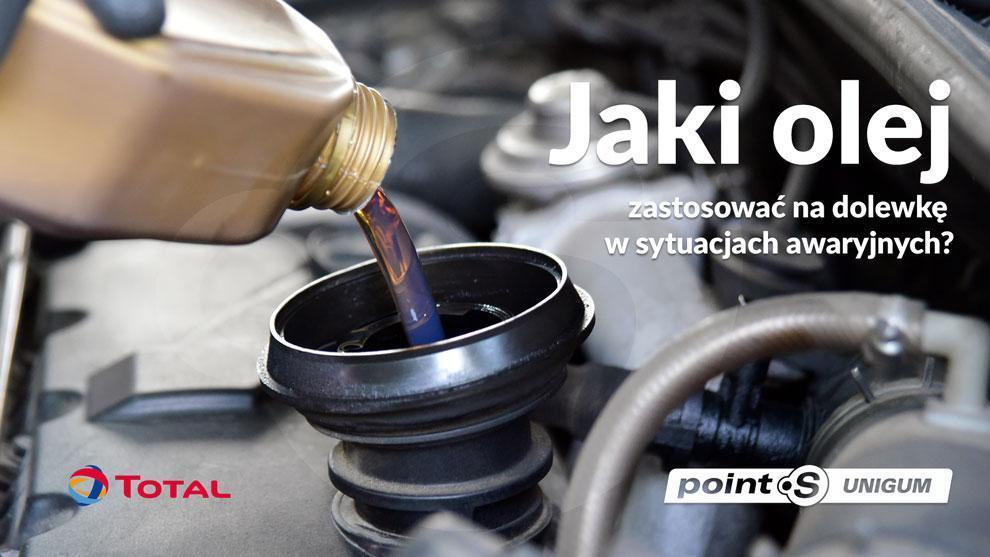 Wiele samochodów posiada elektroniczne wskaźniki poziomu oleju, które określają przybliżony poziom oleju za pomocą czujnika umieszczonego w misce olejowej. Informacja taka wyświetlana jest na desce rozdzielczej. W miarę możliwości powinniśmy ją jednak zweryfikować za pomocą konwencjonalnego bagnetu. Sprawdzając poziom oleju może się okazać, że będzie on niepokojąco niski. Co to może oznaczać?
"Każdy silnik to osobny przypadek, dlatego nie można powiedzieć bez technicznej weryfikacji, że określone zużycie oleju to na pewno objaw jego awarii. Auta sportowe, w których silniki pasowane są bardziej luźno, rządzą się swoimi prawami. Podwyższone zużycie oleju oraz skrócony interwał jego wymiany w porównaniu np. do aut cywilnych, będzie w ich przypadku zupełnie normalny. W razie wątpliwości, należy zasięgnąć informacji u producenta pojazdu. Jeśli jednak sytuacja wymyka się spod kontroli, należy zweryfikować stan silnika w renomowanym warsztacie. Mowa tu szczególnie o stanie pierścieni uszczelniających tłoków oraz ewentualnych wyciekach, które mogą być przyczyną spadku poziomu oleju" – tłumaczy Andrzej Husiatyński, kierownik działu technicznego TOTAL Polska.
Zużycie oleju jest silnie uzależnione od sposobu korzystania z samochodu. Jeśli jeździmy po górach lub na długich dystansach, często z prędkościami autostradowymi, nasz silnik będzie narażony na duże obciążenia. W takich warunkach wysokie zużycie oleju będzie uzasadnione technicznie. Wszystkie ruchome części silnika, poruszające się z ogromnymi prędkościami, będą potrzebowały grubszego filmu smarnego, który zapewni im odpowiednią ochronę. Może się zatem zdarzyć, że po dłuższej trasie samochód zasygnalizuje niski poziom oleju silnikowego. Stosunkowo niewielu kierowców posiada w bagażniku dodatkową butelkę takiego samego oleju, dlatego warto wiedzieć, jakie są podstawowe zasady jego doboru w awaryjnej sytuacji.
Współczesne samochody jeżdżą zazwyczaj na olejach syntetycznych np. Total Quartz 5W30. Większość stacji paliw sprzedaje tego typu oleje, dlatego nie jest problemem znalezienie odpowiedniego środka smarnego. Zawsze najlepiej zastosować dokładnie taki sam olej, jaki mamy w silniku, ale na szczęście oleje syntetyczne są ze sobą mieszalne. Nie ma zatem przeciwwskazań, by awaryjnie dolać oleju innego producenta, chociaż jest pewien warunek. Olej na "dolewkę" powinien charakteryzować się taką samą klasą jakościową, a najlepiej także lepkościową, co olej zalany do silnika. Informacje na temat tego, jaka klasa jakościowa i lepkościowa dedykowana jest do naszego silnika, znajdziemy w instrukcji obsługi pojazdu lub na stronie producenta.
"Mieszalność oznacza brak negatywnych skutków po "dolewce" oleju, takich jak zżelowanie oleju, wytrącenie się dodatków lub wystąpienie innych reakcji chemicznych mogących sprawić problemy z funkcjonowaniem układu smarowania. Na bazie wymagań amerykańskiego instytutu API oleje z klasą SG lub wyższą muszą być mieszalne z innymi środkami smarnymi o podobnej lub wyższej jakości. Należy zawsze przyjmować, że po zmieszaniu dwóch różnych olejów, powstała mieszanina będzie mieć parametry tego gorszego. Jeśli zatem olej na "dolewkę" charakteryzuje się taką samą lub wyższą klasą jakościową, względem zastosowanego w naszym silniku, można bez obaw uzupełnić jego poziom olejem o zbliżonych parametrach. Przykładem środków smarnych mieszalnych z każdym olejem syntetycznym są oleje Total Quartz z technologią ART, która – według badań ACEA - zapewnia wydłużenie ochrony silnika aż o 64%" – podsumowuje Andrzej Husiatyński.
Na uzupełnienie lub wymianę oleju zapraszamy do sieci serwisów Point S UNIGUM