Producent opon Hankook w swoim asortymencie opon zimowych oferuje dwa doskonałe produkty – model i*cept RS 2 oraz nową oponę Winter i*cept evo 3, z których obie są szczególnie dobrym wyborem na bieżący sezon zimowy. Te modele Hankook zajęły wysokie miejsca w kilku niezależnych testach opon przeprowadzonych przez europejskie magazyny i organizacje branżowe.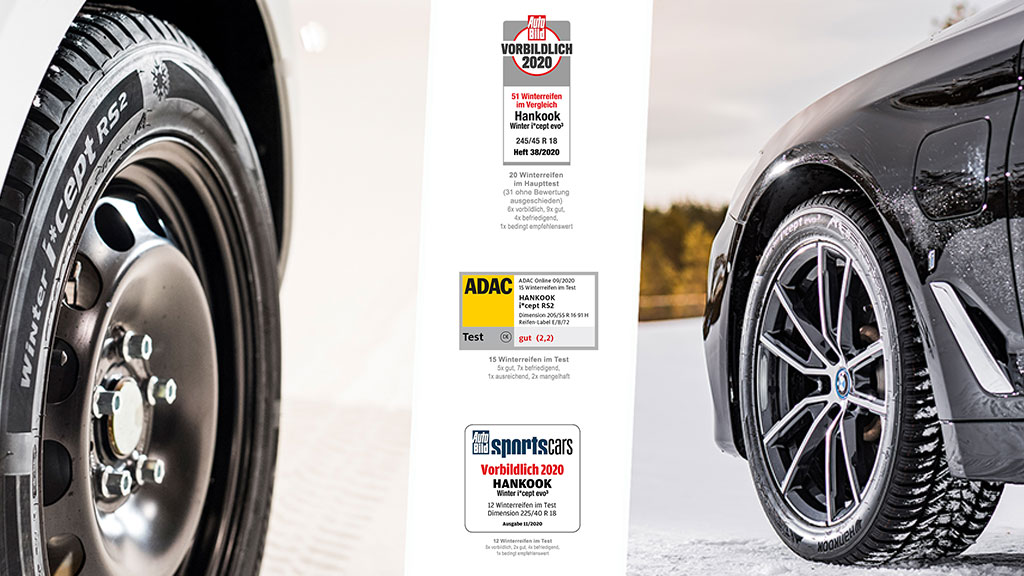 >W roku wprowadzenia na rynek nowego flagowego produktu firmy Hankook - Winter i*cept evo 3, dwukrotnie otrzymał najwyższą ocenę "Wzorowy" od wiodącego europejskiego magazynu motoryzacyjnego Auto Bild i powiązanego z nim magazynu Auto Bild Sportscars, natomiast produkt Winter i*cept RS 2 otrzymał wysoką ocenę "Dobry" od największego niemieckiego automobilklubu ADAC i jego europejskich partnerów prowadzących testy. Co więcej, była to jedna z zaledwie dwóch opon, która otrzymała rekomendację zakupu od wiodącego brytyjskiego magazynu motoryzacyjnego Auto Express. Ponadto model i*cept RS 2 został wyróżniony przez renomowany niemiecki magazyn motoryzacyjny Auto Zeitung jako "bardzo godny polecenia" i "najlepszy pod względem osiągów w danym przedziale cenowym". Wykorzystując sukces z poprzednich lat producent opon Hankook idzie za ciosem, osiągając dobre wyniki testów w 2020 r.
Ci, którzy polegają na oponach Hankook również w chłodnej porze roku, dokonują dobrego wyboru. Potwierdzają to ponownie wyniki niezależnych testów opon (zob. tabelę poniżej) przeprowadzonych przez znane magazyny i kluby motoryzacyjne. W tym sezonie zimowym producent opon premium wprowadza na rynek kilka doskonałych produktów. Opony Winter i*cept evo 3 i Winter i*cept RS 2 uzyskały dobre wyniki testów. Niezależni testerzy szczególnie chwalili zrównoważone osiągi opon Hankook.
"Jesteśmy dumni, że nasze produkty znów udowodniły, że Hankook jest uznanym producentem opon zimowych klasy premium, który uzyskuje imponujące wyniki w niezależnych testach", mówi Sanghoon Lee, Prezes Hankook Tire Europe. "Wielokrotne uzyskiwanie dobrych i bardzo dobrych wyników w testach osiągów naszych opon zimowych Hankook pokazuje, że w różnych segmentach oferujemy naszym użytkownikom końcowym atrakcyjne produkty, na których zawsze można polegać nawet w coraz trudniejszych warunkach pogodowych".
Wyniki testów
Tester:

Wzór bieżnika:

Testowany rozmiar:

Wynik testu:

Wydanie:

Auto Bild

Winter i*cept evo 3

245/45 R18

"Wzorowy"

38/2020

Auto Bild Sportscars

Winter i*cept evo 3

225/40 R18

"Wzorowy"

11/2020

Auto Zeitung

Winter i*cept RS 2

205/55 R16

"Bardzo godny polecenia" i

"Najlepsze osiągi za tę cenę"

24/2020

Adac.de

Winter i*cept RS 2

205/55 R16

"Dobry"

22.09.2020

Auto Express.co.uk

Winter i*cept RS 2

205/55 R16

"Polecany"

25.09.2020
Model Winter i*cept evo 3,który już w roku wprowadzenia na rynek otrzymał pierwsze najwyższe nagrody, został opracowany specjalnie na zimowe warunki drogowe w Europie Środkowej i Zachodniej i jest już dostępny w ponad 90 rozmiarach dla samochodów osobowych i SUV-ów. Po raz pierwszy inżynierowie projektowi z firmy Hankook zdecydowali się na nową, kierunkową rzeźbę bieżnika dla najnowszego zimowego flagowca firmy. Zapewnia to nie tylko doskonałą przyczepność na śniegu, ale także pomaga skutecznie zmniejszyć ryzyko wystąpienia aquaplaningu. Potwierdza to test przeprowadzony przez magazyn "Auto Bild Sportscars", który przyznał notę "Wzorowy", stwierdzając, że opony Winter i*cept evo 3 nie tylko oferują wzorową charakterystykę jazdy na mokrych i ośnieżonych nawierzchniach, ale także wspomagają najwyższą ochronę przed aquaplaningiem i oferują precyzyjne prowadzenie (Auto Bild Sportscars, 11/2020). Auto Bild, największy magazyn motoryzacyjny w Europie, doszedł do podobnego wniosku. Według Auto Bild, nowa opona zimowa Hankook o ultra-wysokich osiągach imponuje w szczególności "sportowymi osiągami na drogach mokrych i suchych, dobrą przydatnością na śniegu" oraz "krótką drogą hamowania na ośnieżonej i mokrej nawierzchni". Również tutaj nowy model Winter i*cept evo 3 otrzymał ogólną ocenę "Wzorowy" (Auto Bild, 38/2020).
Winter i*cept RS 2, udana opona zimowa Hankook dla samochodów kompaktowych i klasy średniej o zastosowaniu w umiarkowanych szerokościach geograficznych, takich jak Europa Środkowa i Zachodnia, została również wysoko oceniona w prestiżowym teście przeprowadzonym przez automobilklub ADAC i jego zagranicznych partnerów. Model Winter i*cept RS 2, który już od momentu wprowadzenia na rynek zdobył wiele nagród, zaimponował testerom swoimi dobrymi osiągami na suchych, mokrych i pokrytych śniegiem drogach, a także niskim zużyciem paliwa i dobrym przebiegiem. (Adac.de, 22.09.2020 r.). Znane niemieckie czasopismo motoryzacyjne Auto Zeitung przetestowało i oceniło oponę zimową i*cept RS2 firmy Hankook jako cenowego mistrza wydajności z oceną "bardzo godna polecenia" w kompleksowym teście opon zimowych 2020 (Autozeitung.de, 14 października 2020 r.: Auto Zeitung, 24/2020). Wiodący brytyjski magazyn motoryzacyjny Auto Express również przetestował oponę Winter i*cept RS 2. Po raz kolejny opona okazała się "świetnym, wszechstronnym modelem" z wyraźną rekomendacją zakupu, którą – jak się okazuje – otrzymały tylko dwie z dziewięciu testowanych opon znanych marek (Auto Express.co.uk, 25.09. 2020 r.).