Producent opon klasy premium Hankook otrzymuje nagrodę "Highly Commended" w kategorii "Produkcja opon - Producent" podczas gali Journey to Automation Awards (J2A Awards), organizowanej przez European Rubber Journal. Hankook otrzymał tę nagrodę za swój Virtual Compound Design (VCD).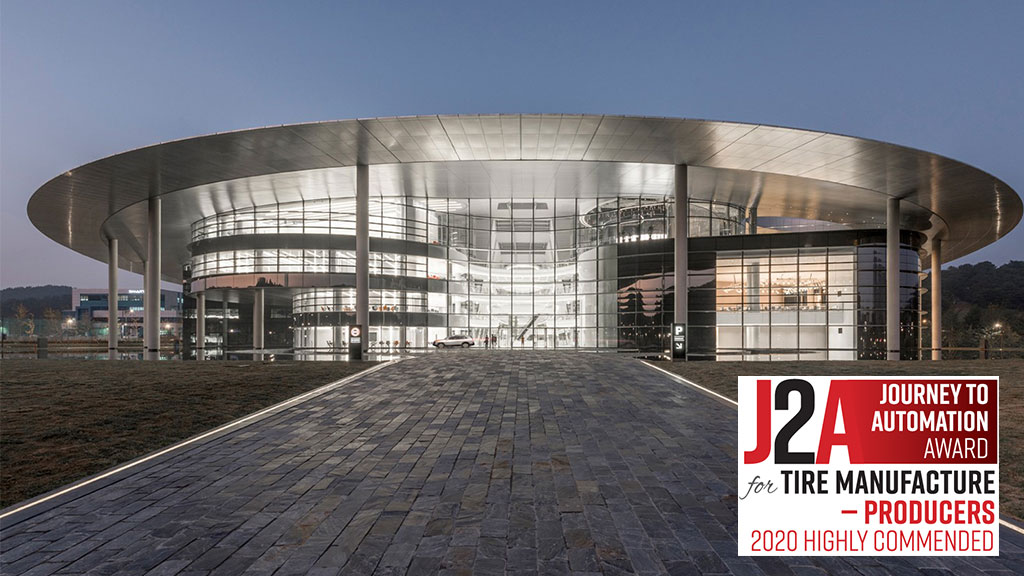 Producent opon klasy premium, firma Hankook, otrzymała nagrodę "Highly Commended" w kategorii "Produkcja Opon - Producent" podczas gali rozdawania nagród Journey to Automation Awards (J2A Awards). Nagroda ta, przyznawana przez European Rubber Journal (ERJ), jedną z wiodących na świecie publikacji w branży motoryzacyjnej, jest wyrazem uznania dla producentów opon za automatyzację i transformację cyfrową. Podczas ceremonii inauguracyjnej z uznaniem spotkał się system Virtual Compound Design (VCD) firmy Hankook, który poprzez analizę przeprowadzaną przez sztuczną inteligencję (AI) przewiduje właściwości mieszanek opon i znajduje optymalne ich połączenie.
Stworzony w 2015 roku system VCD w założeniu miał położyć podwaliny pod projektowanie opon z wykorzystaniem AI. Firma Hankook gromadziła różne dane z poprzednich badań dotyczących opon tworzonych przez AI i przeprowadziła szereg analiz w celu sprawdzenia, czy uzyskała "duże zbiory danych" i czy możliwe jest korzystanie ze sztucznej inteligencji.
W kolejnych latach firma Hankook współpracowała z prestiżowym Koreańskim Instytutem Zaawansowanej Nauki i Technologii (KAIST) nad rozwojem stworzonego przez siebie modelu sztucznej inteligencji. Współpraca ta doprowadziła do zwiększenia dokładności dzięki zastosowaniu nowej technologii sztucznej inteligencji, takiej jak automatyczne uczenie maszynowe (Auto-ML). Następnie zintegrowano Amazon Web Services ze wszystkimi procesami, umożliwiając Hankook przechowywanie, przetwarzanie i analizę ogromnych ilości danych, takich jak te zebrane z systemu VCD. Firma Hankook planuje stopniowe integrowanie systemu AI w swój złożony proces projektowania i tworzenia. Rozpoczęcie nastąpi w przyszłym roku, a ukończenie projektowania wirtualnych złożonych komponentów planowane jest do 2023 roku.
"Jesteśmy zaszczyceni uznaniem dla wyzwania, jakie podejmujemy, aby zmienić przyszłość mobilności i poprzez transformację cyfrową badać nieskończone możliwości. Wierzymy, że nasze przekonanie do kontynuowania tego nowego przedsięwzięcia nie tylko zmieni sposób, w jaki opony będą produkowane w przyszłości, ale wytworzy nowy paradygmat dla całego przemysłu motoryzacyjnego"- powiedział Bonhee Ku, Starszy Wiceprezes i Dyrektor Technologiczny of Hankook Tire & Technology Co., Ltd..
Hankook, oprócz systemu VCD, opracowała wiele technologii opartych na sztucznej inteligencji, w tym proces automatycznej kontroli wykorzystujący AI i czujniki cyfrowe, a także system CMS+ (Hankook Condition Monitoring System Plus) przewidujący nieprawidłowości w obiektach. Jest to wyraz ambicji firmy, aby być liderem transformacji cyfrowej w przemyśle motoryzacyjnym.