Michelin poszerza gamę opon przeznaczoną do ciągników o większej mocy i nośności VF MICHELIN AxioBib 2. W oponach zastosowano między innymi technologię Michelin Ultraflex, dzięki której przy ciśnieniu nie przekraczającym 2 barów ogumienie ma taką samą nośność jak opony tradycyjne.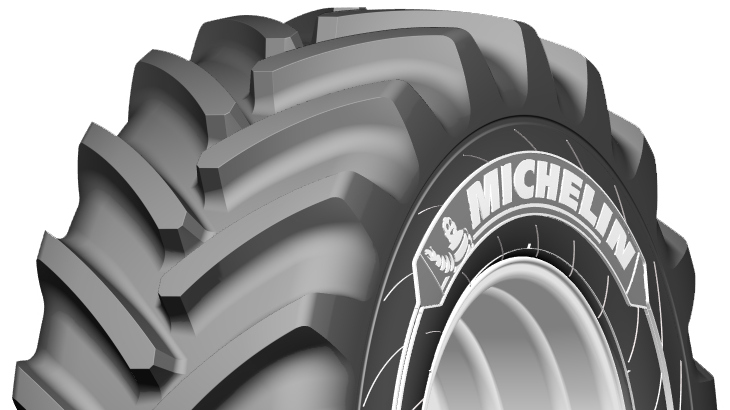 Wraz z dążeniem rolników do większej produktywności rośnie również zapotrzebowanie na ciągniki o większych osiągach i opony o wyższych indeksach nośności i prędkości. Jednocześnie rolnicy chcą mieć możliwość zamontowania najlepszego ogumienia na starszych ciągnikach, gdzie wykorzystywane są węższe obręcze. Gama opon Michelin AxioBib 2 jest rozwiązaniem idealnie wpisującym się w te oczekiwania. Opony są w pełni kompatybilne z 20- i 21-calowymi obręczami ciągników starszych typów oraz centralnymi systemami regulacji ciśnienia. Michelin AxioBib 2 ma wyjątkową nośność wśród opon w tych rozmiarach dostępnych na rynku oraz doskonałą trakcję w pracach polowych.
Opony MICHELIN AxioBib 2 zostały zaprojektowane do stosowania w pracach, gdzie niezbędny jest duży uciąg i wysoka trakcja, czyli takich jak na przykład orka, transport płodów rolnych, rozrzucanie obornika czy praca z różnego typu agregatami. We wszystkich tych przypadkach wymagane są ciągniki z silnikami o wysokim momencie obrotowym.
W oponach MICHELIN AxioBib 2 zastosowano technologię MICHELIN Ultraflex, która zapewnia wiele korzyści, m.in. ochronę gleby, lepszą trakcję, oszczędność paliwa i większy komfort jazdy. Opony Michelin wykorzystujące technologię MICHELIN Ultraflex umożliwiają udźwig podobnych obciążeń jak opony tradycyjne, nie przekraczając przy tym ciśnienia 2 barów.Mogą więc przewozić większe obciążenia, jednocześnie chroniąc glebę. Dzięki mniejszemu ugniataniu gleby, jakie zazwyczaj powodują kombajny, możliwa jest skuteczna cyrkulacja wody i powietrza na uprawianym polu, co powoduje jednolity wzrost plonów, a także ochronę zbiorów. Dzięki wykorzystaniu niskociśnienieniowej technologii Michelin Ultraflex rolnicy mogą zwiększyć plony nawet o 4%
Lepsza trakcja w polu
Płaski bieżnik przy niższym ciśnieniu powoduje dłuższy obszar kontaktu z podłożem. Dzięki wytężonej pracy inżynierów Michelin gama opon Michelin AxioBib 2 VF posiada dłuższy obszar kontaktu z podłożem, dzięki czemu jego powierzchnia wzrasta o 19%. Pozwala to na zwiększenie uciągu ciągnika nawet o 35%.
Większy obszar kontaktowy i obniżone ciśnienie umożliwiają zmniejszenie głębokości kolein i większą przyczepność niezależnie od warunków glebowych, co pozwala oszczędzać czas i paliwo. Takie rozwiązania idą z duchem czasu, umożliwiając także zastosowanie współczesnych technik uprawy, jak na przykład zasiew bezpośredni. Zmniejszone ugniatanie w połączeniu z możliwością zastosowania wydajniejszych maszyn pozwalają uzyskać większe plony, a co za tym idzie i zyski. Nawet przy niskim ciśnieniu opony zaprojektowane w technologii MICHELIN Ultraflex gwarantują bezpieczniejszą jazdę po drogach publicznych i stabilność.
Oznaczenie NRO i kompatybilność z centralnymi systemami regulacji ciśnienia w oponach
Opona Michelin AxioBib 2 650/65 R42 jest nie tylko kompatybilna z rozmiarami obręczy zalecanymi przez ETRTO (Europejską Organizację Techniczną ds. Opon i Obręczy), ale posiada również oznaczenie NRO (Narrow Rim Option), które wskazuje, że oponę można montować na obręczach węższych niż normalnie dozwolonych normami ETRTO dla opon IF i VF. W efekcie pozwala to na stosowanie nowych opon Michelin na ciągnikach starego typu. Opony Michelin w tym rozmiarze można by montować standardowo na obręczach o szerokości 23 cale, ale dzięki oznaczeniu NRO można je również montować na obręczach 20 i 21 cali. W każdym przypadku Michelin rekomenduje sprawdzenie szczegółów montażu z katalogiem lub przedstawicielem marki.
Rolnicy, którzy posiadają w swoich ciągnikach system centralnej regulacji ciśnienia, mogą korzystać z opon w pełnym zakresie ciśnień, zyskując wydajność niezależnie od warunków na drodze i w polu. Gama Michelin AxioBib 2 jest kolejną oponą w grupie Michelin, którą można stosować nawet z ciśnieniem 0,6 bara.
Po wprowadzeniu na rynek dwóch nowych rozmiarów opony – VF 710/60 R34 173D/169E TL AXIOBIB 2 oraz VF 900/60 R42 189D/185E TL AXIOBIB 2 – obecnie na rynku dostępne są następujące wersje:
540/65 R30 158D/155E AXIOBIB 2
600/60 R30 162D/159E AXIOBIB 2
600/70 R30 168D/165E AXIOBIB 2
620/75 R30 172D/169E AXIOBIB 2
650/60 R34 168D/165E AXIOBIB 2
650/65 R34 170D/167E AXIOBIB 2
710/60 R34 173D/169E AXIOBIB 2
650/60 R38 170D/167E AXIOBIB 2
650/85 R38 182D/179E AXIOBIB 2
800/70 R38 187D/184E AXIOBIB 2
650/65 R42 174D/171E AXIOBIB 2
650/85 R42 183D/180E AXIOBIB 2
710/60 R42 176D/173E AXIOBIB 2
710/70 R42 182D/179E AXIOBIB 2
710/75 R42 184D/180E AXIOBIB 2
900/60 R42 189D/185E AXIOBIB 2