W dobie epidemii koronawirus stanął na drodze także kierowcom. Osoby, które nadal podróżują autem, powinny zadbać o czystość i dezynfekcję wszystkich elementów pojazdu, na których mógłby zagościć wirus. Ci, którzy mają do wyboru podróż transportem publicznym lub samochodem, powinni rozważyć tę drugą opcję. Zaś kierowcy pracujący przez dłuższy czas zdalnie lub poddani kwarantannie, powinni pamiętać o… akumulatorach.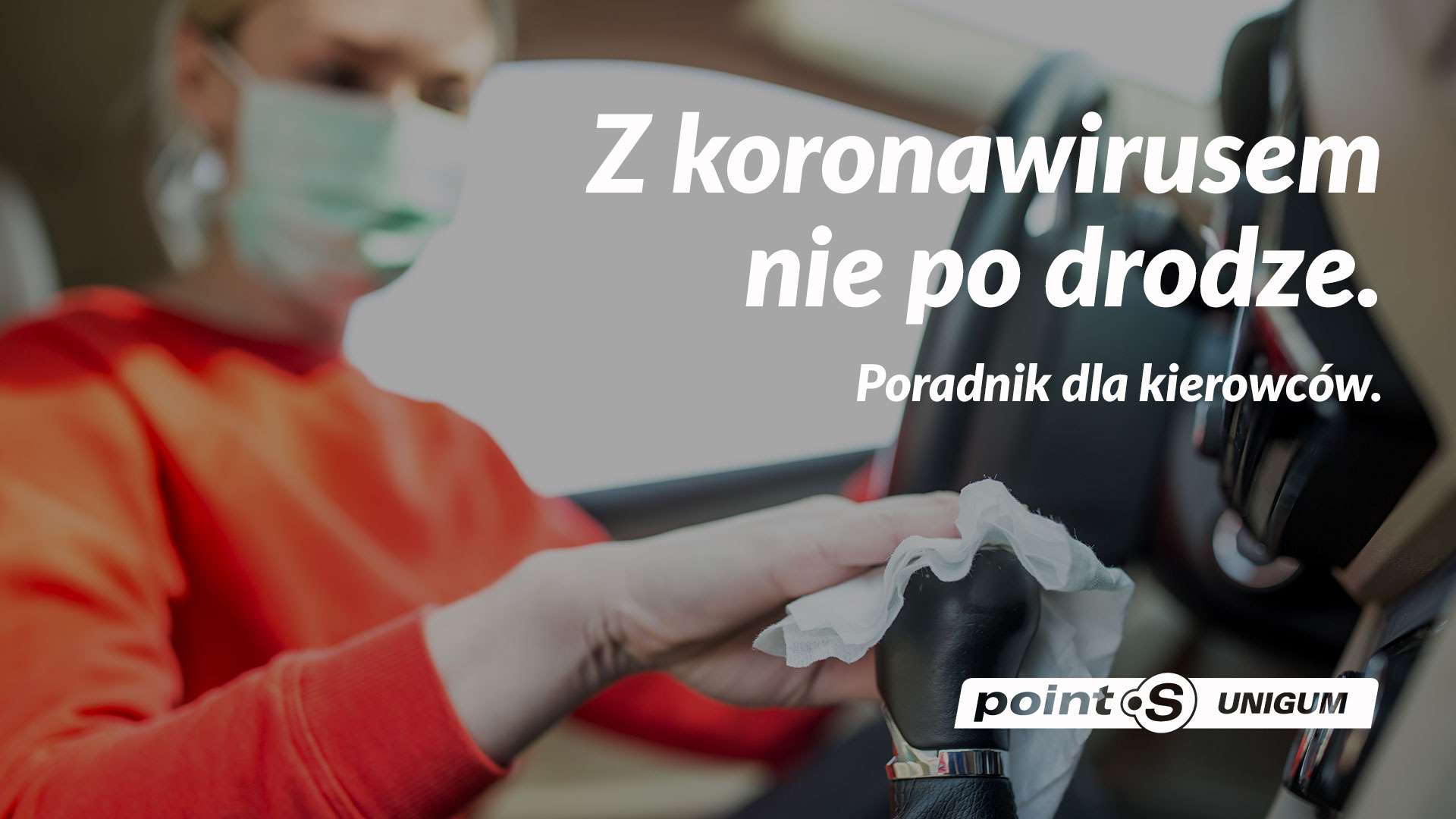 Dezynfekcja auta – na co zwrócić uwagę i jak postępować?
Samochód daje nam poczucie komfortu i bezpieczeństwa – często podróżujemy sami lub z najbliższymi osobami, z którymi i tak mamy kontakt na co dzień. Nie powinno to jednak usypiać naszej czujności. W czasie epidemii koronawirusa, tak samo jak dbamy o bezpieczeństwo własne i restrykcyjnie pilnujemy środków higieny osobistej (mycie i dezynfekcja rąk, używanie jednorazowych rękawiczek i maseczek ochronnych), tak samo powinniśmy dbać o regularną dezynfekcję naszych osobistych przedmiotów – telefonów komórkowych, portfeli, a także… samochodów. Dlatego w aucie zawsze warto mieć środki czyszczące, w tym preparaty na bazie alkoholu do odkażania powierzchni (nawilżane chusteczki odkażające, środki dezynfekcyjne w spray'u, etc.).
Aby nasz pojazd nie stał się siedliskiem wirusa, musimy pamiętać o dezynfekcji najczęściej dotykanych powierzchni: klamek zewnętrznych i wewnętrznych, klamki bagażnika, kierownicy i manetek kierunkowskazów, hamulca ręcznego, dźwigni od skrzyni biegów, wszelkich przycisków, pokręteł i ekranów dotykowych, ram drzwi, itp. Dezynfekcja powinna być połączona także z wietrzeniem auta i dbaniem i jego ogólną czystość – częstsze korzystanie z myjni, dbanie o regularne czyszczenie wnętrza (w tym dezynfekcja dywaników, pranie foteli, czyszczenie wnętrza bagażnika, a nawet ozonowanie pojazdu). Warto także zadbać o klimatyzację – wirusy są bowiem obecne się nie tylko na powierzchniach, ale także w powietrzu. Pojazd to przestrzeń zamknięta, a zagrzybiona klimatyzacja z pewnością nie pomoże nam w zachowaniu bezpieczeństwa – swojego i pasażerów.
O higienę powinniśmy zadbać także w trakcie tankowania. Na stacjach są na szczęście dostępne rękawiczki jednorazowe, z których możemy korzystać. Warto także ograniczyć liczbę tankowań do minimum – jeśli możemy, tankujmy do pełna, korzystajmy ze stacji samoobsługowych, płaćmy bezgotówkowo (kartą lub przy pomocy aplikacji). Wiele stacji benzynowych także zachowuje środki bezpieczeństwa, wyznaczając strefy kontaktu, odległości pomiędzy klientami lub oddzielając personel od klientów przezroczystymi ściankami.
Przesiądź się do auta
W czasie epidemii, jeśli tylko mamy taką możliwość, warto przesiąść się do auta, na motocykl lub rower. Transport publiczny, choć poddawany coraz większym restrykcjom higienicznym i wytycznym dotyczącym przewozu osób (ich liczbie, odległościach, jakie pasażerowie powinni zachować, etc.), nadal pozostaje mniej bezpiecznym środkiem podróży niż pojazd osobowy. Zachęcają do tego także władze dużych miast, jak Gdynia i Kraków, które zawiesiły pobieranie opłat w strefach płatnego parkowania. Urzędnicy zachęcają w ten sposób mieszkańców do poruszania się indywidualnymi środkami transportu, aby ograniczyć możliwość zarażenia się koronawirusem.
Ponadto, jeśli dotąd ze względu na lepsze i szybsze połączenia wybieraliśmy tramwaje, autobusy, pociągi czy też metro, w czasie epidemii może okazać się, że samochodem dotrzemy do pracy szybciej. Zmniejszył się bowiem nie tylko ruch na drogach, ale także liczba połączeń miejskiej komunikacji, przez co wydłużył się czas dojazdu do pracy. W dobie epidemii dochodzi zatem do paradoksu – już raczej nie utkniemy samochodem w korku, za to dłużej będziemy czekać na kolejny tramwaj lub autobus, które jeżdżą w mniejszej liczbie i rzadziej.
Zostałeś w domu? Zadbaj o akumulator
Osoby, które pracują zdalnie lub odbywają domową kwarantannę i nie korzystają z auta, powinny kontrolować w tym czasie stan akumulatora. Akumulatory niestety nie lubią przestojów, w trakcie których nie są ładowane. Im starszy lub im słabszy akumulator, tym bardziej powinniśmy zadbać o jego kondycję – kontrolować stan naładowania, np. przy pomocy woltomierza i doładowywać przy pomocy prostownika, jeśli sytuacja tego wymaga (napięcie wynosi 12,5 V lub mniej).
– Auto, nawet gdy go nie użytkujemy, pobiera pewną ilość energii z akumulatora, np. na podtrzymanie alarmu i pamięci sterowników. Parametr ten opisuje się jako "upływność prądu". Nie powinna ona przekraczać 0,05 A (50 mA). Często jednak zdarza się, że uszkodzone radio – czy jakikolwiek inny odbiornik energii w samochodzie – pobiera znacznie więcej energii niż powinien, co często kończy się rozładowaniem. Niskie temperatury, w tym mroźne wiosenne poranki, także mają wpływ na spadek sprawności akumulatora. Niestety akumulator, jeśli nigdzie nie jeździmy autem lub pokonujemy zbyt małe dystanse, by zdołał się doładować, może ulec rozładowaniu, a nawet uszkodzeniu. Dlatego oprócz bardziej zaawansowanej diagnostyki (pomiar upływności prądu wykonywany u mechanika – przynajmniej raz w roku), warto samodzielnie i regularnie kontrolować stan naładowania akumulatora– radzi Mariola Michalczyk, marketing manager z Exide Technologies S.A.
Być może dzięki wszystkim powyższym radom – dezynfekcji i rozważnemu korzystaniu ze środków transportu, unikniemy zakażenia. A jeśli czas epidemii spędzamy w domu, bez problemu odpalimy auto i dojedziemy do pracy, gdy wszystko znów wróci do normy.