Łączność pojazdów z otoczeniem i zrównoważony rozwój to najważniejsze trendy w branży automotive. Wkraczamy w nową erę mobilności, w której największe firmy motoryzacyjne nawiązują partnerstwa z przedstawicielami sektora cyfrowego i nowoczesnych technologii. Ich celem jest korzystanie z najlepszych dostępnych obecnie metod i środków oraz opracowywanie przełomowych rozwiązań, które będą ekologiczne, bezpieczne i akceptowane przez społeczeństwo.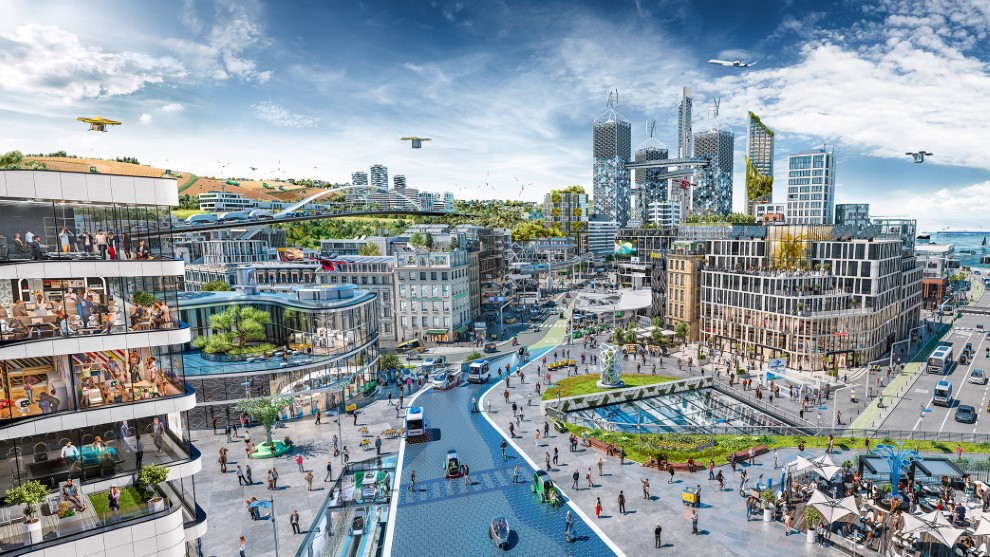 Historia Continental rozpoczęła się prawie 150 lat temu. W przeszłości rozwój firmy, jak i branży motoryzacyjnej, napędzały konie mechaniczne. Dzisiaj są to bity i bajty. Pod względem technologicznym i organizacyjnym, działalność Continental jest już w pełni skoncentrowana na mobilności jutra. Nadrzędnym celem firmy jest kształtowanie nowego ekosystemu mobilności w trzech głównych obszarach: alternatywnych systemów napędowych, jazdy autonomicznej oraz łączności pojazdów z otoczeniem i związanego z tym zarządzaniem danymi. Wszystkim działaniom podejmowanym przez koncern przyświeca idea zrównoważonego rozwoju – oznacza to bezpieczniejszą, wydajniejszą i bardziej inteligentną mobilność.
W nadchodzących latach branża motoryzacyjna z całą pewnością zrobi ogromny krok naprzód w zakresie rozwoju autonomicznej jazdy, elektryfikacji czy Internetu Rzeczy (z ang. Internet of Things – IoT). Za sprawą nowych rozwiązań i rozwoju sieci komórkowej 5G, Continental będzie mógł wdrażać przełomowe produkty i usługi, które już opracował i które znacznie zwiększą komfort oraz bezpieczeństwo ruchu drogowego. Dzięki ciągłym inwestycjom w badania i rozwój, Continental wiedzie prym w poszukiwaniu przełomowych technologii, umożliwiając rozwój całej branży. W samym 2018 roku wydatki kapitałowe oraz nakłady na badania, rozwój i rozbudowę zakładów produkcyjnych przekroczyły 6,3 miliarda euro. Obecnie około 49 tysięcy inżynierów w Continental zajmuje się nowymi technologiami. Co więcej, do końca 2022 roku koncern planuje zwiększyć liczbę zatrudnianych ekspertów ds. oprogramowania i IT o 30% – z obecnych 19 do 25 tysięcy specjalistów. Continental projektuje i produkuje m.in. inteligentne oświetlenie uliczne, intuicyjne interfejsy komunikacji człowieka z maszyną, systemy operacyjne, elektronikę samochodową, kamery, czujniki, radary i zintegrowane rozwiązania w zakresie automatyzacji jazdy, zaawansowane systemy bezpieczeństwa czy elektryczne układy napędowe. Już teraz cztery na każde pięć samochodów poruszających się po drogach całego świata są wyposażone w innowacyjne rozwiązania Continental - powiedział Dariusz Wójcik, Dyrektor Generalny Continental Opony Polska.
Bezpieczna łączność
Kluczowym elementem budowy nowego ekosystemu mobilności jest bezpieczeństwo ludzi i danych. W przyszłości poruszanie się samochodami będzie wiązało się ze stałą wymianą informacji – z innymi pojazdami (Car2Car) i otoczeniem (V2X), np. infrastrukturą drogową czy stacjami serwisowymi. Dlatego Continental, projektując nowe technologie, kładzie szczególny nacisk na zapewnienie maksymalnej ochrony wymiany danych. W tym celu firma nawiązuje liczne partnerstwa technologiczne. Koncern współpracuje m.in. z T-Systems (największym dostawcą usług IT w branży motoryzacyjnej w Niemczech) czy grupą telekomunikacyjną Vodafone. A także prowadzi liczne projekty, np. razem z Hewlett Packard Enterprise opracowuje platformę umożliwiającą bezpieczną wymianę danych pomiędzy pojazdami opartą na blockchain. Continental należy również do organizacji 5G Automotive Association (5GAA), która zrzesza największe firmy motoryzacyjne i telekomunikacyjne. Celem stowarzyszenia jest tworzenie, testowanie, wprowadzanie na rynek oraz promowanie nowych rozwiązań telekomunikacyjnych w branży motoryzacyjnej.
Przyszłość motoryzacji oponą się toczy
Kierunek rozwoju branży automotive wskazuje na to, że samochody bez kierowcy komunikujące się z otoczeniem są przyszłością motoryzacji. Już dzisiaj możemy poznać przedsmak jazdy autem autonomicznym. Najnowsze pojazdy są wyposażone kamery zamiast lusterek, są w stanie same zaparkować i zahamować, potrafią monitorować stan kierowcy, rozpoznawać znaki czy wezwać pomoc w razie wypadku. Jedno się nie zmienia – żeby się poruszać, samochody nadal będą potrzebować opon.
Opony to jedyny punkt styku samochodu z drogą, dlatego też mają one ogromne znaczenie dla bezpieczeństwa jazdy – także w autach wysoce zautomatyzowanych czy autonomicznych. Liczne raporty pokazują, że coraz więcej kierowców jest tego świadomych. Według danych z badania Moto Data z marca 2018 roku, 79% kierowców w Polsce popiera wymóg wprowadzenia obowiązku jazdy na oponach z homologacją zimową[1]. Po wejściu w życie podobnych przepisów w Niemczech odsetek poparcia dla tego obowiązku wyniósł 90%, a w Czechach – 98%. O rosnącej świadomości kierowców dotyczącej wpływu jakości ogumienia na bezpieczeństwo jazdy i długość drogi hamowania świadczy także wzrost sprzedaży opon klasy premium, w tym ogumienia typu Ultra High Performance. W Polsce rynek opon UHP wzrósł w stosunku do roku ubiegłego o 18 %. Tak duży wzrost sprzedaży ogumienia przeznaczonego do samochodów o wysokich osiągach wynika z tego, że coraz wydajniejsze i wyposażone w szereg systemów auta wymagają stosowania opon o wyjątkowych właściwościach oraz parametrach. Tylko takie ogumienie pozwala w pełni wykorzystać potencjał samochodu i systemów oraz jednocześnie zapewnia maksymalne bezpieczeństwo i komfort podczas codziennej jazdy w różnych warunkach - dodał Dariusz Wójcik, Dyrektor Generalny Continental Opony Polska.
Jesteśmy świadkami tego, jak wizje technologiczne związane z mobilnością stają się rzeczywistością. Choć niektóre rozwiązania, jak np. e-autobusy czy elektryczne hulajnogi, skutery i samochody wypożyczane na minuty za pośrednictwem smartfona, pojawiły się na ulicach stosunkowo niedawno, to szybko przyzwyczailiśmy się do ich widoku. Rozwój mobilności nabiera tempa. Continental przeciera kolejne szlaki stawiając nie tylko na rozwój w dziedzinie ogumienia, ale także łączności samochodów z otoczeniem, cyberbezpieczeństwa czy bezpiecznej i autonomicznej jazdy. Te działania idą w parze ze stopniową realizacją założeń Wizji Zero – programu, który zakłada redukcję wypadków drogowych do zera.