Już wkrótce, w niedzielę 25 sierpnia 2019 w Wielowsi (gmina Pakość) odbędzie się 9 edycja Pucharu Polski Wyścigów Traktorów Grene Race. Zawody cieszą się dużą popularnością, o czym świadczy spora rzesza zawodników oraz tłumy kibiców. Początek o godzinie 10:00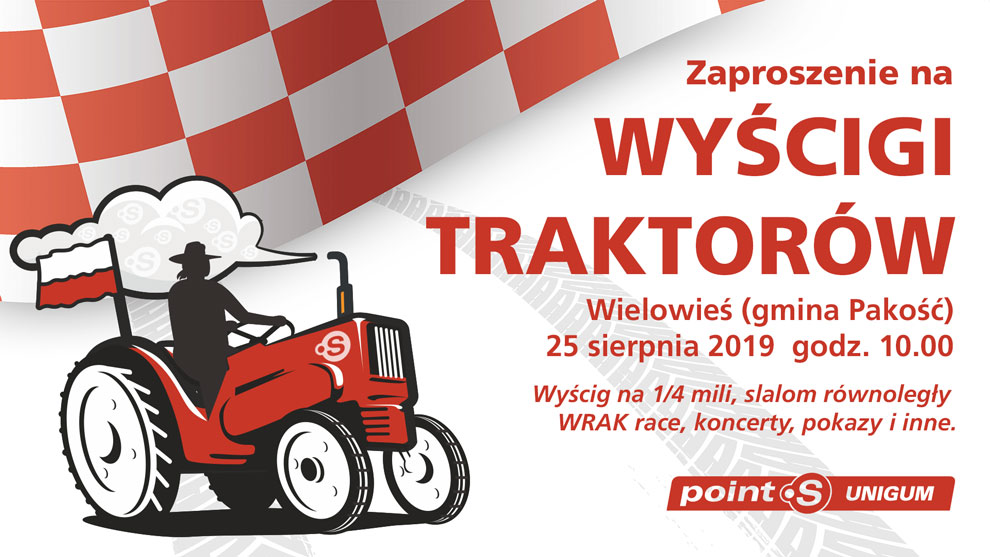 Impreza skupia na polach Wielowsi rolników i miłośników traktorów z całej Polski! Grene Race 2019 to nie tylko wyścigi nowoczesnych, świetnie wyposażonych traktorów. To także zawody, w których biorą udział zabytkowe maszyny, niemal niespotykane na polskich drogach. Od 2018 r. zawody stanowią zabawę nie tylko dla Panów, ale również dla Pań, ponieważ jedna z kategorii przeznaczona jest wyłącznnie dla Pań (Kobiety na traktory). Oprócz wyścigów będzie moc atrakcji dla odwiedzających – całodniowa rozrywka dla rodzin, zabawy dla dzieci, rozbudowana strefa gastronomiczna, a także koncerty i inne niespodzianki.
Zawodnicy wezmą udział w 2 konkurencjach: w wyścigu na 1/4 mili oraz w slalomie równoległym w pięciu kategoriach: do 80 KM, powyżej 80 KM, traktory retro, Ursus C-330, Ursus C-45. W tym roku wprowadzona została też nowa kategoria – NAJGŁOŚNIEJSZY TRAKTOR!
Zapraszamy Państwa do odwiedzenia "słodkiego" stoiska point S UNIGUM na Pucharze Polski Traktorów Grene Race, który odbędzie się w Wielowsi (gmina Pakość), 25 sierpnia 2019 r. o godzinie 10.00