Dwie nowe opony Continental, opracowane specjalnie na potrzeby rajdów terenowych dla pojazdów elektrycznych Extreme E, zadebiutowały w lipcu podczas Goodwood Festival of Speed. Ogumienie zaprojektowane z myślą o najtrudniejszych warunkach jazdy zostało zaprezentowane na elektrycznym SUV-ie, który z ich pomocą ma poradzić sobie w najbardziej ekstremalnych miejscach na ziemi. Pojazdy wyposażone w opony Continental będą siłą napędową serii rajdów terenowych Extreme E, które ruszą w 2021 roku.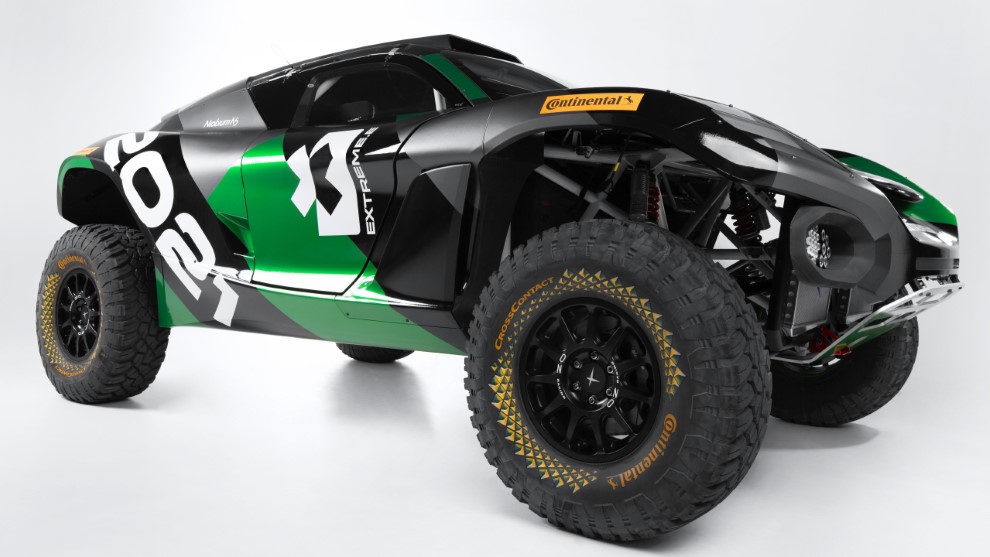 E-SUV ODYSSEY 21 nie ma sobie równych w sportach motorowych. Najnowsze technologie oraz opracowane przez Continental opony sprawiają, że ten niesamowity pojazd osiąga najlepsze wyniki w najtrudniejszych i najbardziej zróżnicowanych warunkach na ziemi. Czy to w Himalajach, Amazonii, na Arktyce, Saharze czy też na wyspach Oceanu Indyjskiego, ten samochód zaprezentuje możliwości elektrycznych SUV-ów nie tylko entuzjastom rajdów, ale też kierowcom, którzy chcą zrobić coś dla naszej planety, wybierając elektryczne auto.
Opony Continental o wysokich osiągach zaprojektowane z myślą o serii rajdów terenowych dla pojazdów elektrycznych Extreme E zapewniają kierowcom bardzo dobrą przyczepność podczas przyspieszania, hamowania oraz precyzję prowadzenia na bardzo wymagających trasach i szlakach. Ogumienie jest idealnie dostosowane do potrzeb elektrycznych SUV-ów startujących w tych wyścigach, aby zapewnić najlepszą możliwą kontrolę i bezpieczeństwo pojazdu, nawet na nierównym podłożu.
Wszystkie zespoły, które będą startować w rajdach Extreme E, będą miały do dyspozycji takie same pojazdy. Firma Spark Racing Technology jest odpowiedzialna za stworzenie całkowicie nowego modelu elektrycznego SUV-a, Williams Advanced Engineering za dostarczenie akumulatorów, a Continental – partner założycielski Extreme E – za opracowanie opon o wysokich osiągach. Każdy zespół Extreme E otrzyma po dwa komplety ogumienia letniego i zimowego, zapewniającego maksymalne bezpieczeństwo oraz przystosowanego do jazdy w ekstremalnych warunkach. Testy prototypu elektrycznego SUV-a już trwają.