Wkrótce na drogi wyjadą pierwsze polskie elektryczne samochody dostawcze. W Polsce rusza również pierwsza w Europie liga elektrycznego rallycrossu.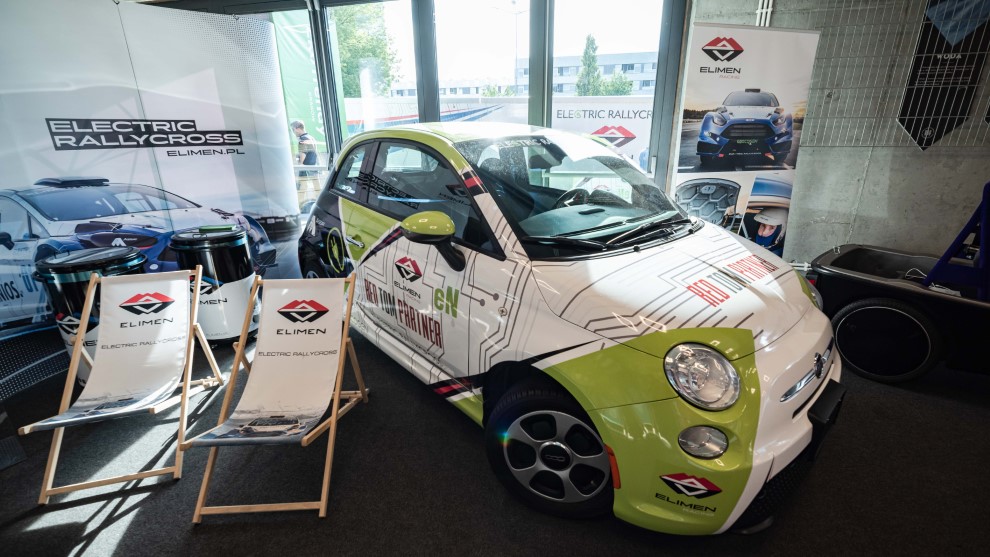 Już w 2050 roku 70 proc. sprzedawanych samochodów ma być z napędem elektrycznym. Obecnie po polskich drogach jeździ blisko 5 tys. elektryków, a do dyspozycji kierowców jest ponad 640 punktów ładowania. Samochody na prąd już wkrótce mogą też zmienić oblicze sportów motorowych – gotowy jest już Elimen E-RX1, czyli pierwszy polski samochód elektryczny do rallycrossu. Pojawiają się też elektryczne samochody dostawcze. Choć nie nadają się jeszcze na trasy, sprawdzą się w dostawach na terenach miast.
– Elektromobilność podąża w jak najlepszym kierunku. Tak naprawdę przy technologii, którą udało nam się osiągnąć, jest jedyną alternatywą dla pojazdów spalinowych i czymś, co jest w stanie realnie je zastąpić. Co więcej, osiągając przy tym lepsze parametry jezdne i eksploatacyjne niż to, czym dysponujemy w tej chwili, czyli pojazdy benzynowe czy diesle – ocenia Łukasz Blichewicz, prezes Grupy Assay.
Już w 2030 roku samochody elektryczne mogą stanowić ok. 16 proc. wszystkich sprzedanych. Dekadę później – nawet połowę. Do 2050 roku udział elektryków może sięgnąć nawet 70 proc. Polska jest jeszcze na początku drogi.
– Pojazdów elektrycznych mamy kilka tysięcy. Wyrażając to w procentach, chociażby w Skandynawii, w Norwegii czy w Szwecji to są pułapy, które osiągają nawet 40 proc. całej floty – wskazuje Łukasz Blichewicz.
Z Licznika elektromobilności uruchomionego przez Polskie Stowarzyszenie Paliw Alternatywnych (PSPA) oraz Polski Związek Przemysłu Motoryzacyjnego (PZPM) wynika, że obecnie po polskich drogach porusza się niemal 5 tys. pojazdów elektrycznych, a kierowcy mają do dyspozycji ok. 640 stacji ładowania. Wraz z poprawą infrastruktury, liczba elektryków powinna rosnąć.
– Rozwój infrastruktury to pierwszy krok, który musimy poczynić, żeby ta flota elektromobilna się rozwinęła. Kolejnym mogą być ogniwa wodorowe i to, w jaki sposób możemy rozwinąć technologię tankowania wodoru. Zarówno otrzymywanie wodoru, jak i budowa infrastruktury w rozumieniu stacji benzynowych i tankowania wodoru są po prostu ekonomicznie zupełnie nieopłacalne. Technologia musi pójść do przodu, a jej koszty muszą spaść, żebyśmy byli w stanie to w ogóle skomercjalizować – przekonuje prezes Grupy Assay.
Na rynku pojawia się coraz więcej pojazdów elektrycznych, które z łatwością mogą zastąpić te z tradycyjnym silnikiem.
– Samochody dla motosportów w sensie obsługi na torach obsługi ekip rajdowych to jest coś, co się dzieje. Dystanse, które musimy przebywać, są dosyć krótkie, więc to jest coś zupełnie realnego i tutaj nie ma szczególnie na co czekać. Natomiast auta dla logistyki to głównie jest kwestia dostaw ostatniej mili, jeżeli chodzi o bieżącą technologię i to, na co ona pozwala z uwagi na to, że elektryki dzisiaj w trasę się nie nadają, bo mają zasięgi 250–300 km – wymienia Łukasz Blichewicz.
Pod koniec 2019 roku do sprzedaży trafi Elimen E-VN1, czyli ultralekki użytkowy samochód elektryczny, który może służyć jako samochód dostawczy.
– To pojazd, który możemy dostosować pod różne branże rynku, zarówno dla kurierów, jak i np. dla samorządów jako pojazd komunalny. Stworzyliśmy platformę, którą możemy zabudować w taki sposób, jak klient sobie tego życzy. Przejechanie 100 km tym samochodem będzie kosztowało nawet 7–8 zł – tłumaczy Paweł Kruszyński, członek zarządu Grupy Assay.
Całkowita powierzchnia ładowni to 4 m3, a maksymalna ładowność pojazdu sięga 800 kilogramów. Elektryczny dostawczak może pokonać do 300 kilometrów bez ładowania z maksymalną prędkością do 75 km. Co więcej, bateria samochodu umożliwia szybkie ładowanie, bo w 30 minut można zwiększyć poziom naładowania o 80 proc.
– Zainteresowanie rynku jest bardzo duże i to nie tylko ze strony biznesu kurierskiego czy dostawców różnego rodzaju paczek, lecz także ze strony samorządów z uwagi na ustawę o elektromobilności, która weszła i nakazuje zmianę flot samochodów samorządom – mówi Paweł Kruszyński.
Trwają też prace nad samochodem przeznaczonym do rallycrossu – Elimen E-RX1. Choć już wiemy, że w Polsce wystartuje pierwsza liga elektrycznego rallycrossu, to samochód ma być przede wszystkim możliwością sprawdzenia napędu o wysokich mocach, a tak opracowane rozwiązania zastosować później w pojazdach do wersji drogowej.
– Decydujące dla motosportu są może nie tyle moce silników, ile maksymalny moment obrotowy, który auta elektryczne mają w całym zakresie obrotów, w związku z tym jakby od samego początku można zupełnie inną techniką i technologią jazdy te samochody prowadzić. Kierowcy z czołówki mistrzostw Polski, którzy testowali te pojazdy, są po prostu zaszokowani ich możliwościami i łatwością prowadzenia w stosunku do pojazdów spalinowych – podkreśla Wojciech Skarbonkiewicz z Biomass Energy Project.
Testowanie pojazdu w wyścigach rallycrossowych na różnych nawierzchniach, a przy tym na pełnej mocy i przy ogromnych obciążeniach, będzie – zdaniem twórców – najlepszym poligonem doświadczalnym.
– Musimy opanować gigantyczne prądy, które tam występują, ponad tysiąc amper, więc kwestie rozpracowania nie tylko silników, lecz wszystkich układów kontrolujących ten silnik, baterii, możliwości przeciążania tych baterii, wiązek elektrycznych. To gwarantuje przy wprowadzeniu do wersji cywilnej, że nasz produkt od samego początku będzie spełniał wszystkie normy jakościowe i wymogi klienta. Jeżeli coś wytrzyma warunki rallycrossu, to na sto procent wytrzyma warunki normalnego użytkowania – przekonuje Wojciech Skarbonkiewicz.