Petronas Team De Rooy Iveco, weterani Rajdu Dakar, ponownie walczą o złoto w najtrudniejszym wyścigu świata, jadąc na terenowych oponach Goodyear ORD. By sięgnąć po upragnione trofeum muszą pokonać wymagającą trasę, która liczy 5000 km i biegnie głównie przez piaszczyste tereny Peru.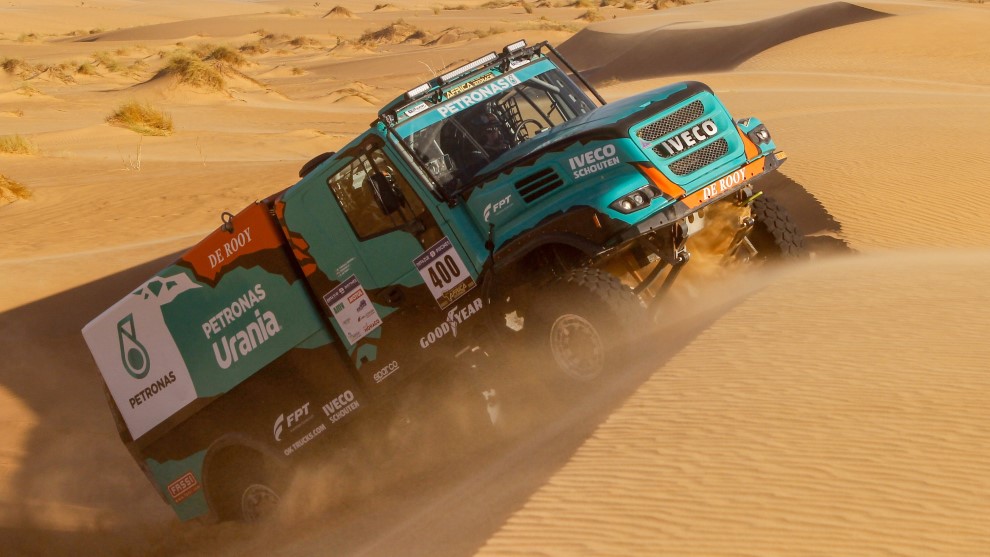 Team De Rooy startuje czterema ciężarówkami Iveco Powerstar, wyposażonymi w standardowe opony terenowe Goodyear ORD. W jednej z nich jedzie Polak – Dariusz Rodewald, który również ma nadzieję na kolejne podium w karierze.
Do tegorocznej rywalizacji Team De Rooy wystawił najmocniejszy skład w swojej historii. Kierowcami są Gerard De Rooy, Federico Villagra, Ton van Genugten i Maurik van den Heuvel.
Holender Gerard De Rooy już dwukrotnie triumfował w Rajdzie Dakar, sięgnął też po zwycięstwo w Africa Eco Race 2018. Argentyńczyk Federico Villagra, który w ubiegłym roku do przedostatniego dnia walczył o zwycięstwo, ponownie walczy o miejsce na podium, a Ton van Genugten z Holandii, który w 2018 roku wygrał cztery etapy, postara się by trzeci członek zespołu stanął na podium Dakar 2019. Maurik van den Heuvel, trzeci Holender w zespole i bardzo doświadczony kierowca ciężarowy, będzie wspierać kolegów w miarę potrzeby.
Petronas Team De Rooy Iveco wybrał dla czterech wyścigowych ciężarówek opony Goodyear ORD w rozmiarze 375/90R22.5. Z kolei pojazdy serwisowe, które podążają śladem zespołu przez cały wyścig, zostały wyposażone w ogumienie Goodyear OMNITRAC do zastosowań mieszanych. Zespół zachęcony sukcesem w Afryce zamierza go powtórzyć również na Dakarze, z dedykowanym wsparciem serwisowym Goodyear.
"Nasze wieloletnie doświadczenie z oponami Goodyear ORD 375/90R22.5 jest jednym z najważniejszych determinantów rajdowych sukcesów. Opony muszą sprawdzać się w najtrudniejszych warunkach, a w tym roku największym wyzwaniem będzie piasek. Dakar jest ciężką próbą dla ogumienia, a produkty Goodyear doskonale podejmują to wyzwanie" – powiedział Gerard De Rooy.
"Współpraca z Gerardem De Rooy i jego zespołem jest dla nas bardzo ważna. Ich celem jest zwycięstwo w Dakarze, ale też w innych imprezach, a my zapewniamy im w tym pełne wsparcie. Nie tylko dostarczamy opony, lecz także przygotowujemy i testujemy produkty w naszych ośrodkach w Luksemburgu oraz podczas imprez. Jest to niezbędne, aby zespół De Rooy mógł jak najlepiej przygotować pojazdy do zróżnicowanych wyzwań, jakie stawia Dakar. Życzymy im wszelkich sukcesów w 2019 roku" – powiedział Benjamin Willot, dyrektor marketingu ds. opon użytkowych Goodyear w Europie.
Rajd Dakar 2019 rozpoczął się 6 stycznia w Limie i odbywa się na terytorium Peru. Licząca ponad 5000 km trasa w 70% wiedzie przez piaszczyste tereny. Do rywalizacji stanęło ponad 330 ciężarówek, samochodów i motocykli. Zawodnicy mają do przejechania 10 odcinków specjalnych, liczących ponad 3000 kilometrów. Będą ścigać się do miejscowości Tacna na granicy z Chile, a następnie z powrotem do Limy. Wyścig zakończy się 17 stycznia.