Zapalenie się lampki "rezerwa paliwa" to sygnał, że trzeba szukać stacji benzynowej. W przeciwnym razie po kilkudziesięciu kilometrach silnik po prostu się zatrzyma. Niestety, konieczność dostania się do najbliższego dystrybutora może być dopiero początkiem kłopotów z samochodem, w którym zabrakło paliwa.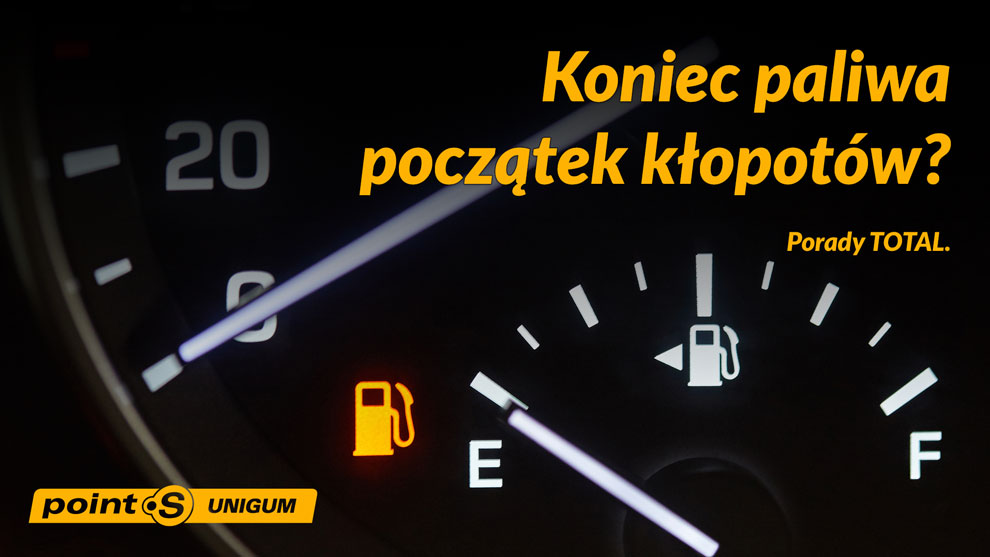 Wysokie ceny oleju napędowego i benzyny nie mogą być usprawiedliwieniem dla odkładania tankowania na później. Jazda na rezerwie to ryzyko, szczególnie gdy nie znamy okolicy i nie wiemy, gdzie znajduje się najbliższa stacja paliw. Co zrobić, gdy znajdziemy się pod ścianą? Jeśli nie wiemy, gdzie jest najbliższa stacja, możemy oczywiście użyć nawigacji. Dla przykładu: w zainstalowanym w smartfonie Google Maps w oknie wyszukiwania wystarczy wpisać "najbliższa stacja paliw", a nawigacja pokieruje nas tam, gdzie będziemy mogli zatankować.
Współczesne samochody mogą przejechać na rezerwie nawet 100 km. To właśnie wtedy w większości modeli zapala się kontrolka informująca o niskim poziomie paliwa w baku. Komputer oblicza średnie zużycie paliwa i na tej podstawie szacuje dystans, jaki możemy jeszcze pokonać. Warto jednak pamiętać, że zależy to od warunków, w jakich jechaliśmy. Jeśli z trasy wjedziemy do zakorkowanego miasta, może się okazać, że szacowany dystans ulegnie znacznemu skróceniu. Wynika to po prostu ze zwiększonego zużycia paliwa w warunkach miejskich.
Jeśli w samochodzie zabraknie paliwa, konsekwencje mogą być tym poważniejsze, im bardziej nowoczesny jest samochód, którym jedziemy. W większości aut znajdują się dwie pompy paliwa – mniejsza, napędzana elektrycznie, umieszczona w zbiorniku paliwa, która podaje paliwo do instalacji, i druga, już w silniku, która wytwarza wysokie ciśnienie. Pierwsza z nich chłodzona jest właśnie paliwem, dlatego gdy pracuje w pustym zbiorniku, może po prostu ulec zniszczeniu z powodu przegrzania. W silnikach z bezpośrednim wtryskiem paliwa (czyli w praktyce we wszystkich silnikach diesla z układem Common Rail) pompa wysokiego ciśnienia jest smarowana przez paliwo. Praca na sucho może spowodować zatarcie pompy, której wymiana jest wyjątkowo kosztowna. W takich silnikach możliwe jest także uszkodzenie szyny Common Rail, jeśli nie będzie dostawać odpowiedniej ilości paliwa. Szyna kosztuje krocie i w przypadku jej uszkodzenia nierzadko konieczna jest wymiana praktycznie całego układu wtryskowego. Dopływ paliwa do silnika może zostać także odcięty przez zanieczyszczenia, które zwykle zalegają na dnie zbiornika paliwa – zassane przez pompę mogą zablokować filtr paliwa.
Poważna usterka i konieczność jej naprawy to niejedyny problem, który może wystąpić, gdy zabraknie paliwa. Wyłączenie silnika podczas jazdy to realne zagrożenie, ponieważ przestaje pracować wspomaganie kierownicy i układu hamulcowego. "Spada ciśnienie w układzie i hamulec robi się po prostu twardy. Skutki braku możliwości skręcania oraz hamowania można sobie łatwo wyobrazić i lepiej, gdybyśmy nigdy nie musieli poznać ich w praktyce. Poza tym nie sposób przewidzieć, w jakim momencie silnik zgaśnie. Nikt nie chciałby utknąć na środku przejazdu kolejowego bez możliwości włączenia silnika" – przestrzega Patryk Mikiciuk z Team Total.
Pamiętajmy, by unikać pustego braku i tankować po prostu mniej, ale częściej. Taki nawyk sprawi, że na pewno dotrzemy bezpiecznie wszędzie tam, gdzie chcemy, i nie narazimy naszego silnika na niepotrzebne awarie.
Adam Klimek, EKSPERT TEAM TOTAL