Sezon zimowy za pasem. Dla wielu kierowców to czas intensywnego poszukiwania ogumienia zimowego i dylematów, które produkty wybrać. W podejmowaniu decyzji pomocne mogą okazać się wyniki testów przeprowadzonych przez niezależnych ekspertów, którzy poddali wymagającym próbom najpopularniejsze modele zimowe dostępne na rynku. Badania potwierdziły wysoką pozycję produktów Goodyear.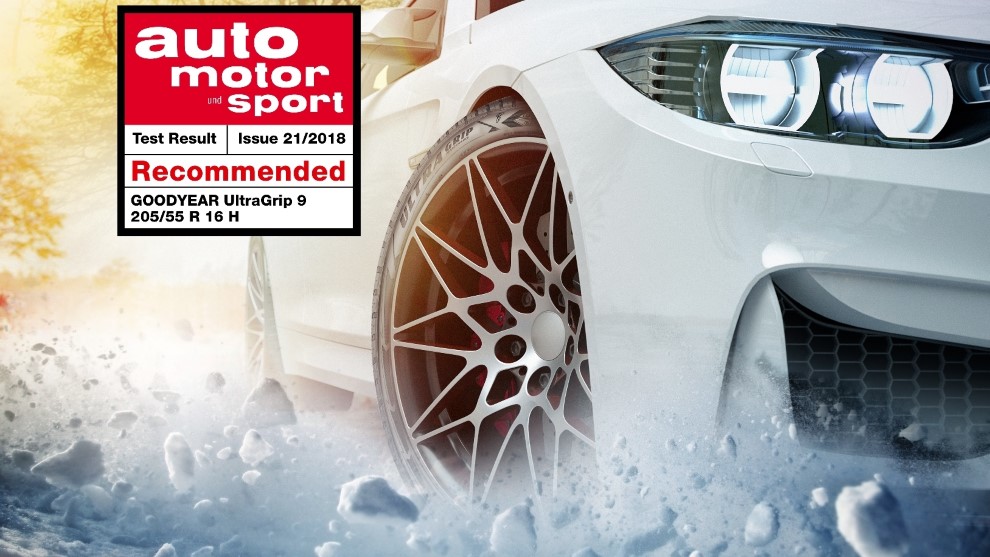 Goodyear UltraGrip Performance Gen-1 – opona na medal
Sprostać wymaganiom kierowców aut klasy SUV nie jest łatwo, zwłaszcza zimą. Ze względu na dużą masę i wysoko położony środek ciężkości, wymagają oni od opon określonych właściwości, które w warunkach zimowych pozwolą utrzymać kontrolę nad pojazdem. Eksperci "Auto Bild allrad" sprawdzili, które modele ogumienia warto rozważyć jako wyposażenie dla SUV. W ich badaniu najlepiej wypadła opona Goodyear UltraGrip Performance SUV Gen-1, którą oceniono jako "wzorową" [1]. Produkt amerykańskiego koncernu imponował doskonałą jazdą w każdych warunkach pogodowych, dobrym prowadzeniem oraz krótką drogę hamowania. Zdaniem ekspertów jest to bardzo wszechstronna opona zimowa, odpowiednia do wszystkich warunków drogowych w chłodniejsze miesiące. Warto podkreślić, że opona otrzymała najwyższe oceny za przyczepność na mokrej i suchej nawierzchni, a także pokazała swoją klasę w hamowaniu na śniegu.
Skuteczność UltraGrip Performance SUV Gen-1 potwierdziły też testy przeprowadzone przez magazyn "Off Road" [2]. Opona okazała się precyzyjna i bezpieczna do kontrolowania, zwłaszcza na mokrych drogach.
Z kolei badacze "Auto Sport" docenili UltraGrip Performance Gen-1 za dobrą trakcję i hamowanie na śniegu, a także bezpieczne i precyzyjne zachowanie na mokrej i suchej nawierzchni [3].
Goodyear UltraGrip dalej utrzymuje się wysoko
Zimą warunki drogowe mogą ulec szybkiej zmianie, dlatego sprawdzone ogumienie to podstawa bezpiecznej jazdy. Według ekspertów magazynu "Auto Motor i Sport" właściwym wyborem mogą być opony UltraGrip 9, które wyróżniają się dobrą trakcją orz precyzją kierowania na mokrych i suchych nawierzchniach [4].
Właściwości produktu zimowego Goodyear potwierdzili też eksperci z niezależnych organizacji motoryzacyjnych ACE/ARBÖ/GTÜ, przyznając UltraGrip 9 miejsce na podium [5]. Na wysoką ocenę złożyło się kilka szczególnych właściwości opony m.in. dobre hamowanie na mokrej nawierzchni oraz wysoka odporność na aquaplaning. Z kolei badacze ADAC/TCS/ÖEAMTC [6]zwrócili uwagę na bardzo dobre zachowanie ogumienia pod względem zużycia paliwa oraz dobre prowadzenie na mokrej nawierzchni.
Opony są kluczową częścią samochodu, od ich jakości i zachowania zależy bezpieczeństwo i komfort podróżujących. Warto o tym pamiętać poszukując ogumienia na zimowe wyjazdy.
[1] Testowano modele w rozmiarze 235/60R18. Samochód testowy Audi Q5. Wyniki badania opublikowano 11.10.2018 r.
[2] Testowano modele w rozmiarze 235/60R18. Samochód testowy Volvo XC60.
[3] Testowano opony w rozmiarze 235/40R18. Wyniki badania opublikowane w numerze 11/2018.
[4] Testowano opony w rozmiarze 205/55R16 91H. Samochód testowy Seat.
[5]Testowano opony w rozmiarze 185/65R15 88 T. Samochów testowy Opel Corsa. Data publikacji 25.09.2018 r.
[6] Testowano opony w rozmiarze 175/65R14.
Źródło: Goodyear