Wybór właściwego oleju silnikowego ma duży wpływ na niezawodność jednostki napędowej. Na forach internetowych wciąż możemy spotkać się z opiniami, że do silników z dużym przebiegiem najlepiej wlewać olej półsyntetyczny lub nawet mineralny. Na ile te opinie są prawdą, a na ile kolejnym motoryzacyjnym mitem?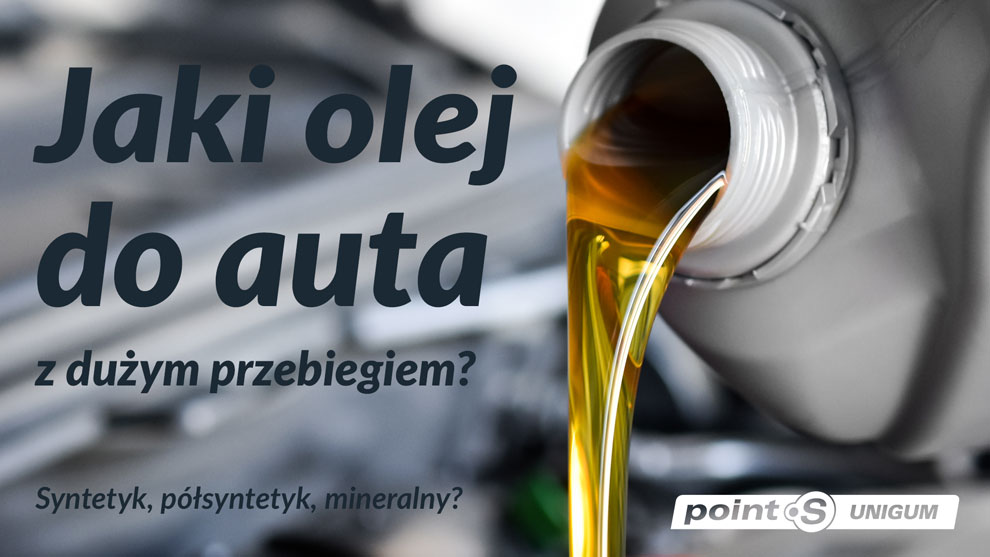 Olej silnikowy składa się z bazy olejowej i specjalnych dodatków uszlachetniających. Dzięki niższej lepkości w temperaturze pokojowej olej syntetyczny rozprowadza się po silniku szybciej niż mineralny. Zapewnia to lepsze smarowanie oraz zmniejsza zużycie silnika, gdyż moment rozruchu jest jednym z najbardziej obciążających go momentów. Poza tym syntetyki starzeją się znacznie wolniej, co pozwala na wydłużenie okresów pomiędzy wymianą oleju. Zastosowanie procesów chemicznych, które nie mają miejsca w przypadku produkcji olejów mineralnych, sprawia, że olej syntetyczny łatwiej ukształtować w zakresie pożądanych parametrów.
Oleje mineralne nie są już tak często wykorzystywane m.in. z uwagi na skomplikowaną budowę jednostek napędowych oraz elementów współpracujących, takich jak turbosprężarki. One także wymagają smarowania, a w przypadku jego braku mogą spowodować poważną awarię. Downsizing oraz wyśrubowane normy czystości spalin wręcz wymusiły na producentach znalezienie wydajniejszych i bardziej ekologicznych rozwiązań. Oleje syntetyczne spełniają te wymagania. Przez swoje właściwości są bardziej paliwooszczędne. Poza tym, w przeciwieństwie do oleju mineralnego, nie osadzają się w postaci nagaru, który zanieczyszcza silnik i po jakimś czasie powoduje jego nieprawidłową pracę. Jednostki napędowe wyposażone w filtry cząstek stałych wymagają z kolei olejów niskopopiołowych, które zwykle są właśnie olejami syntetycznymi.
Oleje półsyntetyczne, czyli niejako połączenie syntetycznego i mineralnego, możemy zastosować np. w przypadku kompletnego braku wiedzy na temat stanu silnika i liczby przebytych kilometrów w dosyć starym samochodzie używanym. Jeśli jednak wiemy, że silnik w aucie od początku pracował na oleju syntetycznym i wszystko działało prawidłowo, nie ma potrzeby tego zmieniać. Zastosowanie konkretnego rodzaju oleju powinno być zawsze powiązane z wymogami, jakie stawia w tej materii producent samochodu.
A co, jeśli silnik zużywa nadmierną ilość oleju silnikowego? Warsztaty znają przypadki zbyt wysokiego spalania oleju w samochodach, które przejechały zarówno 100 tys. km, jak i 300 tys. km. Były one zazwyczaj związane z wadą konstrukcyjną jednostki napędowej (silniki TFSI Volkswagena z pierwszych lat produkcji), nieprawidłowym użytkowaniem lub po prostu usterkami samego silnika wynikającymi z eksploatacji. Żaden olej nie poprawi sytuacji, a w przypadku przepuszczania oleju przez zużycie uszczelki pokrywy zaworów czy pierścieni tłokowych jego użycie będzie rozwiązaniem doraźnym. Zamiast liczyć na cud po zastosowaniu innego oleju, należy je po prostu wymienić na nowe.
Dziś większość samochodów, zgodnie z zaleceniami producentów, powinna jeździć na olejach syntetycznych spełniających klasy jakościowe określone w instrukcji pojazdu. I to właśnie tego powinniśmy się trzymać, by zapewnić naszym silnikom jak najlepszą ochronę. Oleje mineralne możemy zatem zarezerwować dla niewysilonych silników w pojazdach zabytkowych, które stanowią znikomą część samochodów poruszających się na naszych drogach.
Źródło: Adam Klimek, Team Total