światowy dostawca rozwiązań w zakresie zmagazynowanej energii dla transportu i rynku przemysłowego, obchodzi swój jubileusz – 130 lat istnienia. W czerwcu, na całym świecie, pracownicy Exide świętują urodziny firmy.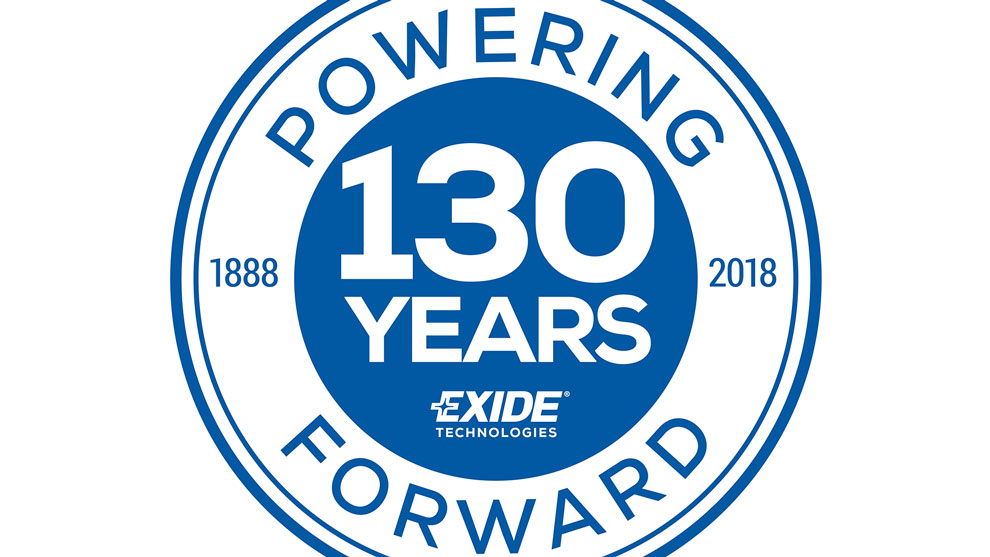 – Jesteśmy dumni, że nasza firma może świętować 130 urodziny, które przypominają nam, że spuścizna Exide sięga 1888 roku– powiedział Vic Koelsch, prezes i dyrektor generalny Exide Technologies. – Firma wyrosła z pomysłu na lepszy sposób przechowywania energii, pod postacią akumulatora kwasowo-ołowiowego, i osiągnęła status zatrudniającej ponad 9 tys. pracowników globalnej korporacji, która co roku produkuje i przetwarza miliony akumulatorów. Akumulatory Exide są wykorzystywane na całym świecie, zarówno w segmencie transportowym, jak i przemysłowym. Nasza historia jest imponująca, a Exide wciąż idzie naprzód. Nadal myślimy o sobie jak o "130-letnim start-upie" i koncentrujemy się na dostarczaniu klientom najlepszych produktów oraz innowacyjnych i przełomowych rozwiązań, jednocześnie dbając o bezpieczeństwo i jakość we wszystkim, co robimy– dodaje.
Firma Exide została założona w 1888 roku przez W. W. Gibbsa. Wszystko zaczęło się od uruchomienia The Electric Storage Battery Company. Gibbs pragnął stworzyć niezawodny sposób przechowywania energii, aby firmy produkujące oświetlenie elektryczne mogły w razie potrzeby świadczyć tego typu usługi swoim klientom. W niedługim czasie akumulatorów Exide zaczęto używać w transporcie, np. w lokomotywach, samochodach i samolotach. Exide od 130 lat dostarcza produkty, które sprawdziły się w najbardziej ekstremalnych warunkach – nie tylko lądowych, ale także wodnych, a nawet kosmicznych.
"Exide czerpie inspiracje na przyszłość i wytycza nowe cele m.in. na podstawie zdobytego już doświadczenia oraz historii rozwoju firmy".
Firma Exide umocniła swoją pozycję w branży motoryzacyjnej, wprowadzając na rynek nowe rozwiązania, w tym LiFTFORCE LPX™ – nowy akumulator litowo-jonowy (obecnie dostępny na rynku amerykańskim) do wózków widłowych, pojazdów sterowanych automatycznie (AGV) i innych wymagających zastosowań, oraz TENSOR® xGEL™ (dostępny w Europie) – bezobsługowy akumulator typu VRLA (kwasowo-ołowiowy z regulowany zaworem), który może zastąpić tradycyjny akumulator kwasowo-ołowiowy. W ostatnim okresie Exide przejął firmę Akide Wade® Power Technologies, która projektuje i produkuje zaawansowane systemy szybkiego i okazjonalnego ładowania dla przemysłowych wózków widłowych. Dzięki temu Exide uzupełnił ofertę z zakresu zasilania pojazdów mechanicznych o wiodącą w branży technologię ładowania oraz wysoko zaawansowane narzędzia do konfigurowania i monitorowania, które umożliwiają dopasowanie do wózka widłowego optymalnego akumulatora/prostownika.
Exide tworzy nowoczesne rozwiązania dla branży transportowej, będące odpowiedzią na nowe wymagania klientów wobec wydajności energetycznej akumulatorów – w tym udoskonalenia technologiczne, jak np. technologia Enhanced Flooded Battery (EFB) dla rynku wtórnego w Ameryce Północnej. Firma Exide wprowadza również na rynek amerykański nową, płaską konstrukcję akumulatorów samochodowych, która zapewnia większą odporność na wycieki, zaś jej ergonomiczny uchwyt ułatwia instalację. Natomiast w Europie Exide stale ulepsza swoją technologię Start-Stop Absorbed Glass Mat (AGM) oraz akumulatory EFB dla rynku wtórnego – w oparciu o najnowsze technologie akumulatorów, opracowane wspólnie z wiodącymi producentami samochodów, które mają wpływ na mniejsze zużycie paliwa i mniejszą emisję CO 2. Niedawno firma Exide wprowadziła także na rynek europejski nową technologię Exide HVR® (akumulatory o wysokiej odporności na wibracje) dla samochodów ciężarowych Euro 5/6.
Zapotrzebowanie na zmagazynowaną, dodatkową energię rośnie szybko na całym świecie. Exide jest kluczowym graczem ze sprawdzonymi rozwiązaniami w zakresie zasilania sieciowego – bezpiecznymi i niezawodnymi źródłami zasilania dla: telekomunikacji, systemów UPS, mediów, itp., a także rozwiązaniami do inteligentnego zarządzania energią dla elektrowni słonecznych i wiatrowych. Exide jest dostawcą rozwiązań do wielu zastosowań militarnych, nieustannie rozwijając działalność w tym ważnym segmencie.
– To ekscytujący czas, aby pracować dla Exide– powiedział Vic Koelsch, podsumowując jubileusz istnienia firmy: – Inwestujemy w naszą przyszłość, zwiększamy wydajność, stosujemy najlepsze praktyki w zakresie technologii produkcji oraz wprowadzamy innowacje produktowe dzięki pracy naszych zespołów badawczo-rozwojowych w Ameryce Północnej i w Europie. Chciałbym podziękować wszystkim naszym pracownikom, klientom i partnerom za pracę i zaufanie do Exide na przestrzeni lat oraz zaprosić ich do udziału w obchodach 130-lecia istnienia Exide.
Źródło: Exide