Niewiele deklaracji producentów samochodów wywołało takie zamieszanie w warsztatach jak hasło "oleju w skrzyni biegów wymieniać nie trzeba". Biorąc pod uwagę, że w większości konstrukcji nie ma takiej potrzeby przed przebiegiem rzędu 150-200 tys. km, można zrozumieć, dlaczego to już nie interesuje producenta pojazdu. Tyle, że w Polsce samochody jeżdżą znacznie dłużej.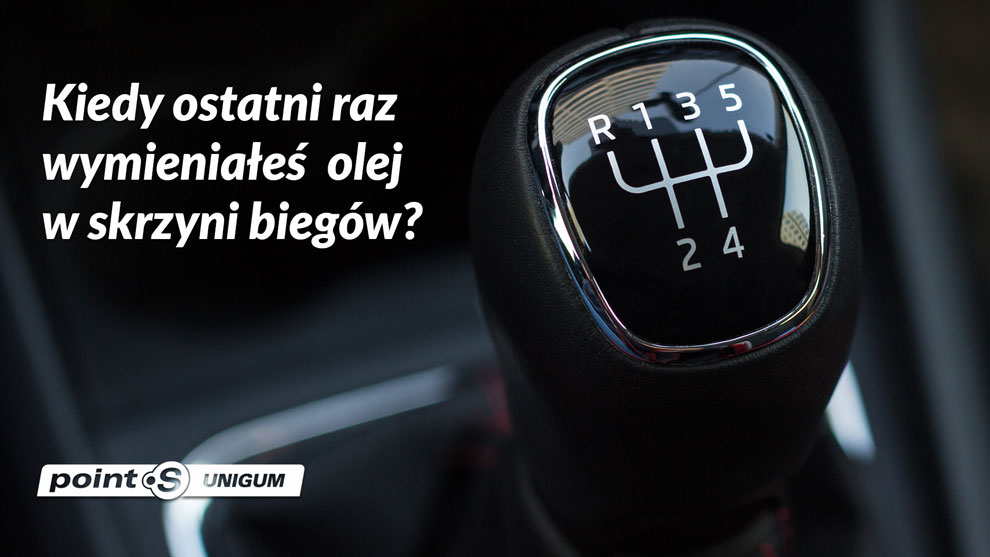 W ujęciu statystycznym, średni wiek samochodu w Polsce to 13,6 lat, a średni roczny przebieg to 14,4 tys. km.* Mnożąc jedną wartość przez drugą uzyskamy niemal 200 tys. km. To oznacza, że w Polsce jeździ blisko siedem milionów samochodów**, w których powinniśmy wymienić olej w skrzyni biegów. O ile o wymianie oleju w przekładni pamiętają głównie właściciele pojazdów z automatyczną skrzynią biegów, o tyle ta potrzeba umyka użytkownikom "manuali". Tymczasem nawet w tak relatywnie prostej konstrukcji olej spełnia bardzo istotne funkcje, poza oczywistym redukowaniem tarcia:
Odprowadza ciepło;
Dzięki specjalnym dodatkom usprawnia działanie synchronizatorów;
Oczyszcza smarowane elementy;
Redukuje hałas;
Niweluje luz pomiędzy smarowanymi elementami;
Tłumi drgania i wibracje;
Chroni smarowane elementy przed korozją.
Stary i zużyty olej niewystarczająco spełnia swoje zadania. Przebieg 150-200 tys. km to sygnał, że olej należy wymienić – tym bardziej, że niewielu właścicieli samochodów kupionych z drugiej ręki ma absolutną pewność co do przebiegu swoich aut. "Wymiana oleju w skrzyni biegów oznacza, że podczas dalszej eksploatacji auta nie trzeba będzie jej powtarzać. Dowód wykonania takiej usługi jest dodatkowo świetnym argumentem przy sprzedaży samochodu, potwierdzającym, że właściciel dba o pojazd" – tłumaczy Andrzej Husiatyński, szef działu technicznego TOTAL Polska.

Zasady doboru oleju do skrzyni biegów są identyczne jak w przypadku oleju silnikowego – olej musi spełniać normy określone przez producenta pojazdu. "TOTAL ma ogromne doświadczenie we współpracy z producentami samochodów i to nie tylko tymi wywodzącymi się z Francji. Oleje przekładniowe posiadają odpowiednie normy i specyfikacje. Musimy mieć pewność, że wybrany olej ma odpowiednia jakość. Wlewając olej, który tylko lepkością jest spójny z oryginałem nie musi oznaczać, że dodatki w oleju będą kompatybilne z materiałem użytym na synchronizatory." – podkreśla Andrzej Husiatyński.
Wymiana oleju w manualnej skrzyni biegów jest czynnością, w większości przypadków prostą i nie wymaga dodatkowego oprzyrządowania. Inaczej jest w przypadku przekładni automatycznych. Tu coraz częściej potrzebne jest urządzenie do dynamicznej wymiany oleju, która odbywa się pod ciśnieniem. Samo odkręcenie korka spustowego nie pozwoli na opróżnienie skrzyni ze zużytego oleju – należy go wypłukać podając nowy olej. Dodatkowo, po wymianie należy przeprowadzić proces "adaptacji" skrzyni.
Na forach internetowych można przeczytać, że wymiana oleju prowadzi do awarii skrzyni. To błędne myślenie. Zdarza się, że wymiana oleju uwypukla usterkę skrzyni, którą dzięki temu można łatwo zdiagnozować i usunąć, zanim dojdzie do bardzo poważnego uszkodzenia tego podzespołu. Z pewnością lepiej zapobiegać niż leczyć, a wymiana oleju w skrzyni biegów to pierwszy krok w kierunku jej wieloletniej i bezproblemowej eksploatacji.
* źródło: Badanie "Użytkownicy, 2017", Moto Data Sp. z o.o.
** źródło: Badanie "Użytkownicy, 2017", Moto Data Sp. z o.o.
Źródło: Total