Idą mrozy! Czy akumulator je wytrzyma? Gdy jest słaby, z pewnością może się zbuntować. Dlatego wielu kierowców zastanawia się, czy jeszcze zaczekać i dotrwać do wiosny, czy może nadszedł już czas, aby wymienić akumulator…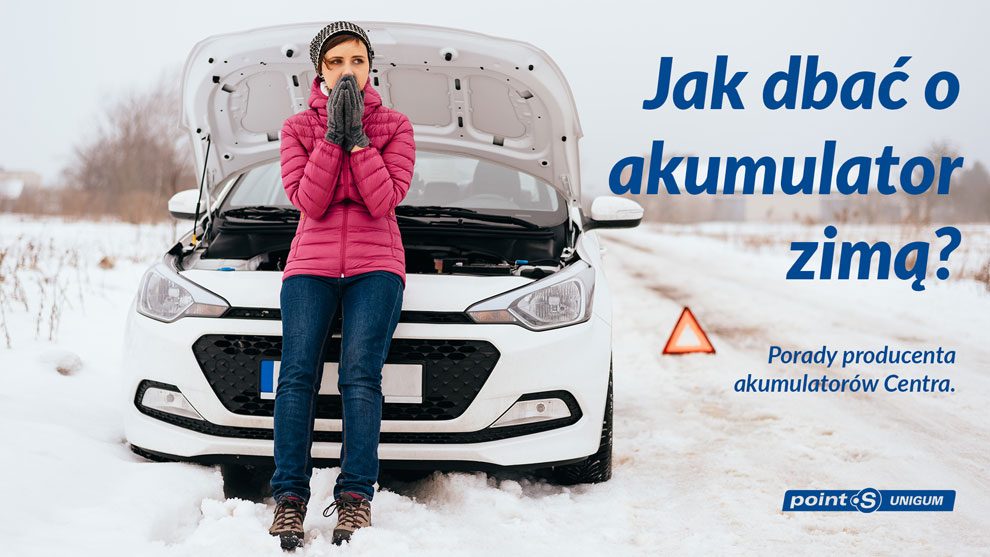 Reanimacja akumulatora
Gdy samochód nie odpala, najszybszym sposobem reanimowania akumulatora jest oczywiście skorzystanie z kabli rozruchowych – przy ich pomocy, i oczywiście drugiego auta, w miarę szybko jesteśmy w stanie podładować akumulator na tyle, by wystarczyło mu energii na rozruch silnika. Jeśli jednak mamy obawę, że jednorazowe doładowanie i ładowanie podczas jazdy nie wystarczą, aby akumulator uruchomił samochód następnego ranka – a przecież wysyła energię elektryczną nie tylko do rozrusznika i cewki zapłonowej, ale także do wszystkich obwodów elektrycznych, to powinniśmy przyjrzeć mu się uważniej, zapewnić dostępne sposoby diagnostyki i regeneracji lub… porzucić pytanie "odpali czy nie odpali?" i kupić nowy, lepszy model.
Poziom elektrolitu
Większość akumulatorów samochodowych opiera się na technologii kwasowo-ołowiowej, w której elektrolitem jest roztwór kwasu siarkowego – zanurzone w nim dodatnie i ujemne płyty akumulatora wywołują reakcję chemiczną. Tak powstaje energia elektryczna. – Jeśli akumulator funkcjonuje bez zarzutu, jest dobrze dopasowany do potrzeb energetycznych auta, a codzienna jazda owocuje odpowiednim poziomem jego naładowania, to będzie służył długo, niezależnie od pogody– mówi Krzysztof Najder, product marketing manager w Exide Technologies S.A. – Jeśli jednak z jakichś powodów zapotrzebowanie samochodu na energię jest większe lub akumulator dostarcza jej po prostu za mało, np. z powodu permanentnego niedoładowania, zaczynają się problemy z rozruchem. Najczęściej podczas mrozów– dodaje.
W sytuacjach awaryjnych kierowcy zaczynają baczniej przyglądać się akumulatorom. Pierwszym pytaniem, jakie sobie stawiają, jest to dotyczące poziomu elektrolitu. W starszych typach akumulatorów, tzw. obsługowych, reakcje chemiczne mogły powodować, że po pewnym czasie woda wyparowała i tym samym zmniejszał się poziom elektrolitu. Dlatego należało regularnie sprawdzać jego poziom i samodzielnie uzupełniać odnotowane braki.
Współczesne akumulatory to zupełnie inne, dużo bardziej zaawansowane konstrukcje – bezpieczne i bezobsługowe. Jeśli nic nie zakłóca ich pracy, poziom elektrolitu nie wymaga ingerencji z zewnątrz – a ta, w nowoczesnych akumulatorach, często jest nawet niemożliwa– mówi Krzysztof Najder.
Regeneracja, czyli konserwacja i ładowanie
W jaki sposób pomóc akumulatorowi w okresie zimowej "zadyszki"? Przede wszystkim, jeśli już zaglądamy pod maskę z powodu akumulatora, nie poprzestańmy na szybkim doładowaniu kablami rozruchowymi – przyjrzyjmy się mu. Niektóre myjnie oferują czyszczenie silnika, o akumulatorze niestety zapominamy. A to błąd, ponieważ brudne klemy należy czyścić przynajmniej co trzy miesiące. Czym? Czystą bawełnianą tkaniną lub specjalnymi szczotkami, a nawet papierem ściernym, jeśli są bardzo mocno zabrudzone. Ich regularna konserwacja pozwoli na prawidłowy przepływ prądu i zmniejszy ryzyko wystąpienia zwarcia.
Oprócz utrzymania akumulatora w czystości, najważniejsze jest kontrolowanie poziomu napięcia – w warunkach domowych przy pomocy woltomierza, zaś u mechanika lub wyspecjalizowanego sprzedawcy, dzięki profesjonalnemu sprzętowi diagnostycznemu. W ten sposób możemy szybko wykryć jeden z czynników, który wpływa na obniżenie sprawności akumulatora – rozładownie lub przeładowanie.
– Nowoczesne auta, które mają zapewnić kierowcy wygodę i bezpieczeństwo, są pełne różnych odbiorników prądu (radio, klimatyzacja, podgrzewane fotele, alarm, etc.). Dlatego auto zostawione na parkingu na czas ferii zimowych, po tygodniu lub dwóch mroźniejszych tygodniach może odmówić posłuszeństwa. Tymczasem nie tylko niska temperatura, ale każde rozładowanie obniża sprawność akumulatora, a w konsekwencji niepostrzeżenie dochodzi do jego zasiarczenia– wyjaśnia ekspert Exide.
Oczywiście możemy podjąć próby "regeneracji" akumulatora – regularnie kontrolować napięcie i wyrównywać jego braki przez podłączanie akumulatora do prostownika. Dobry prostownik może pomóc i uratować akumulator, pod warunkiem, że wiemy jak się nim prawidłowo posługiwać, a kolejne kontrole i ładowania wykonujemy regularnie.
Oprócz długich zimowych postojów akumulatorom nie służą także krótkie dystanse, które pokonują codziennie mieszkańcy dużych miast – auta użytkowane na stosunkowo krótkich odcinkach "dom – praca" i "praca – dom", często nie mają szansy optymalnie naładować akumulatora, co może szybko doprowadzić do spadku jego wydajności.
Niebezpieczne dla akumulatora jest także przeładowanie, np. przez zbyt wysokie napięcie ładowania (złe użytkowanie prostownika) lub uszkodzony regulator napięcia – czynniki te mogą doprowadzić do uszkodzenia akumulatora. Dlatego warto zainwestować w nowoczesne prostowniki, które zapewniają zautomatyzowane, optymalne ładowanie, np. Exide 12/7.
Nowy akumulator?
Wielu kierowców zadaje sobie zimą pytanie – ratować czy wymienić? Ci mniej cierpliwi, którzy nie chcą uruchamiać auta kablami rozruchowymi w mroźny poranek (co przy okazji odbywa się zawsze ze szkodą dla rozładowanego akumulatora), albo nie mają czasu i chęci na kontrolę i ładowanie akumulatora, nie czkają na jego ostateczny koniec. A tym czasem stan akumulatora nie pogarsza się drastycznie podczas jednej mroźnej nocy – przeciwnie, to często wielotygodniowy lub wielomiesięczny proces, efekt niewiedzy i zaniedbań. Niewłaściwa eksploatacja, niesprawna instalacja elektryczna, awaria alternatora, zaśniedziałe lub brudne klemy – to wszystko powoli, lecz skutecznie psuje akumulator. Dlatego, jeśli nie chcemy co roku wymieniać akumulatora na nowy, warto udać się do mechanika, elektryka lub autoryzowanego sprzedawcy (np. na bezpłatną akcję diagnostyczną Centra Mocy), aby skontrolować akumulator lub samochodowe podzespoły, które mogą mieć wpływ na jego stan.
Jeśli jednak musimy już stanąć przed dylematem wyboru nowego akumulatora, pamiętajmy, aby dobrać właściwy produkt, dopasowany m.in. pojemnością i prądem rozruchowym do potrzeb naszego pojazdu. Dlaczego to takie ważne? Źle dobrany akumulator może nie udźwignąć wymagań elektrycznych bogato wyposażonego pojazdu lub przeciwnie, może być permanentnie niedoładowany z powodu źle obliczonej, przesadnie dużej pojemności. Dlatego warto zasięgnąć rady doświadczonych sprzedawców i mechaników lub skorzystać ze specjalnych wyszukiwarek, ułatwiających wybór akumulatora, jak ta na portalu www.akumulator.pl.
A z nowym, dobrze dobranym i… zadbanym akumulatorem kolejne zimy nie będą nam straszne.
Akumulatory Centra są w stałej ofercie serwisów Point S UNIGUM.
Źródło: Exide/Centra