Czy faktycznie wystarczy wymieniać olej zgodnie z instrukcją obsługi auta? Czy można bezpiecznie pokonać nawet 30 tys. km pomiędzy wymianami? Ekspert Total Polska tłumaczy jak jest naprawdę.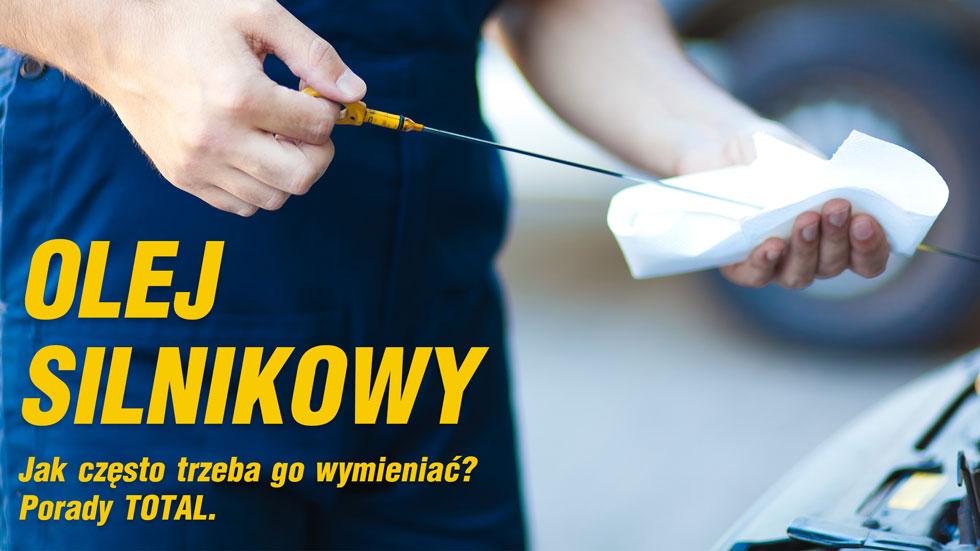 "Jeśli producent samochodu dopuszcza możliwość wymiany oleju nawet co 30 tys. km, to można tak robić – ale z jednym zastrzeżeniem. Producent zakłada, że auto jest w pełni sprawne i eksploatowane w optymalny sposób" – tłumaczy Andrzej Husiatyński, kierownik działu technicznego TOTAL Polska. To, że w miarę zużycia samochodu warto skracać okresy wymiany oleju jest zgodne ze zdrowym rozsądkiem, jednak jak rozumieć "optymalny sposób eksploatacji"?
Przede wszystkim, wyznaczając interwał wymiany oleju, producent samochodu myśli raczej o "cyklach pracy silnika", a nie przejechanych kilometrach. "Kilometr pokonany w ciągu kwadransa w korkach, a kilometr przejechany na autostradzie to z punktu widzenia eksploatacji samochodu dwie zupełnie różne rzeczy" – mówi Andrzej Husiatyński. Zużycie silnika i degradacja oleju postępuje o wiele szybciej w czasie jazdy miejskiej. Szczególnie szkodliwe jest pokonywanie krótkich odcinków dom-praca-dom, w czasie których olej nie osiąga swojej temperatury roboczej i w rezultacie nie odparowuje z niego woda, która nieuchronnie się do niego przedostaje z otoczenia. To zmienia właściwości fizykochemiczne oleju, reaguje z dodatkami i powoduje, że szybciej przestaje on spełniać swoje zadanie. "Jeśli samochód jeździ głównie w mieście, warto olej wymienić nieco częściej niż zaleca producent auta. Wielu producentów aut sugeruje skracanie interwałów nawet o 1/3" – dodaje Andrzej Husiatyński.
Sprawa komplikuje się jeszcze bardziej, jeśli samochód wyposażony jest w filtr cząstek stałych DPF. Wbrew pozorom nie dotyczy to tylko silników Diesla, ale także coraz większej liczby aut benzynowych spełniających normę czystości spalin Euro 6, gdzie stosowane są filtry GPF (Gasoline Particulate Filter). Zgodnie z założeniem sadza ze spalin gromadzi się w tym filtrze, by zostać wypalona w czasie jazdy w trasie. Ale co, jeśli akurat samochód porusza się w korku, a filtr trzeba oczyścić? "Sterownik silnika podaje dodatkowe dawki paliwa do komór spalania tak, by sztucznie podnieść temperaturę spalin. Niestety, ten proces powoduje, że część paliwa spływa po ściankach cylindrów i dostaje się do oleju, rozcieńczając go" – wyjaśnia Andrzej Husiatyński. To powoduje, że choć dzisiejsze silniki mają tendencje do spalania oleju pod obciążeniem, na wskaźniku poziomu oleju może… przybywać zamiast ubywać. Ale nie ma się z czego cieszyć, bo jest to zjawisko na tyle niebezpieczne, że na przykład Mazda umieszcza na wskaźniku, powyżej poziomu "max", dodatkowe oznaczenie, po osiągnięciu którego olej należy natychmiast wymienić. Nieco przyjaźniej dla użytkownika rozwiązał to Opel (w Insigni czy Astrze J), gdzie występuje procentowy wskaźnik jakości oleju (świeży = 100%).
Olej degraduje się także pod wpływem kontaktu z powietrzem. Jest to powolny proces i przy zastosowaniu oleju syntetycznego na tyle nieszkodliwy, że jeśli producent silnika dopuszcza takie rozwiązanie, to mogą być bezpiecznie wymieniane co 24 miesiące.
"Wszystko zależy od sposobu eksploatacji samochodu. Jeśli jeździ głównie w trasie to olej można wymieniać zgodnie z zaleceniami producenta pojazdu. Jeżeli nasz silnik jest mocno wyeksploatowany to proces spalania paliwa jest mniej dokładny. Silnik produkuje więcej zanieczyszczeń i wtedy olej ulega szybszej degradacji. W takich przypadkach nawet jak eksploatujemy samochód w trasie zalecałbym skracanie interwałów o 1/3 w stosunku do zaleceń producenta. Podobnie polecałbym w aucie wykorzystywanym głównie na krótkie dojazdy do pracy. Tutaj również olej powinien być wymieniany co max 20 tys. km. Jeżeli ktoś ma zacięcie sportowe i silnik często pracuje w zakresach submaksymalnych czy silnik poddawany był tuningowi oznacza to dla oleju, że musi on odprowadzić znacznie większą ilość ciepła niż przy normalnej eksploatacji. To zaś prowadzi do przyśpieszonego utleniania oleju i może powodować odkładanie się zanieczyszczeń w silniku, zakleszczanie pierścieni, itd. W tym przypadku również skróciłbym interwał pomiędzy wymianami, aby zapobiec niebezpieczeństwu. Skracanie przebiegów pomiędzy wymianami w każdym z powyższych przypadków będzie z korzyścią dla żywotności naszego silnika." – podsumowuje Andrzej Husiatyński.
Na wymianę oleju zapraszamy do sieci serwisów Point S UNIGUM
Źródło: Total