Bridgestone, rozszerzył asortyment wysokowydajnych opon rolniczych klasy premium o całkowicie nową oponę VT-COMBINE. Opona została zaprojektowana pod kątem cyklicznych operacji polowych (CFO) i posiada lepszą charakterystykę ugięcia (IF), dzięki czemu oferuje większą aż o 20 proc. nośność w porównaniu z tradycyjnymi standardowymi oponami zgodnymi z normami ETRTO.
Nowa, innowacyjna opona umożliwia pracę z prędkością 15 km/h zamiast 10 km/h – właściwych dla opon tradycyjnych – co pozwala na efektywne wykorzystanie czasu podczas krytycznego okresu prac sezonowych. VT-COMBINE charakteryzuje się wysoką nośnością, doskonałymi właściwościami trakcyjnymi, które wynikają z nowego opatentowanego wzoru bloków bieżnika, oraz zwiększoną trwałością i komfortem. Dzięki osiąganemu mniejszemu ugniataniu gleby, pomaga zwiększyć produktywność, chroniąc jednocześnie jej żyzną warstwę uprawną [1].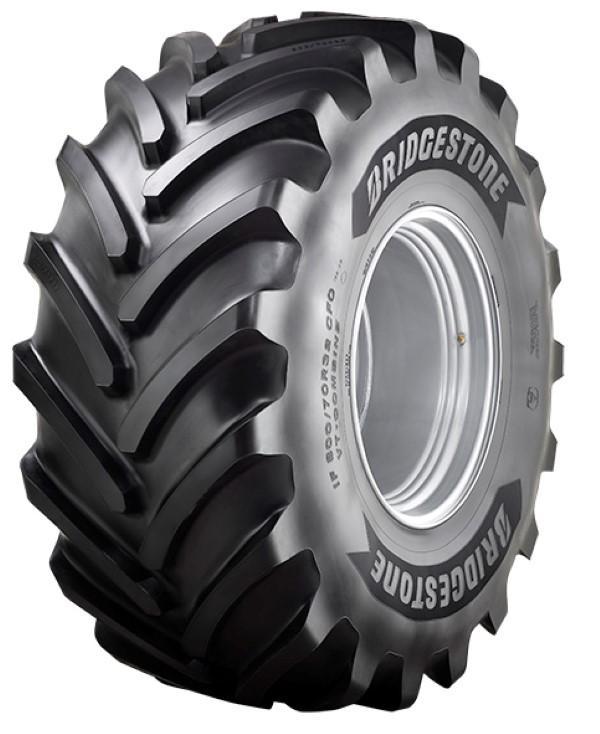 "Podczas żniw rolnicy muszą działać szybko i efektywnie. Mamy dla nich dobrą wiadomość. Opona VT-COMBINE przed wejściem na rynek została poddana testom na trzech kontynentach przez okres trzech pełnych sezonów i uzyskała bardzo dobre wyniki. Efekt to większa nośność przy niższym ciśnieniu i większej powierzchni kontaktu z podłożem, które umożliwiają rolnikom zminimalizowanie ubicia gleby, wpływające na wysokość plonów w latach następnych" – powiedział Mark Sanders, General Manager Agricultural/Original Equipment and Replacement w Bridgestone Europe.
Wysoka nośność
Nowa opona Bridgestone VT-COMBINE została opracowana tak, by wzmocnić jej stabilność i trakcję, nawet na mocno nachylonym terenie. Dzięki technologii IF opona VT-COMBINE może mieć mniejsze ciśnienie, co umożliwia rolnikom zwiększenie ładunku nawet o 55 proc. (norma IF CFO) [2].
Doskonała trwałość
Najbardziej zaawansowane materiały, wzory i technika budowy, zaprojektowane i opracowane w Bridgestone European Technical Centre, gwarantują doskonałą trwałość i długi okres użytkowania w warunkach dużych i stale zmieniających się obciążeń. Przyczynia się do tego wzmocniona konstrukcja osnowy, ściana boczna o dużej elastyczności oraz opatentowana solidna drutówka S-LINE. Sześciowarstwowa budowa opony eliminuje z kolei potrzebę użycia stalowego opasania, co zapewnia doskonałe amortyzowanie uderzeń, dobrą odporność na przebicia i łatwą naprawę.
Imponująca trakcja
Stabilna i niezawodna trakcja VT-COMBINE na różnych nawierzchniach ułatwia prace żniwne nawet w trudnym terenie i niesprzyjających warunkach pogodowych. Opatentowany nowy wzór klocków bieżnika minimalizuje zniszczenia gleby i zapewnia dobrą trakcję. Opony Bridgestone VT-COMBINE sprawdzają się równie dobrze na nierównych powierzchniach, na pochyłościach czy na podmokłym terenie.
Małe ugniatanie gleby
Opona VT-COMBINE została opracowana pod kątem zmaksymalizowania powierzchni kontaktu z gruntem przy małym ciśnieniu, co minimalizuje ingerencję w glebę i chroni jej żyzność na kolejne sezony.
Komfort i uniwersalność
Innowacyjny wzór bieżnika i konstrukcja osnowy opon Bridgestone VT-COMBINE zostały zoptymalizowane tak, aby uzyskać komfort i bezpieczeństwo kierowcy pracującego na różnych typach kombajnów. Elastyczna ściana boczna pochłania wstrząsy, a dłuższe klocki bieżnika zapewniają płynność jazdy, nawet na drodze, bez nadmiernych wibracji czy hałasu.
Zaprojektowana do kombajnów rolniczych opona VT-COMBINE sprawdza się także w przypadku innych rodzajów maszyn, takich jak silosokombajny, kopaczki do ziemniaków i buraków cukrowych. Opona jest obecnie dostępna w 11 rozmiarach.
---
[1] W porównaniu z tradycyjnymi standardowymi oponami z ciśnieniem zalecanym przez Bridgestone (np. 900/60R32 Conventional a IF900/60R32 CFO VT-COMBINE).
[2] W porównaniu z tradycyjnymi standardowymi oponami z ciśnieniem zalecanym przez Bridgestone (np. 900/60R32 Conventional vs. IF900/60R32 CFO VT-COMBINE) dla obciążenia 13175 kg przy prędkości operacji cyklicznych w polu. Dodatkowe obciążenie w operacjach cyklicznych nie jest dozwolone przy nachyleniu terenu przekraczającym 11° (20 proc.).
Źródło: Bridgestone