Ciężarówki KAMAZ-Master pokonały na oponach HCS 14.00 R 20 Continental dwa najtrudniejsze rajdy świata – Rajd Dakar oraz Africa Eco Race 2017. Przemierzając pustynne piaski, górskie szlaki i kamieniste bezdroża opony wykazały się dobrymi parametrami i maksymalną wytrzymałością.
Continental wyposażył zespoły KAMAZ-Master w wytrzymałe opony HCS 14.00 R 20, które pomogły pokonać wymagające trasy rajdów. Oba wyścigi były początkiem współpracy produktowej pomiędzy Continental i rosyjskim zespołem KAMAZ-Master, która w przyszłości będzie dalej kontynuowana.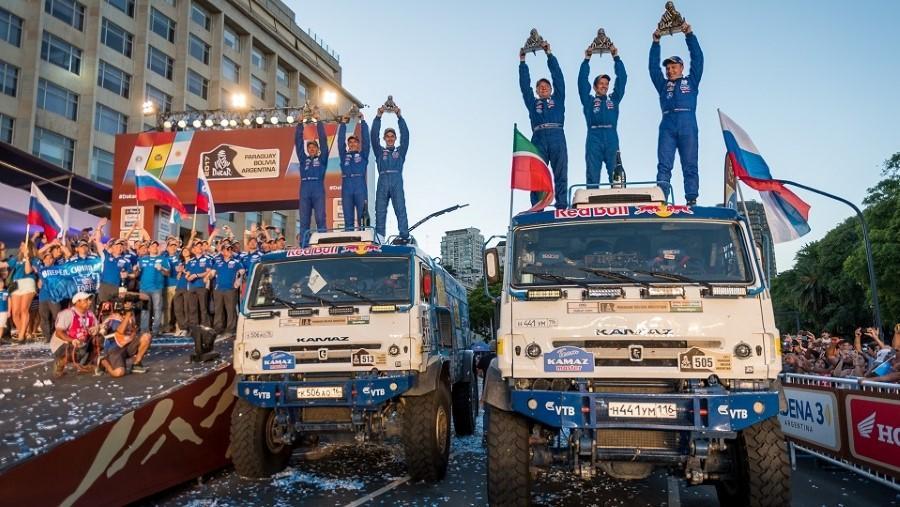 Podczas rajdu nie mieliśmy żadnych problemów z oponami i nie musieliśmy tracić czasu na zmianę ogumienia w odróżnieniu od naszych rywali. Dzięki temu już po pierwszym tygodniu wysunęliśmy się na prowadzenie, a w drugiej części Dakaru nasze zwycięstwo w klasyfikacji generalnej pojazdów ciężarowych zostało przesądzone –powiedział Eduard Nikołajew lider zwycięskiego zespołu.
Eduard Nikołajew i jego załoga ukończyli ostatni etap rajdu Dakar Rally 2017 z przewagą 19 minut, natomiast inny zespół KAMAZ-Master prowadzony przez Dmitrija Sotnikowa zajął drugie miejsce.
W rajdzie Africa Eco Race 2017 w kategorii samochodów ciężarowych zwyciężyła załoga Andrieja Karginowa, a zespół dowodzony przez Sergieja Kuprianowa dotarł na metę na czwartej pozycji.
To dla nas powód do domu, że opony Continental sprostały najbardziej ekstremalnym warunkom i przyczyniły się do zwycięstwa załóg KAMAZ-Master. To był bardzo trudny test wytrzymałościowy dla opon ciężarowych, dlatego wiedza oraz obszerne dane jakie zdobyliśmy podczas rajdów pomogą nam w ich dalszym rozwoju– stwierdził Jaron Wiedmaier, dyrektor generalny Continental Tires Russia.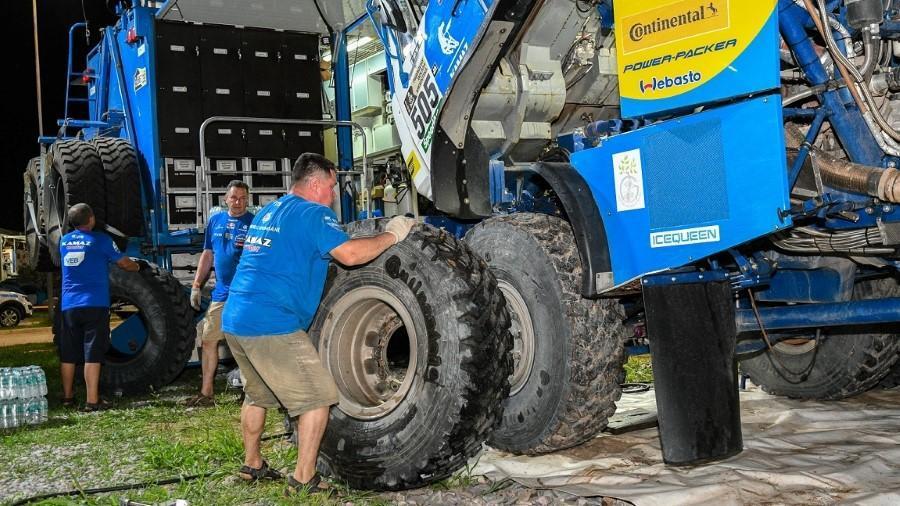 Zespół rajdowy KAMAZ-Master powstał w 1988 roku i jest jedyną fabryczną ekipą producenta pojazdów ciężarowych, która reprezentuje Rosję w międzynarodowych zawodach. Kierowcy zespołu KAMAZ-Master od 1990 roku regularnie rywalizują w transkontynentalnym Rajdzie Dakar. Tegoroczne zwycięstwo jest czternastym w ich dorobku. Zespół ma także na koncie trzy zwycięstwa w zawodach World Off-Road Rally Cup, cztery wygrane w rajdzie Silk Road Rally oraz liczne zwycięstwa w rajdach organizowanych na terenie Rosji.
Źródło: Continental