Według statystyk policji w okresie jesienno-zimowym wzrasta liczba wypadków na polskich drogach. Przyczyniają się do tego gorsze warunki pogodowe, a przez to słaba widoczność.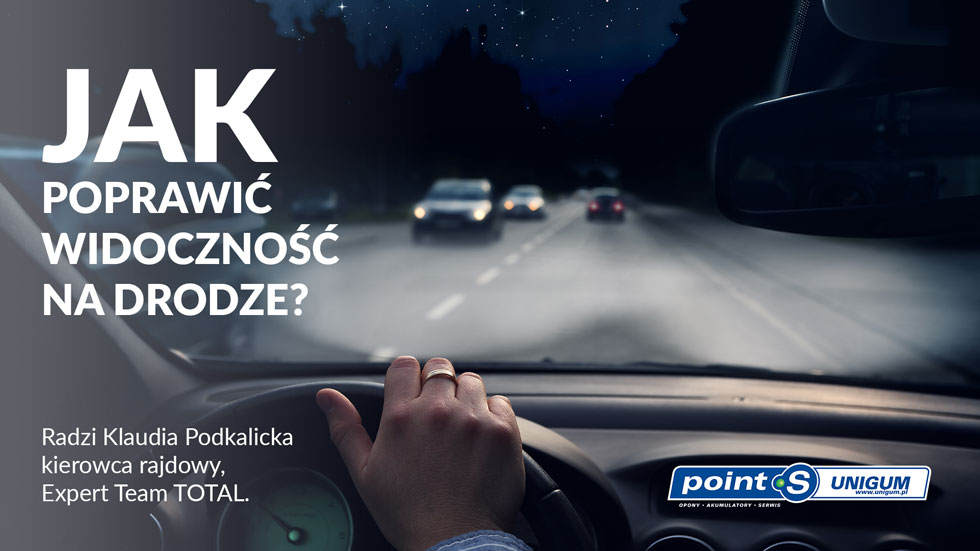 W ubiegłym roku doszło do 33 664 wypadków, z których aż 1/3 miała miejsce w okresie wrzesień–grudzień. Najczęstsze przyczyny to niedostosowanie prędkości do warunków na drodze i nieustąpienie pierwszeństwa pieszemu na przejściu. Prawie co trzecie zdarzenie miało miejsce podczas opadów deszczu lub śniegu bądź w pochmurny dzień. Z kolei wśród usterek technicznych pojazdu, które przyczyniły się do wypadku, policja na pierwszym miejscu wymienia braki w oświetleniu.
"W okresie jesiennym – gdy szybciej zapada zmrok – można się przekonać, jak kierowcy dbają o oświetlenie w swoich autach. Źle ustawione światła, przepalone żarówki w reflektorach głównych, brudne i zmatowiałe klosze reflektorów znacznie pogarszają widoczność. Pozostałym uczestnikom ruchu drogowego również trudniej dostrzec taki pojazd" – mówi Klaudia Podkalicka, ekspertka Team TOTAL.
Nad poprawą widoczności na drodze pracują producenci samochodów, którzy coraz częściej stosują reflektory ksenonowe lub oświetlenie zbudowane na diodach LED, a nawet wykorzystujące wiązkę laserową. Jednak spora część kierowców wciąż użytkuje starsze modele wyposażone w tradycyjne żarówki. W tym przypadku w większym zakresie trzeba dbać o stan świateł: od manualnego czyszczenia kloszy z zabrudzeń drogowych poprzez systematyczną kontrolę ustawienia reflektorów przednich po wymianę przepalonej żarówki.
Co prawda według obowiązujących w Polsce przepisów zapasowy komplet żarówek nie należy do obowiązkowego wyposażenia samochodu, ale jego posiadanie uchroni przed przykrymi niespodziankami w podróży. Warto zapoznać się wcześniej z instrukcją wymiany żarówek, przygotować potrzebny zestaw narzędzi, w tym podręczną latarkę, i przeprowadzić próbę "na sucho".
W sytuacji awaryjnej na drodze odpowiednim miejscem do wymiany żarówki będzie stacja paliw. Z reguły kupimy na niej każdą żarówkę samochodową, a w przypadku wątpliwości w doborze odpowiedniej pomoże nam sprzedawca – dodaje Klaudia Podkalicka. – Przy wymianie żarówek musimy pamiętać o prostych zasadach: w światłach głównych robimy to parami i nie możemy dotykać palcami szklanej bańki. W najbliższym czasie warto też podjechać do stacji diagnostycznej lub warsztatu, aby sprawdzić ustawienie świateł.
Na stacji paliw kupimy również elementy odblaskowe. Przede wszystkim powinna to być kamizelka, którą podczas każdego postoju na drodze należy założyć przed wyjściem z samochodu. Dobrze jest zadbać przy tym o bezpieczeństwo pozostałych pasażerów i mieć w rezerwie kamizelki także dla nich. Podczas awarii bezwzględnie poprośmy o ich założenie, opuszczenie pojazdu i przejście poza pobocze drogi.
Dziś elementy odblaskowe mają różne kształty i są elementem rzeczy codziennego użytku: kurtek, obuwia czy plecaków i toreb. Do używania odblasków zobowiązane są osoby w każdym wieku poruszające się po zmroku poza obszarem zabudowanym w miejscach, gdzie nie ma chodnika. Niemniej dla własnego bezpieczeństwa warto nosić odblaski w każdej sytuacji, także w dobrze oświetlonym miejscu.
Klaudia Podkalicka - EKSPERT TEAM TOTAL
Źródło: Total