W ofercie opon zimowych marki Sava debiutuje nowy produkt - eskimo suv 2 - dedykowany dla pojazdów typu SUV. To wysokiej klasy ogumienie zapewnia doskonałą kontrolę nad pojazdem na śniegu i lodzie.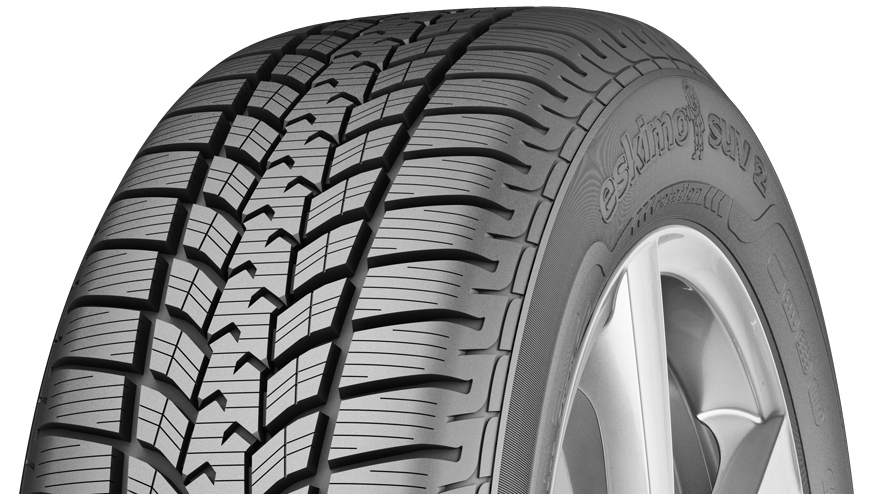 Słoweńska marka wprowadza nową oponę w odpowiedzi na wzrost popularności aut klasy SUV. Od kilku lat obserwuje się dynamiczny rozwój tego segmentu – w 2012 roku sprzedaż opon dla pojazdów tej klasy stanowiła 8% rynku, a w roku 2016 roku już 10%.
Eskimo suv 2 wyróżnia się doskonałymi właściwościami prowadzenia na śniegu. Oferuje też optymalne parametry hamowania dostosowane do mocnego charakteru aut typu SUV, aby dać kierowcom poczucie pewności podczas surowej, europejskiej zimy. Ogumienie będzie dostępne w pięciu rozmiarach, co pokrywa znaczną część rynku. Europejska jakość produktów marki idzie w parze z ceną przyjazną dla portfela klienta.
Właściwości i zalety
Konstrukcja żebra pod nazwą Athletic Rib Designpoprawia trakcję. Jednocześnie zoptymalizowany kształt żebra centralnego ogranicza hałas na suchych nawierzchniach, bez kompromisów w zakresie trakcji w warunkach zimowych.
Wielokątowy kontur bieżnika typu Multi-Radius zapewnia długą i szeroką powierzchnię styku o równomiernej mocy nacisku opony na drogę. Przekłada się to na lepszą kontrolę nad pojazdem i dobrą przyczepność na oblodzonych drogach.
Duże klocki bieżnika opony Sava eskimo suv 2 zoptymalizowano pod kątem wymagań pojazdów SUV, dzięki czemu ogumienie oferuje znakomite zachowanie i hamowanie na śniegu. Klocki mają mocniejsze krawędzie, co ułatwia przenoszenie napędu na zaśnieżonych drogach.
Z kolei optymalnie rozmieszczone rowki obwodowe szybko absorbują i odprowadzają wodę z bieżnika, co przekłada się na bardzo dobrą przyczepność na mokrych drogach.
Eskimo suv 2 jest dostępna w 5 rozmiarach:
| | |
| --- | --- |
| Rozmiar | Popularne modele (między innymi) |
| 235/65R17 108 H XL | Honda CR-V, Toyota RAV4, Suzuki Vitara, Fiat Freemont, Subaru Outback, Nissan X-trail |
| 255/55R18 109 H XL | Audi Q7, BMW X5, Mitsubishi Outlander, VW Touareg |
| 235/60R18 107 H XL | Audi Q5, Kia Sorento, Hyundai Santa Fe, Lexus RX, Volvo XC 60LR Discovery, VW Touareg |
| 235/55R17 103 H XL | VW Tiguan, Audi Q3, BMW X3, Ford Kuga, Kia Sportage |
| 225/65R17 106 H XL | Fiat Freemont, Audi Q5, Toyota RAV4, Kia Sorento, Hyundai Santa Fe, Volvo XC60 |
Źródło: Sava